Serious Comedy proudly presents
Andrew McClelland's Mix Tape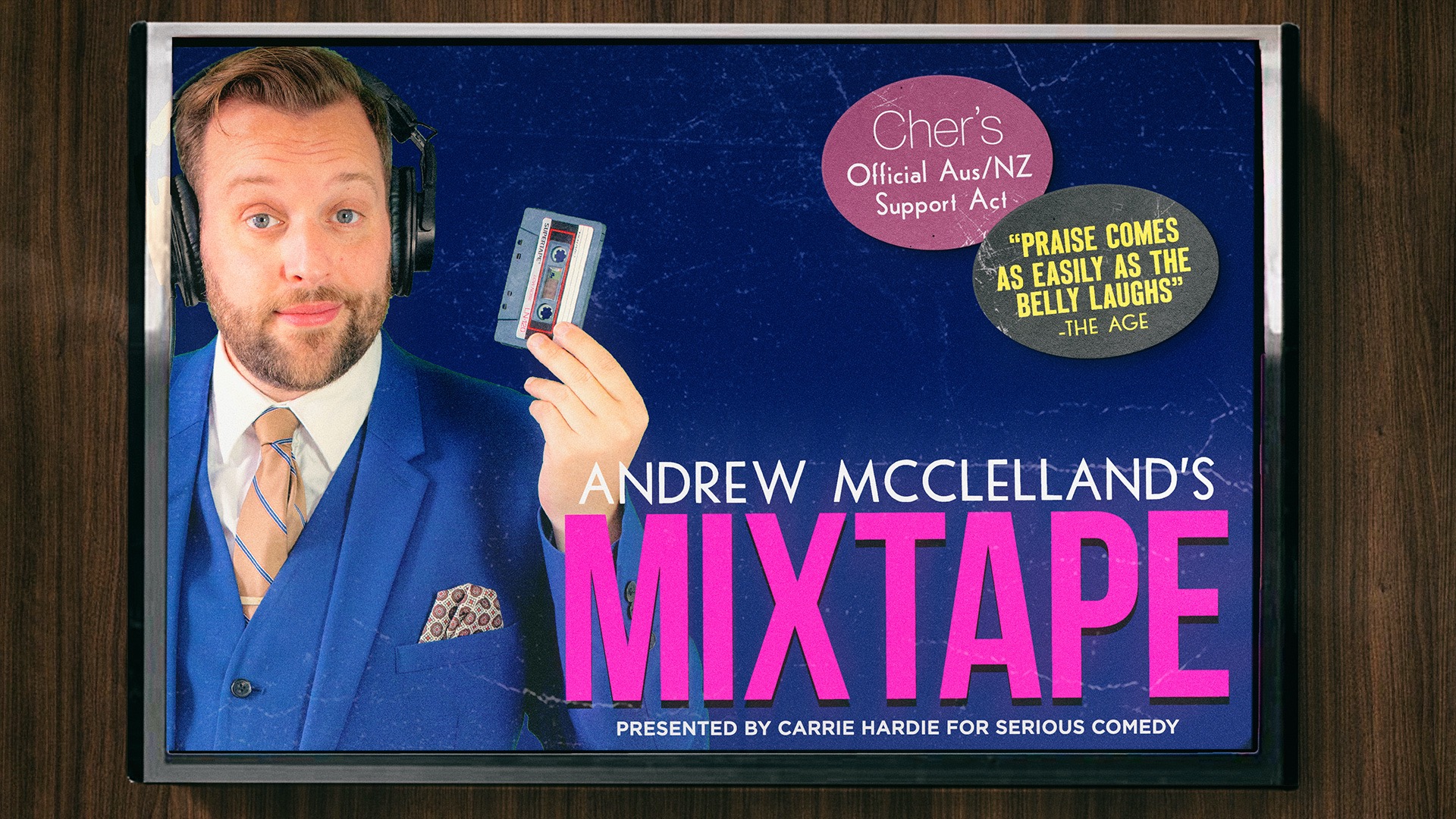 Award-winning comedian and Cher's official support DJ for her latest Aus/NZ Tour, Andrew McClelland loves music. From chart top, indie-pop, soul and hip-hop to thrash, hard, grind and various other '-cores'. A celebration of music, with jokes.
Melbourne International Comedy Festival Comedian's Choice Award.
Sydney Comedy Festival Jury Prize Winner.
"a feel-good show filled with laughter and leaves us with a sense of connection with him, each other, and our own personal mix tape." 4.5 stars - Fringe Feed
"praise comes as easily as the belly laughs… You'd be hard pressed to have more fun in any other Comedy Festival show." - The Age
"In a word, brilliant... if you haven't seen one of his performances yet, it's high time you did! Raucous laughs and lengthy applause shows McClelland got the ingredients right." -Crikey (Daily Review) 4.5 stars
"He is both Jeeves and Wooster. His goofy, fun-loving personality is undercut by a sharp wit and craftiness... The material is all top notch" - Beat 4.5 stars
This show is being run on a Pay What You Can model. Tickets are available between $0 and $30. If you can afford to get a ticket GREAT! This is how people who work in live entertainment are earning our living.
If you've been hard hit by coronavirus as well, and aren't in a position to pay for one, book a free ticket. Just make sure you like the pages, share the event, or sign up to the Serious Comedy newsletter (you know, all the nice word-of-mouth stuff).
This show is taking place online, via Zoom. You'll need a computer or other device with an internet connection. These times are based on Australian Eastern Standard Time (GMT+10). If you're not in Australia's eastern states, you can check your time using this nifty time zone converter.
If you booked tickets, you'll receive an email from gigs@seriouscomedy.com.au the day of the show with the login details and some more information on how Zoom works. If you haven't received this (and it's not in your spam) send an email over to gigs@seriouscomedy.com.au and we'll sort it out. You can also download a simple PDF on how Serious Comedy uses Zoom from the website here.
These shows are being broadcast from Footscray in Melbourne's west. We are working on the traditional lands of the Boonwurrung and Wurundjeri people of the Kulin Nation and pay our respects to their Elders, past, present, and emerging.
Location
Online via Zoom
Online, Broadcasting from Footscray VIC Based on Australian eastern states' time 3000
Contact Details