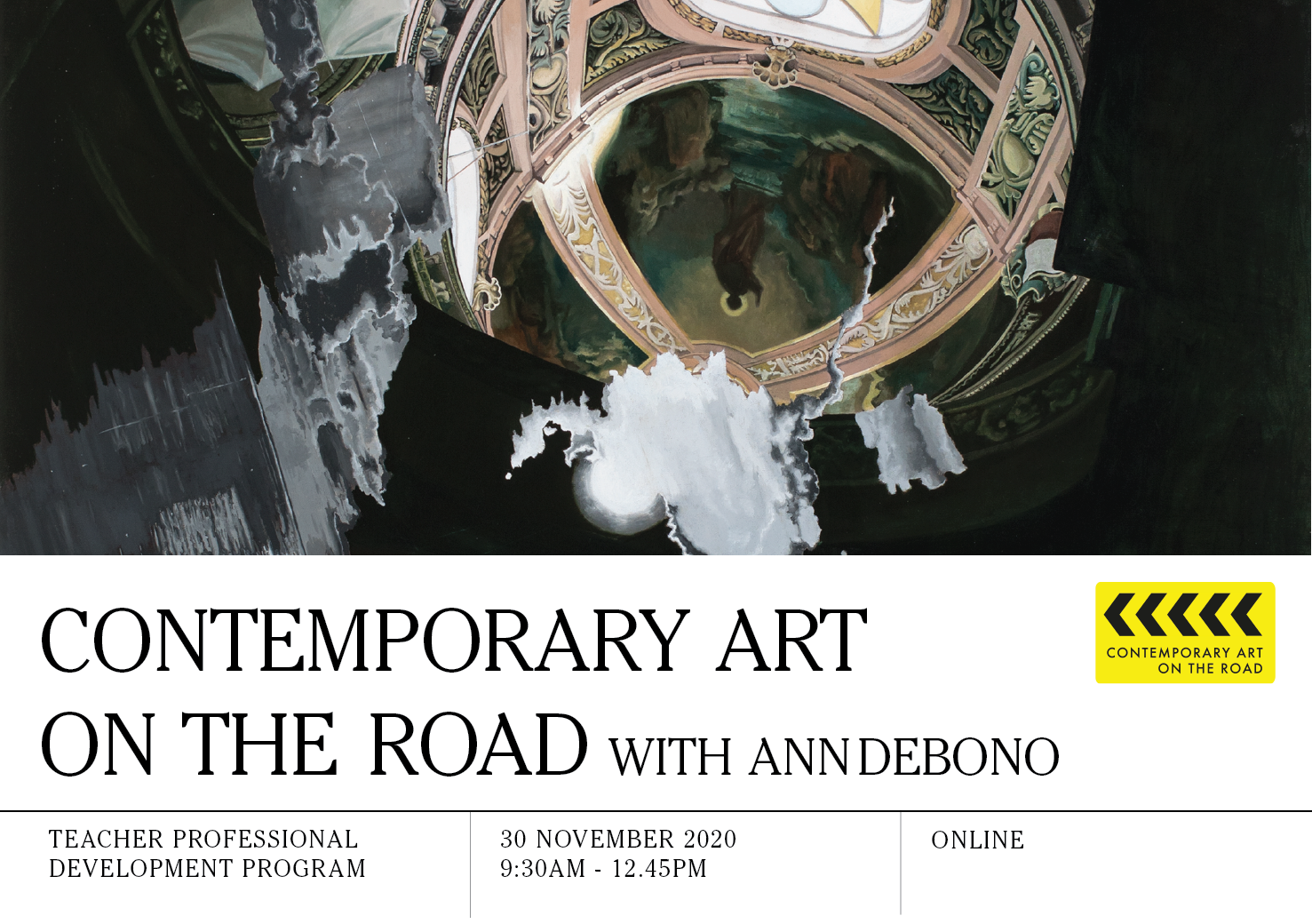 Contemporary Art on the Road is a professional development program founded to bring artists, art educators and teachers together to exchange ideas, share creative experiences and explore contemporary art and culture. The program has been designed to introduce teachers to a range of hands-on, expertly designed strategies and resources for teaching contemporary art in their classroom.
The first part of the program consists of formal presentations by educators from Gertrude Contemporary, Monash University Museum of Art (MUMA) and the Victorian Curriculum and Assessment Authority (VCAA). It will provide insights and enable deeper knowledge of contemporary arts, art practices and exhibitions.
A presentation and hands-on workshop by Gertrude Studio Artist Ann Debono will form the second part of the program. Ann will lead a workshop of abstract collage-making drawn from found image material. The object of the exercise is to find unexpected, abstract images. Participants will be encouraged to make non-figurative compositions, eliminating human figures, static orientation and horizon lines. These collages are intended to function as sketches for a painting or some other further re-imaging process.
To facilitate this online workshop Gertrude will send a Workshop Kit via Australia Post at least one week prior to the online session. The workshop kit will contain all materials needed to undertake the hands-on activity, printed resources and a special gift from us!
You will be emailed a link and instructions on how to access the workshop online, one week prior to the session. Should you have any concerns about accessibility, please do not hesitate to get in contact.
Ann Debono is a painter based in Melbourne. Whilst she no longer makes physical collages to base her paintings on, the collage deeply informs her practice. The mode in which she combines found images and her own photographs to make her paintings is often described as collage-like. Ann's practice deals with the phenomenon of images as paradoxical objects that are continuous with the material, visible world but also virtual portals upon that visible world.
Contemporary Art on the Road is an initiative developed by Gertrude Contemporary in partnership with Monash University Museum of Art, the Victorian Curriculum and Assessment Authority and three regional Victorian galleries: Castlemaine Art Museum, Horsham Regional Art Gallery and Shepparton Art Museum.
Contemporary Art on the Road is funded by the Department of Education and Training Victoria through the Strategic Partnerships Program (SPP).
This professional learning program addresses the following Australian Professional Standards for Teachers:

2.1 - Content and teaching strategies of the teaching area (Visual Arts)
3.1 - Establish challenging learning goals
3.2 - Plan, structure and sequence learning programs
6.2 - Engage in professional learning and improve practice
6.3 - Engage with colleagues and improve practice
7.4 - Understand the role of external professional and community representatives in broadening teachers' professional knowledge and practice.
Date: Monday 30 November 2020
Time: 9.30am - 12:45pm
Venue: ONLINE
Cost: No cost*, bookings are essential.
*Please note this program is only available to Low SES Melbourne teachers. Please call Gertrude to check eligibility.
RSVP: Monday, 16 November 2020
Presenters:
Siobhan Sloper, Gertrude Contemporary
Melissa Bedford, Monash University Museum of Art
Kathryn Hendy-Ekers, Victorian Curriculum and Assessment Authority
Ann Debono, Gertrude Studio Artist
Image | Ann Debono, Pinhole Firmament (detail), 2019, acrylic and oil on canvas, 138cm x 97 cm
Location
Online event access details will be provided by the event organiser