Class of 2020 Graduation Ring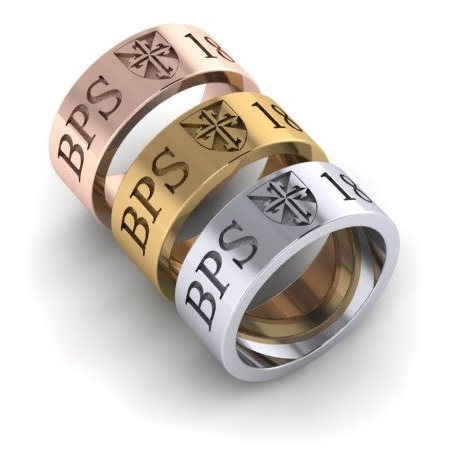 Blackfriars Graduation Rings have been commonplace for generations of graduates since the school's foundation in 1953. They mark a student's time spent at Blackfriars and remain a perpetual symbol that links each individual with their graduating classmates as well as with other generations of Old Scholars.
In 2020 this tradition continues with the Year 12 students of the Class of 2020 having the opportunity to purchase their own exclusive Blackfriars Graduation Ring.
Produced by James Thredgold Jeweller, Blackfriars Graduation Rings are engraved with the Dominican shield flanked by the school's initials and year of graduation (i.e. BPS 20). The ring is available in a choice of Sterling Silver or 9ct Gold (Yellow, Rose or White Gold available).
A sample of the Graduation Ring is available to be viewed at the Blackfriars administration.
PRICING (inc GST)*
Sterling Silver | $ 150
9ct Gold | $ P.O.A - Due to fluctuating gold prices, please contact Derek Gregory at James Thredgold Jeweller on 8431 9141

for the latest price for a Graduation Ring in Yellow, Rose or White 9ct Gold.
* plus online transaction fee
SIZES + ORDERING
All Year 12 students were measured for a Graduation Ring at the beginning of Term 3 and sizes are now on file at James Thredgold Jeweller. If you wish to confirm what size has been ordered, please contact the Blackfriars Development Office via email or call in to James Thredgold Jeweller (188 The Parade, Norwood).
Rings can be ordered and paid for online until 11.59pm on Monday 19 October.
PAYMENT PLAN
Part payments for the Class of 2020 Graduation Ring can be made online in increments of $25, $35, $50 and $100 (transaction fees do apply); amounts can be combined in a single purchase. Please note that a ring will only be ordered once the entire purchase amount has been paid. Part payments should therefore be completed in full by Monday 21 October.
DELIVERY
All Graduation Rings will be delivered to Blackfriars before Friday 27 November. Upon delivery, the school will contact the purchaser of the ring to advise that it is available for collection.
Please note that purchasing a Class of 2020 Graduation Ring is not compulsory.