Art of Loving Women (Men's Workshop) Perth 2020 (SOLD OUT)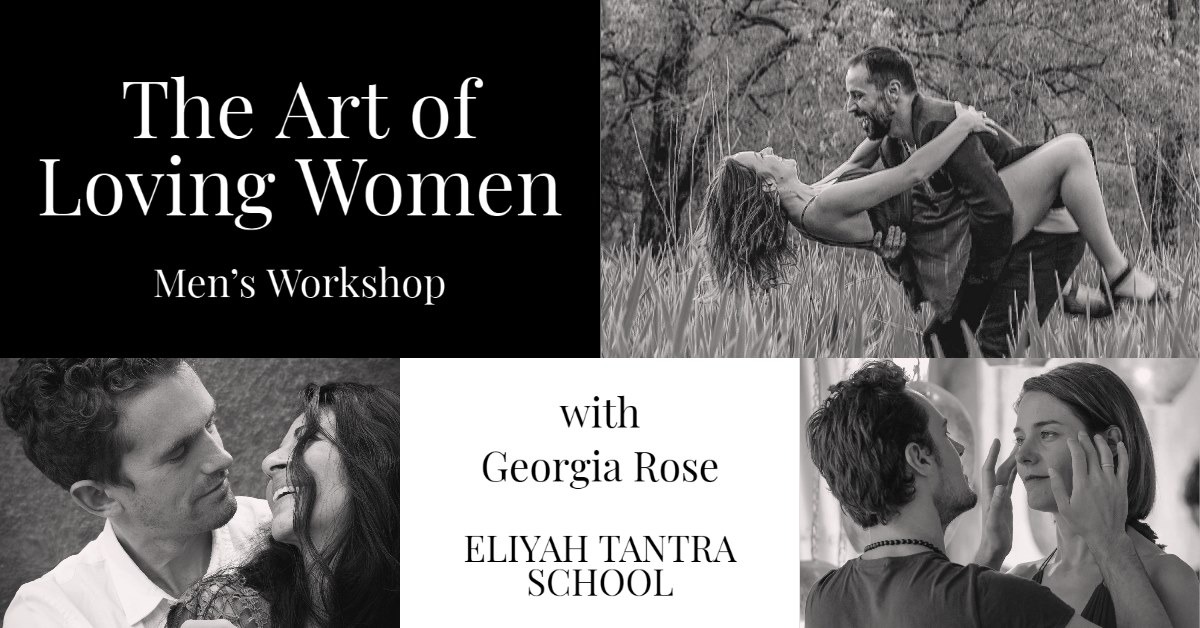 FOR MEN WHO WANT TO BE GUIDED INTO AUTHENTIC TANTRIC PRACTICES
AND GROUNDED CONSCIOUS PRESENCE
Would you like to be guided step-by-step toward the mastery of masculine presence and authentic Tantric sexuality?
Transformation will occur not through the mind, but through access to the primal energy of your own deep being.
So ask yourself, do you want to:
* Become more confident in the way you interact with women?
* Discover how to open a woman's heart and entice her authentic desire?
* Love a woman without fearing her emotional body or the need to tame or control her?
* Understand the difference between love vs sex vs romance
* Communicate with loving awareness, without losing your balls!
This AND MORE is possible! In this 2-day workshop, Georgia Rose will dive into the exploration of the innate differences between men and women, initiating men into the Tantric art of loving women.

TANTRIC GRATITUDE CEREMONY: On the afternoon of the 2nd day we will invite women to come into the temple to be worshipped in a sacred ritual. This part of the workshop is to bring men and women together in love, honour and reverence and this is a potent and powerfully healing ritual. This will integrate the teachings you have learned.

IF YOU HAVE A PARTNER, you will be welcome to invite her to be part of the ritual and to be partnered with you exclusively if you prefer. If you do not have a partner to invite, we will have a group of incredible women that are part of Perth's community to join us in the ceremony. Please come with your intention for healing as well as experiencing and learning.

WHO IS THIS FOR?
Any and every man! Men who want to understand women, connect to them and turn them on, on a much deeper level. Men who want to learn more about how sacred sexuality can awaken and liberate women's hearts.
________________________________________________
WE WILL EXPLORE:
Understanding masculine/feminine polarities; how to build attraction and heighten chemistry
How to love, honour and worship women and see them as the divine beings that they are
Learn how to awaken a woman's heart through sacred sexuality and Tantra
Understanding what men and women need from each other to experience deeper levels of intimacy and connection
Deepening into your own empowerment journey through evolving your inner feminine energy
The importance of boundaries and consent to allow for much deeper healing
Conscious communication practices both in and out of the bedroom to create more vulnerability and emotional safety
How to hold space for a woman whilst being in your healthy masculine energy, making it safe for her to open up emotionally to you and surrender to you sexually
Understanding the effects of emotional shaming on a woman and how to heal this
WORKSHOP DETAILS:
INVESTMENT (in $AUD)
Weekend Single: $399
Weekend Single (Early-bird, until 7th November 2020): $347
Weekend Bring a Friend discount: $640 ($320 each)
Strictly limited numbers
WHEN
Saturday 21st & Sunday 22nd NOVEMBER 2020
TIME
SAT: 11am – 7pm
SUN: 11am – 7pm
VENUE
Mind Body Heart Studio
81 Nanson Street, Wembley
Contact Details
Contact Event Facilitator Georgia Rose via georgia.rose.liberate@outlook.com or 0401732738
____________________________________________________________________
CANCELLATION POLICY
Deposits are non-refundable
No refunds due to "no shows".