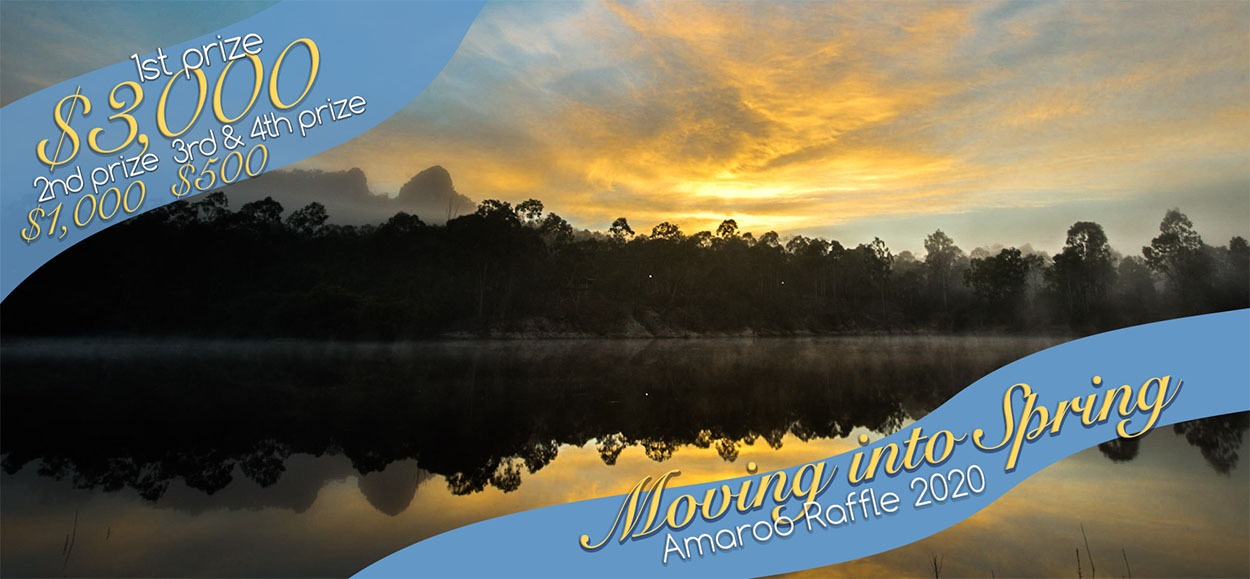 Conducted by: Ivorys Rock Foundation, Mt Flinders Road, Peak Crossing, QLD 4306
The 'Moving Into Spring' Amaroo Raffle 2020 is a terrific way to support Amaroo from wherever you are around the globe. At the same time it offers you a chance to win one of four great cash prizes - a big A$3000 first prize, A$1000 second prize and two A$500 third prizes.
Buying a ticket is an easy and fun way to support the work of Ivory's Rock Foundation. We really appreciate your support at this time!

A single ticket is only $10, and the more you buy, the cheaper they get. Choose the $31 Bundle, the $65 Super Bundle, $106 Mega Bundle and the $180 Uber Bundle and get better odds*.

*There is a small transaction fee of 50c per ticket. These transaction fees have already been deducted from all bundle pricing.
NB. TryBooking now offers the option of payment by PayPal. This incurs a 0.5% surcharge.
To purchase your tickets click "BOOK NOW" at the top of this page.
Having trouble buying tickets? TryBooking collects a lot of information which we do not use. We really only need your email and your country. Tip - if stuck on Postcode - enter 1234; if stuck on Phone - enter 123456
Ticket sales will close on Thursday 8 October at 7.00 pm Brisbane time (AEST) unless all 6,000 tickets are sold before then.
The 'Moving Into Spring' Amaroo Raffle 2020 will be drawn on Saturday 10 October at 7.00 pm (AEDT) using an electronic randomizer at random.org. We'll email the raffle results within 48 hours, including a link to the video of the raffle draw. And of course winners will be personally notified by email.

Raffle proceeds support the activities of the Ivory's Rock Foundation, (ABN 49143249290) a charitable institution that promotes personal peace and well-being. A primary initiative of Ivory's Rock Foundation is the provision of a learning facility at Ivory's Rock near Peak Crossing, Qld.

Eligibility to Enter
A person is not eligible to enter a category 2 art union if the person is:
(a) a member of the management committee of the eligible association conducting the art union; or
(b) directly engaged in conducting the draw of the art union; or
(c) the eligible association conducting the art union; or
(d) a member of the immediate family of a person mentioned in (a) or (b).
'Immediate family', for a person, means the person's spouse and family members residing
at the same premises as the person.

To ask us any questions, please email us at jetsetraffle@gmail.com
Go ahead and purchase your tickets... (click "BOOK NOW" at the top of this page)