The School of the Arts, English & Media (TAEM) presents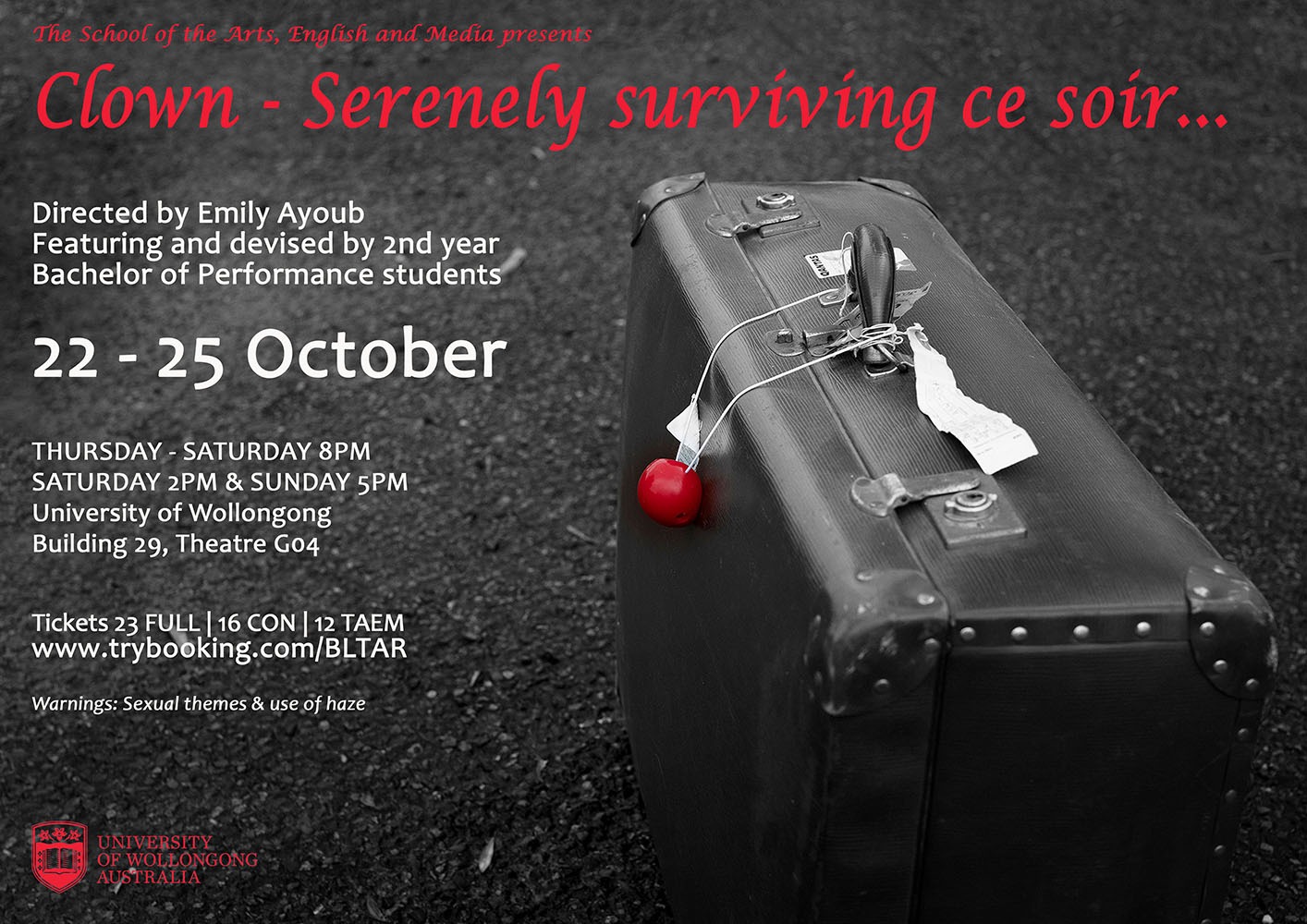 Clown - Serenely surviving ce soir... (SOLD OUT)
Directed by Emily Ayoub
Featuring second year Bachelor of Performance students
Devised and created by the ensemble
CLOWN - Serenely surviving ce soir... will see a bunch of lovable fools take on the theatrical realm of the clown and other eccentrics carried by life's absurdities. Inspired by the current forces of nature we find ourselves struggling to comprehend, students have searched for their own individual clowns by seeking to play their most truly vulnerable selves. By accessing their inner clown's naivety, openness, eagerness and curiosity, they have investigated and wrestled with theatrical 'play' through the lens of the clown's profound sense of renewed discovery.
Date: 22 - 25 October
Location: Building 29 Theatre G04
University of Wollongong
Northfields Ave
[CITY] NSW 2522
Phone: 02 4221 3857
Email: taem-admin@uow.edu.au
For more information, please see the TAEM Performance website
COVID-19 Information for patrons
Please be advised that this production has a COVID-Safe plan in place to reduce risk of potential virus transmission. While we strongly encourage the use of face masks, it is not mandatory for entry to the theatre. If you are unwell or displaying cold and flu type symptoms, including coughing, you will not be permitted entry. Refunds will be issued if you are unwell and unable to attend.
Due to the reduced capacity seating we will be carefully allocating bookings with spacing between groups. If you intend to sit with other patrons you must make ONE booking, only tickets booked in the same transaction will be seated together. Unless sold out already, booking windows will close 24hrs prior for weekday sessions, and at 2.30pm on the Friday of the production run for weekend sessions. This is to allow time for seat allocation and planning. We ask that you ensure you check the session date and time carefully as changes to bookings will result in complications with seating allocations.
Patrons are asked not to enter the building until 10 minutes prior to performance time, and will be seated as they arrive.
No tickets will be available at the door - all tickets must be purchased ahead by selecting a session time below.
For any feedback or concerns please contact TAEM admin
Bookings will open from 8 October