SPRING Circus Program 2020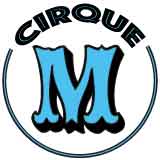 A fun 2hr 2 day program that gives your child the opportunity to climb, swing, tumble and hula hoop their way through the last week of the school holidays!
For new students- great way to try aerials and circusry- returning students, you won't get off easy... we will be encouraging you to try new things and build on your current skill set.We like to keep our student to coach ratio healthy so we limit the spaces available in our programs. This maintains a safe and fun environment for all and ensures your child gets the most out of the program.
Thursday 8th and Friday 9th OCT 2020
Morning group 5-8 years (9am-12pm)
Afternoon group 9-13 years (12:30-3:30pm)
$85 total per person
Sibling discount.. type in SIBLING at the checkout to rcieve a discount off your kids sessions. This is for immediate family and not for cousins for example.
We like to help out a little here so no one misses out.
When you book you will receive a confirmation and welcome email. If you do not see this straight away check you junk mail and failing that contact us to make sure you get all the info you need. It is all on our website for your reference as well.
Any questions please contact us. Our office will be closed during the first week of the holidays.
Circus and Aerial Training Centre
cirquem@hotmail.com