Blackfriars Graduation Ring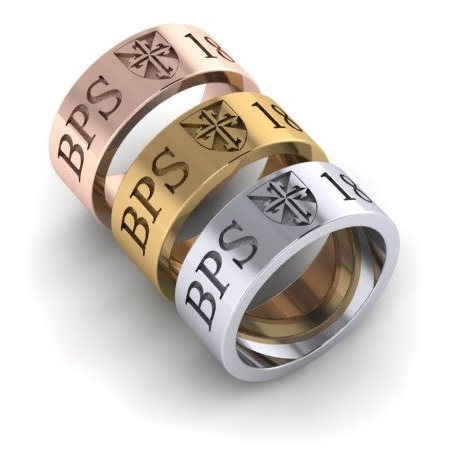 Since the foundation of Blackfriars in 1953, Graduation Rings have been offered to graduating students on an intermittent basis. Through the 1980s and 1990s they were commonplace, and they have been reintroduced to graduates in recent years.
Our Graduation Rings mark a student's time spent at Blackfriars and remain a perpetual symbol that links each individual with their graduating classmates as well as with other generations of Old Scholars.
In association with James Thredgold Jeweller, the Blackfriars Development Office is making our unique Graduation Rings available to any Old Scholar who may have missed the opportunity to purchase one in their year of graduation.
The Blackfriars Graduation Ring is engraved with the Dominican shield flanked by the school's initials and your year of graduation. They are available in your choice of Sterling Silver, 9ct Yellow, Rose or White Gold.
PRICING (inc GST)*
Sterling Silver | $ 180
9ct Gold | $ P.O.A - Due to fluctuating gold prices, please contact Derek Gregory at James Thredgold Jeweller on 8431 9141

for the latest price for a Graduation Ring in Yellow, Rose or White 9ct Gold.
* plus online transaction fee
ORDERING
To order a Blackfriars Graduation Ring, please complete the transaction online at this website. The ordering process will request your name and year of graduation. (If unsure of this, please include an estimate and we will confirm with our records). Blackfriars will verify your details and contact you to confirm your order. Upon this confirmation, you will be invited to visit James Thredgold Jeweler at 188 The Parade, Norwood, to be measured for your ring after which production will commence.
If you are located interstate or overseas, please visit a local jeweller to obtain your ring size.
DELIVERY
All Graduation Rings will be delivered to Blackfriars unless otherwise arranged (e.g. overseas or interstate delivery). A member of the Blackfriars Development Office team will contact you to advise that it is available for collection / delivery.