Tantra 101, Ubud, Bali 7November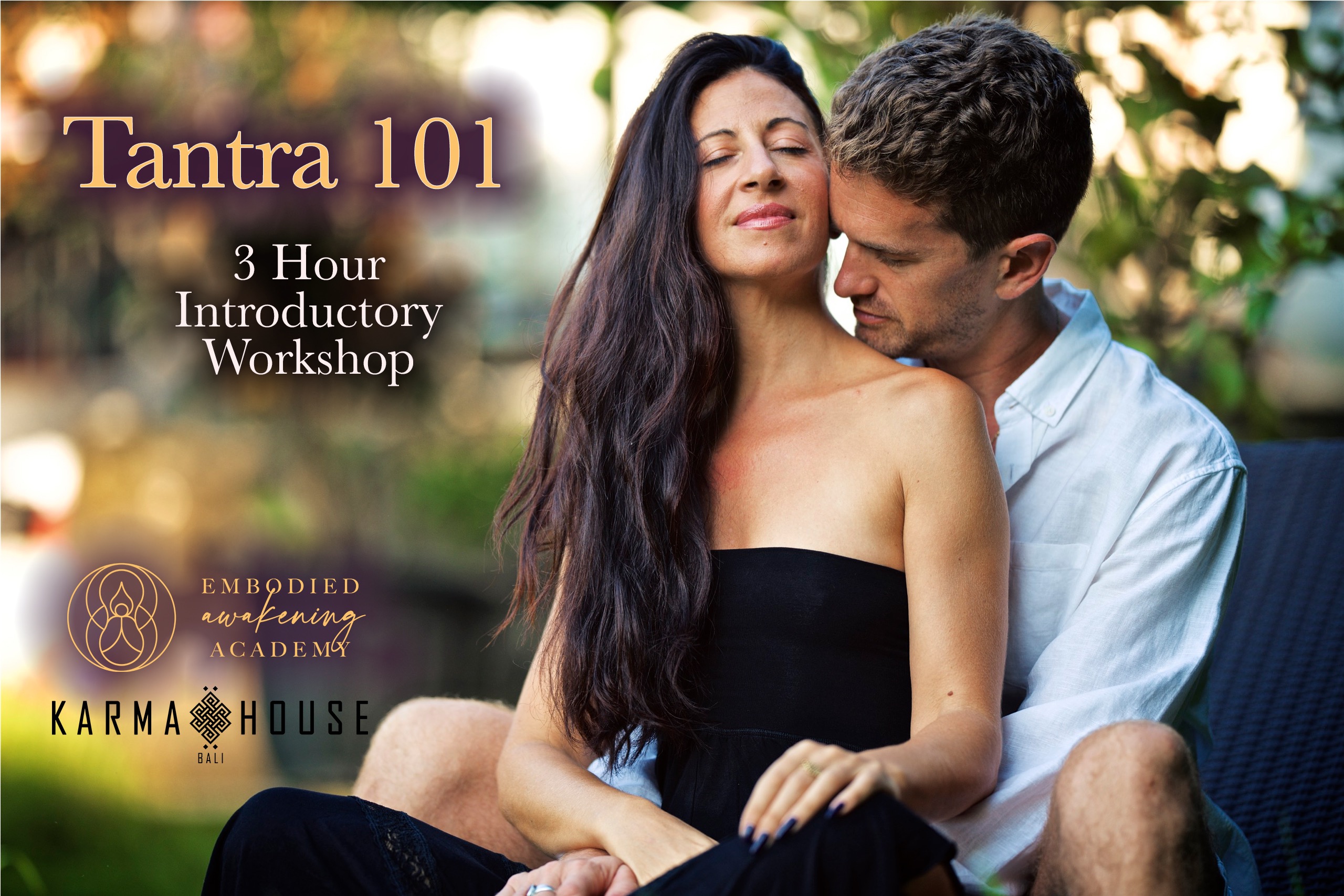 TANTRA 101
Curious about TANTRA?
Come join us for 3-hour introductory workshop and get a taste of what this tradition is all about.
Ready to truly love yourself?
To live a life of joy, sensuality and power?
To have deep authentic relationships?
To step into sacred sexuality?
To express yourself fully?
To stop putting others needs before your own?
To create the life of your dreams?
Tantra is a gateway into optimizing every area of your life.
Are you ready to master the human experience and embody your awakening?
Then join us!
__
.
. .
WHO IS THIS FOR:
This workshop is for complete beginners or for people who are familiar with Tantra but want to find out what's special about the Embodied Awakening Academy. Both couples and individuals are welcome.
For couples, this is a great way to learn to connect deeper with your partner and for individuals it's the best way to learn to connect with yourself and others in a safe, fun, sacred space.
Participants can be of all ages, from their early 20s and from all backgrounds and professions, from students and health care professionals.
_____________________________________________________
QUESTION: What Happens in a Tantra 101 Evening?
* Tantra Discourse - to understand what Tantra really is
* Tantra Meditation – to switch the mind off and enter the body
* Tantra Dance – to help let go
* Tantra Mantra – to connect to the joyful song of life
* Tantra Ritual – to connect heart and soul
The experiential elements may include movement, sound, breath work, verbal sharing, dance, eye contact, and some gentle physical contact. The spirit of the evening is one of gentleness, playfulness, respect and inner observation. Participants are fully clothed, and as in all Embodied Awakening Academy events you always have choice as to whether, and to what degree, you engage.
_____________________________________________________
What to wear
Please wear loose comfortable clothing appropriate for sitting on the floor and for gentle movement.
WHEN: Saturday November 7th 1600-1900 Karma House, Ubud
COST:
300 IDR (Early bird Pre-Sales up to 31Oct)
400 IDR (Regular Price)
450 IDR (at the door)
This event will sell out, as we have limited capacity to 20 due to corona regulations.
Best to purchase before hand to confirm your spot.
VENUE
Karma House, Ubud, Bali, Penestanan
CONTACT
Inquiries: Aaron Kleinerman (host and facilitator) thesoulnavigator@gmail.com
________________________________________________
ABOUT YOUR FACILITATORS:
CHANTELLE RAVEN
Chantelle has been facilitating workshops and retreats in the field of spirituality and Tantra for almost 20 years. Inspired by Tantra, Psychology, Philosophy and Shamanism, she is an accomplished Teacher and Practitioner whose teaching style is pragmatic, comprehensive, down-to-earth, and always has an element of fun as well as intensity.
Chantelle grew up with meditation and personal development in her home. She was facilitating motivational workshops in her 20's as a successful CEO, and then after having her first child, moved into women's work, writing her first of many books. When Chantelle experienced a massive personal health crisis (cervical cancer) she then placed all her time and commitment into the alternative healing arts where she uncovered her heart's vocation in Tantra. Fast forward a decade and Chantelle has established the Eliyah Tantra School and has taught countless classes, workshops and retreats all over the world.
Chantelle's energy, knowledge and passion will inspire you to change the way you look at life, love, sex, spirituality and the emotional body in ways that will remind you who you really are.
AARON KLEINERMAN
Aaron is a Transformational Sex and Relationship Coach, Facilitator & Speaker. He is the lead male teacher for Embodied Awakening Academy, a Tantric Practioner, and creator of 'The Conscious Mans Guide to the Bedroom.' He has learned from the great masters in the field of sexuality and transformation, including earning a master's degree in spiritual psychology. Aaron went from being a licensed captain navigating ships to a sexual behavior and movement specialist navigating souls. His workshops, retreats, sessions and speeches help humans integrate body movement, psychology, sexuality and spirituality. He speaks and teaches honestly and transparently so that others can unlock the real reason for their human existence. Aaron's mastery as a teacher provides the practical tools everyone needs to implement embodied awakened intelligence into daily life. Find out more about Aaron at www.AaronKleinerman.com & www.EmbodiedAwakeningAcademy.com
Location
Karma House
JL. Penestanan, Ubud Bali 80571
Contact Details