International Women's Day "A CELEBRATION OF WOMEN'S VOICES" (CANCELLED)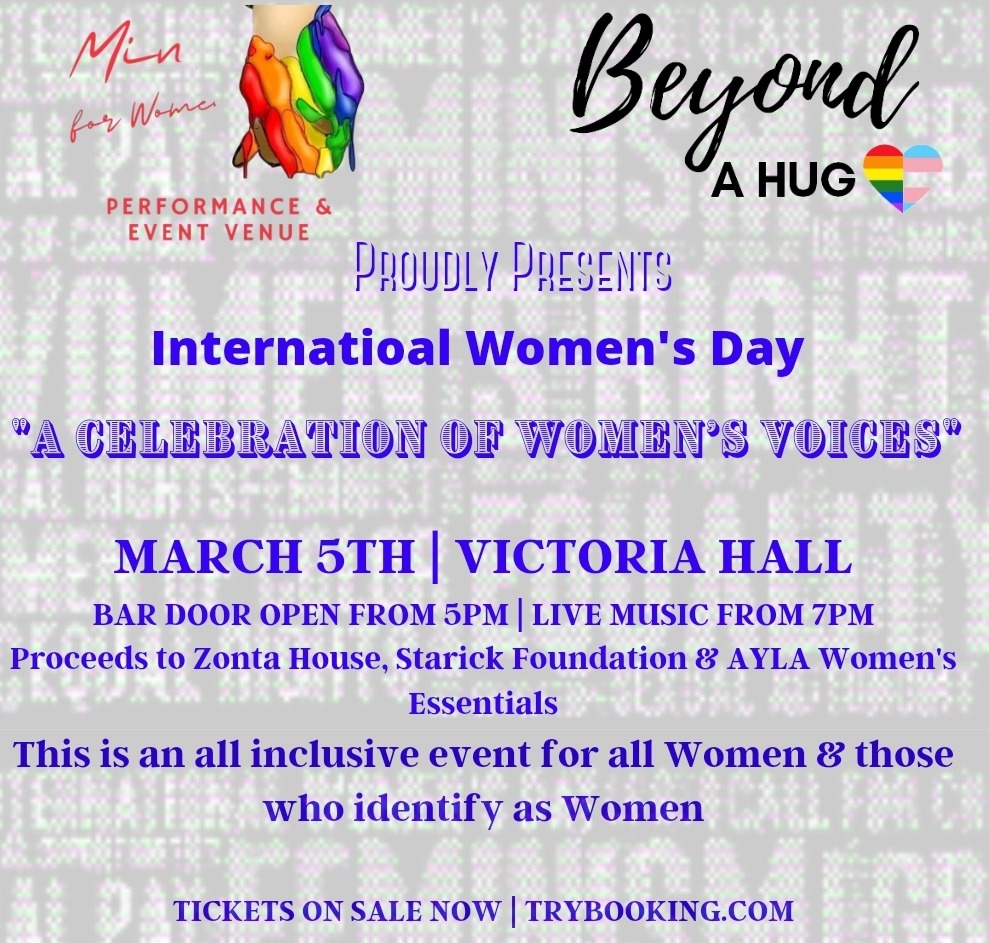 Minx for Women & Beyond A Hug™️®️ are proud to be hosting International Women's Day.
"A CELEBRATION OF WOMEN'S VOICES"
This is an inclusive event for all Women and those who identify as Women.
Victoria Hall March 5th 2021
Minx for Women & Beyond A Hug Proudly Presents "A Celebration of Women's Voices" Celebtating International Women's Day March 5th.
Your host for the evening is the hillarious Simone Springer with the sensational vocals of Music of Leanne Bugat, PINked, Ballbreaker Perth, KNiKi & The Blue Devils with The Sounds of Woodstock being held at the beautiful Victoria Hall (Fremantle), 179 High Street, Fremantle and the ajoining Dugite Bar.
Proceeds go to the much needed services of Zonta House Refuge Association Inc. Improving the lives of women & their families who have experienced or are at risk of experiencing family and domestic violence.
Starick Services Inc. Domestic and family violence support services for women and children working together to build futures free from violence and AYLA INC. For Women's Essentials.

Victoria Hall 179 High Street, Fremantle

Bar opens from 5PM | Live music from 7PM

Food will be available to purchase on the night including vegan options.

Bring your mother's, grandmothers, sisters, aunties, daughters, your best friends and help us celebrate International Women's Day and help support these wonderful charities together!
Fremantle Train Station is a 7 minute walk away (550 meters)
This venue is wheelchair accessible.
This is a 18+ event
Friday 5 March 2021 at 5:00 PM to 11:45 PM
Location
Victoria Hall
179 High Street , Fremantle , Western Australia
Contact Details
CONTACT EVENT ORGANISER
Location
Victoria Hall
179 High Street , Fremantle Western Australia
Contact Details