Blue Mountains Camino Monthly Walk + Meetup - 27 February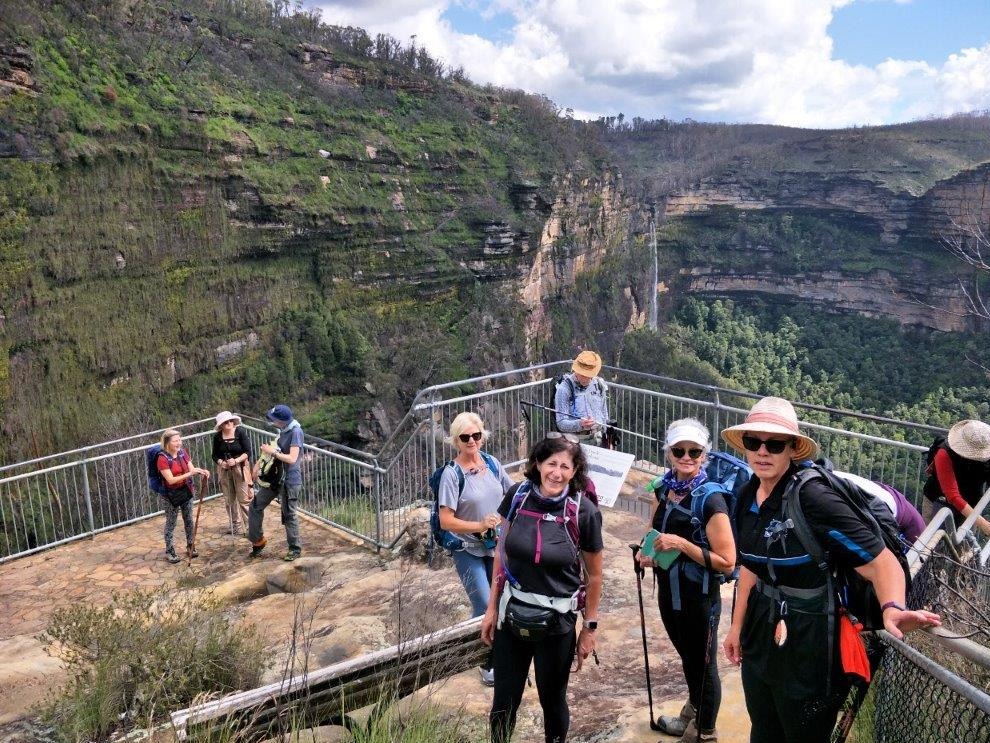 SATURDAY 27 FEBRUARY 2021
JOIN US for our regular last Saturday of the month morning walk and afternoon meet-up! You don't have to be a Camino Pilgrim, but you may aspire to one day walk the Camino or other pilgrimages; walk with like-minded people who enjoy bush walking/hiking and an opportunity to do some beautiful walks in the Blue Mountains. You must know your own walking ability.
* Most months the morning walks are around beautiful Blackheath. Meet at Glenella, 56 Govetts Leap Rd, Blackheath by 8.45am for 9.00am start.
There will be two walk options for the walk on Sat 27 February 2021:
Walk 1 - Easy. A reasonable flat trail walk from Blackheath to Medlow Bath along the fire trail and return. Approx 10kms. Cafe on route.
Walk 2 - Medium. A mix of fire trails and bush tracks from Blackheath to Mount Victoria and return. Approx 14kms. No cafe stop on route.
* No matter which option you choose, it is a great opportunity to test your Camino gear and pack, chat to others who may have done the Camino whilst you walk.
* Please come prepared wearing suitable footwear and clothing, and just in case it rains, bring a rainjacket/poncho, also bring basic first aid, ensure you have ample water, a hat, sunscreen and snacks.
Depending on the chosen walk for the morning there may or may not shops or a cafe available until your return to Blackheath. You may wish to bring snacks to eat at one of the scenic stops, likewise bring some cash just in case there is a cafe to buy a drink/eats at the half way point.
* You may wish to carry your Opal Card in case there is a train you may wish to catch for the return to Blackheath.
BE COVID SAFE!
Please carry hand sanitiser in your bag/pack and bring a mask. You may be required to wear a mask indoors based on the COVID regulations in place. If you are feeling unwell, please do not participate and if any slight symptioms do get COVID-19 tested, stay at home until you get results. Be COVID SAFE, download the COVID App. Download the Service NSW app which includes the QR code for signing in. Protect yourself and others. NSW Health information Click Here
WALKING SAFETY
Please read this before you attempt any of our walks. Your safety is your responsibility.
You are welcome on all our walks, but please read the following carefully before deciding to do a walk:
1. Read our notes about the walk carefully, and be aware of the difference between the grades of walks.
Easy walks are usually on well formed fire roads or bush paths, with limited stairs or steep parts. Minimum elevation gain. Distance 5-10kms.
Medium walks may include difficult terrain such as steep climbs, sometimes up rough tracks or stairs, across creeks or over uneven ground. These walks are for reasonably fit and experienced walkers only. Distance 10-15kms
2. Do not attempt any walk if you have any health concerns at all.
3. Wear appropriate footwear and bring ample water (minimum 2litres). Walking poles can be useful.
4. The group is only as fast as its slowest walker. If you are unsure about being able to keep up with the group for the entire walk, start with the Easy Walk.
5. All walkers will meet at the start of the walk. If you are unsure of the route, make sure you buddy up with someone who does. An experienced walker will always be a the rear of the group.
6. All walkers are requried to register via TryBooking prior to the walk - button below.
More info about the Blue Mountains Camino Supporters: here: https://bluemountainscamino.com
If you have any questions, please email info@bluemountainscamino.com
Register For the Walk and Meetup Here