Zonta Toowoomba Garden City Grand Homes Tour 2021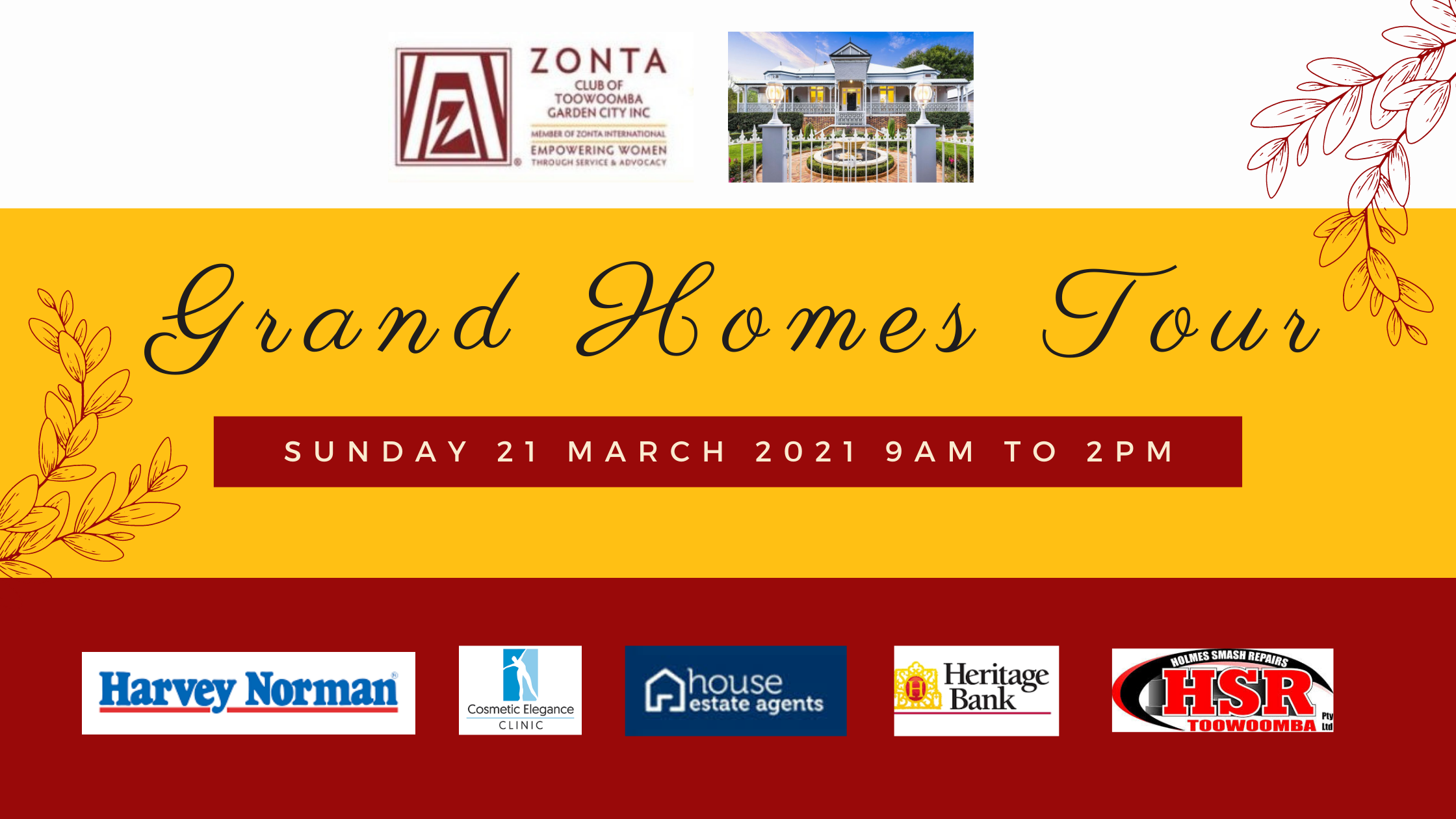 Zonta Toowoomba Garden City is proud to host its 15th annual Grand Homes Tour! Please join us on Sunday, 21st March 2021 from 9am to 2pm, to view four spectacular local properties.

All proceeds go to our beneficiaries:
- Blush Cancer Care: Fight Back with Fitness Project
- Carbal Medical Services: Strong Fathers, Strong Families Project
- Lifeline Darling Downs: Safe Starts Units Refurbishments, and
- Driving Lessons for Refugee Women of Toowoomba Region.
TICKET OPTIONS:
Bus Tour Ticket $95 - Our friends at Premier Queensland Buses will escort you from Rumours Convention Centre to each of the four homes. You will also enjoy the sumptuous morning tea at Rumours Convention Centre.
Self-Drive Ticket $80 - You will be emailed a self-drive schedule/map of the four amazing properties for you to use with your own vehicle. You will also enjoy the sumptuous morning tea at Rumours Convention Centre.
Raffle Tickets $5 - Whether you purchase a Grand Homes Tour ticket or not, we cordially invite you to purchase tickets in our Fundraiser Raffle Draw!
There are 11 amazing prizes to be won including: One sparkling 18ct white gold rare-white diamond set band, designed and finished in the Lannah Dunn Fine Jewellery on-site workshop, valued at $2,000; $1,500 Cosmetic Elegance Voucher; $1,200 Wendy Roche Fine Art; $850 Tempus Candle & Chanel Hamper; $350 Cowhide Handbag from Magnolia House & Gift; Furla Sunglasses from Durkin & Black valued at $340; 'Wheelbarrow of Cheer' Alcohol Hamper; $200 Easter Flair Hamper; $200 Encores Dinner & Empire Theatre Package; a Millers Gourmet Meat & Weber BabyQ pack worth $450; and a JuJu & Co Milan Leather Handbag from CoCo & Blush @ The Ridge worth $385.
Please see the Zonta Toowoomba Garden City Facebook page for more information about our fantastic prizes!
Zonta Toowoomba Garden City sincerely thanks all sponsors and raffle prize donors for their support and generosity. This event would not be possible without you.
Book now! This event always sells out!
Location
Grand Homes Tour | Rumours Convention Centre
323 Ruthven Street, Toowoomba Queensland 4350
Contact Details