Please note due to Covid-19 restrictions this reunion has been postponed. It will rescheduled to a date to be fixed.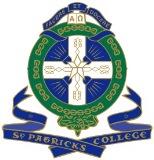 St Patrick's College
Class of 2001 Reunion
Saturday, August 14, 2021
6:00pm-10:30pm
SPC Old Collegians Pavilion
Partners most welcome to attend
Drinks at bar prices
Tour of the College commences at 6pm. Bar opens at 7pm

Following the conclusion of the evening you are most welcome to continue reminiscing in comfort at The Western Hotel, proud sponsor of the OCA reunion programme.