Pierce Brothers at Birregurra Hall (SOLD OUT)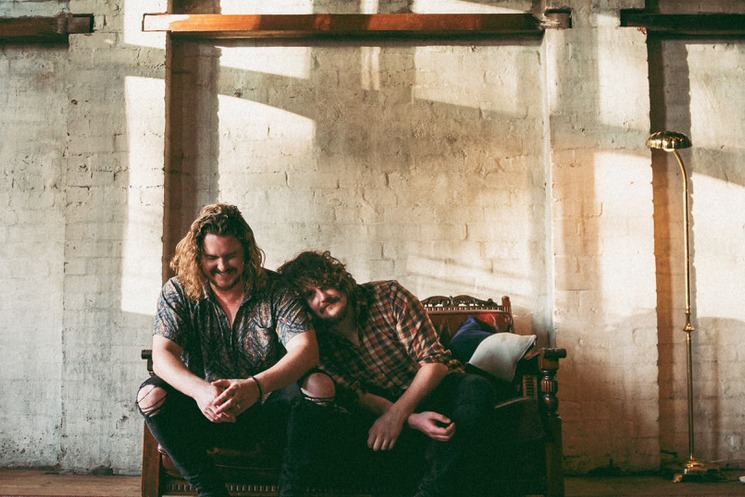 TICKETS CURRENTLY SOLD OUT. JUMP ON THE WAITLIST IN CASE WE CAN RELEASE SOME MORE TICKETS IN LINE WITH COVID RESTRICTIONS.

It's been six years since the fabulous Pierce Brothers graced the Birregurra Festival stage in 2014 and they are coming back for the release of their new supercharged indie folk album, INTO THE GREAT UNKNOWN.
Presale tickets: $45.00.
This is a Covid Safe event. Bar opens at 6.30pm. Support artist to be announced.
SUBSCRIBE HERE to hear about future Birregurra Hall events
Exploding onto the world stage in 2014, the brothers started their journey as buskers on Bourke street (alongside other incredible busking acts Tash Sultana and Tones and I), and soon became a must-see act selling out 3 Corner Hotels with the release of their breakout EP The Night Tree in 2014.
Shortly after, on the back of the success of The Night Tree, the pair played their first European set at Lowlands Festival in 2014. Soon the Melbourne duo began a steady journey building audiences and selling out shows all over the world, supporting artists the likes of The Cat Empire, St. Paul and the Broken Bones, Tones and I, and Tash Sultana just to name a few.
Having established themselves as an integral part of the music scene in Australia and abroad, the brothers have toured relentlessly – honing their craft and gaining fans across the globe as they go. The band's music has grown with them over the years and has seen them release a top 15 ARIA debut album (Atlas Shoulders, coming in at #13) and two Top 10 ARIA EPs (The Records Were Ours and Into The Dirt), and have received over 30 million global streams.
The pair recently lived out their dream of headlining a maxed-out Forum Theatre in their hometown of Melbourne, before taking on a massive world tour, headlining venues all over the globe, playing arenas supporting Tash Sultana, as well as massive AAA festivals in North America, Europe, and Australia.
During the 2020 lockdown the boys retreated into the studio for 6 weeks and created their most ambitious record yet, completing their as yet untitled sophomore album entirely self-funded and releasing 100% independently early 2021.
In 2021 they will be appearing at Bluesfest Byron Bay shortly after the release of Into The Great Unknown, before setting forth on their biggest Australian regional tour to date. Returning to venues in all 7 states & territories after spending 2020 in lockdown and most of 2019 touring North America and Europe.
Pierce Brothers' new single BROTHER, is available worldwide February 12, 2021.
Into The Great Unknown is available worldwide March 5, 2021
​
Location
Birregurra Mechanics Hall
42-44 Main Street , Birregurra
Contact Details