EXSP2021

ANZAC

EVE




NATIONAL BACKYARD SLEEP OUT
COMMUNITY CHARITY SLEEP OUT
FOR HOMELESS VETERANS
IT'S GONE LOCAL!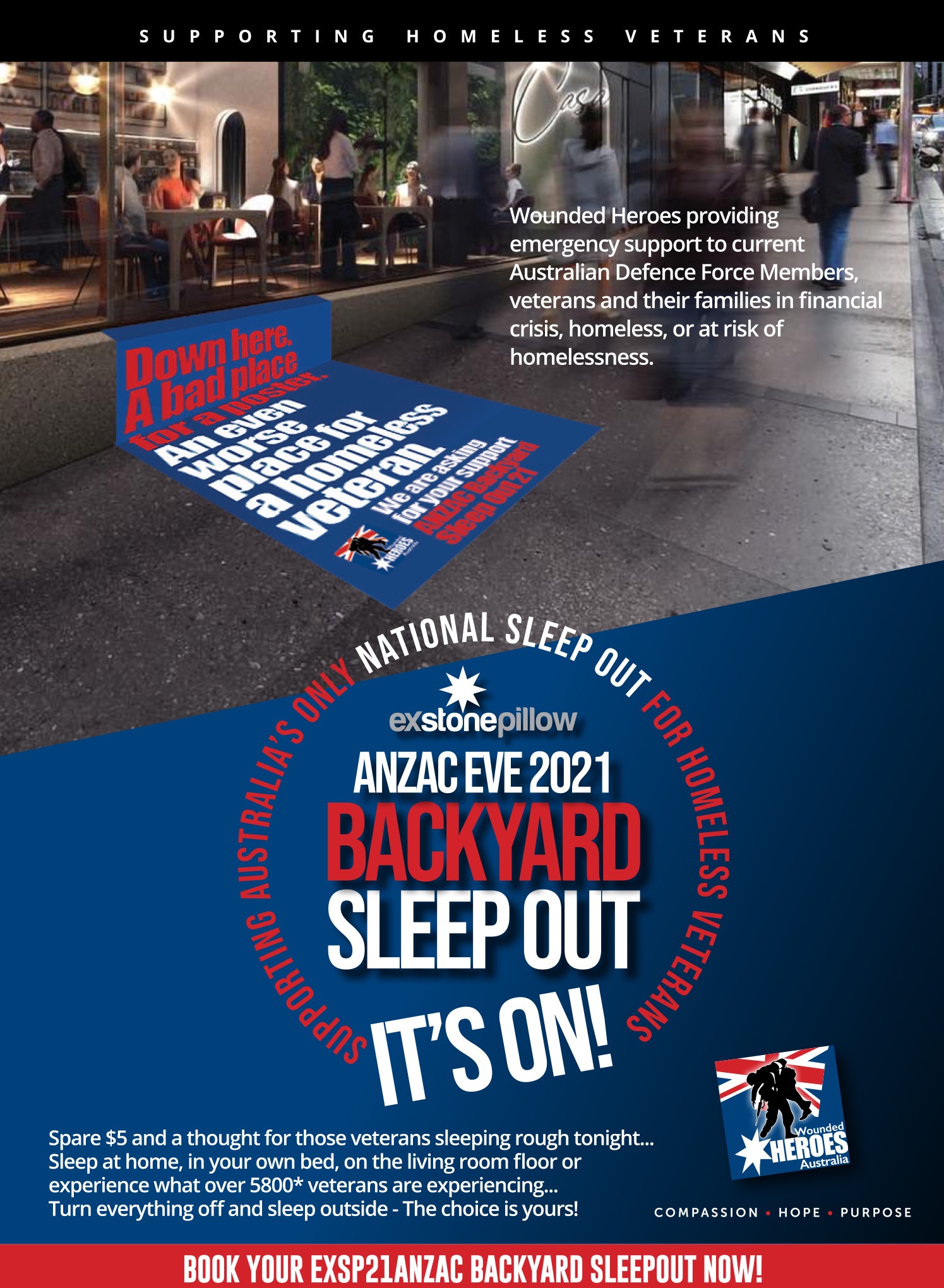 We have all had quite a year with what's been going on with restrictions and trying to be safe!
This year Australia's only NATIONAL ANZAC Backyard Sleep Out
for homeless veterans is on ANZAC EVE Saturday 24th APRIL 2021.
Spare $5 and a thought for those veterans sleeping rough tonight...
Sleep at home, in your own bed, on the living room floor or
experience what over 5800* veterans are experiencing...
Turn everything off and sleep outside - The choice is yours!

Make a night of it and support these deserving veterans.
To be aware there are just under 6000 veterans and their families have been doing it tough either
out on the streets of this great nation or have the threat of sleeping rough hanging over them NOW! TODAY!

$5 for each person sleeping out at home or in your backyard will go directly to those
veterans and some with families who need it most.
Exercise Stone Pillow is Wounded Heroes major fundraiser event each year,
to raise funds and awareness for veterans that are homeless or at risk of homelessness.
The BACKYARD SLEEP OUTS are small, closed events that you organise for family,
friends, colleagues, or your local community group.

PLEASE Book NOW for just $5 to sleep out.
Merchandise will be available. Instagram will be live on the night - stay tuned.
*Conditions Apply
Venues
On 24th April 2021, Exercise Stone Pillow (EXSP2021)
events are being held at homes around the country.
Contact Details:
Sue Luxford
sue@woundedheroes.org.au
P: 1300 853 080
https://www.facebook.com/WoundedHeroesAustralia/
Another Wounded Heroes initiative