Tantra Temple Night - Canggu - Conscious Connection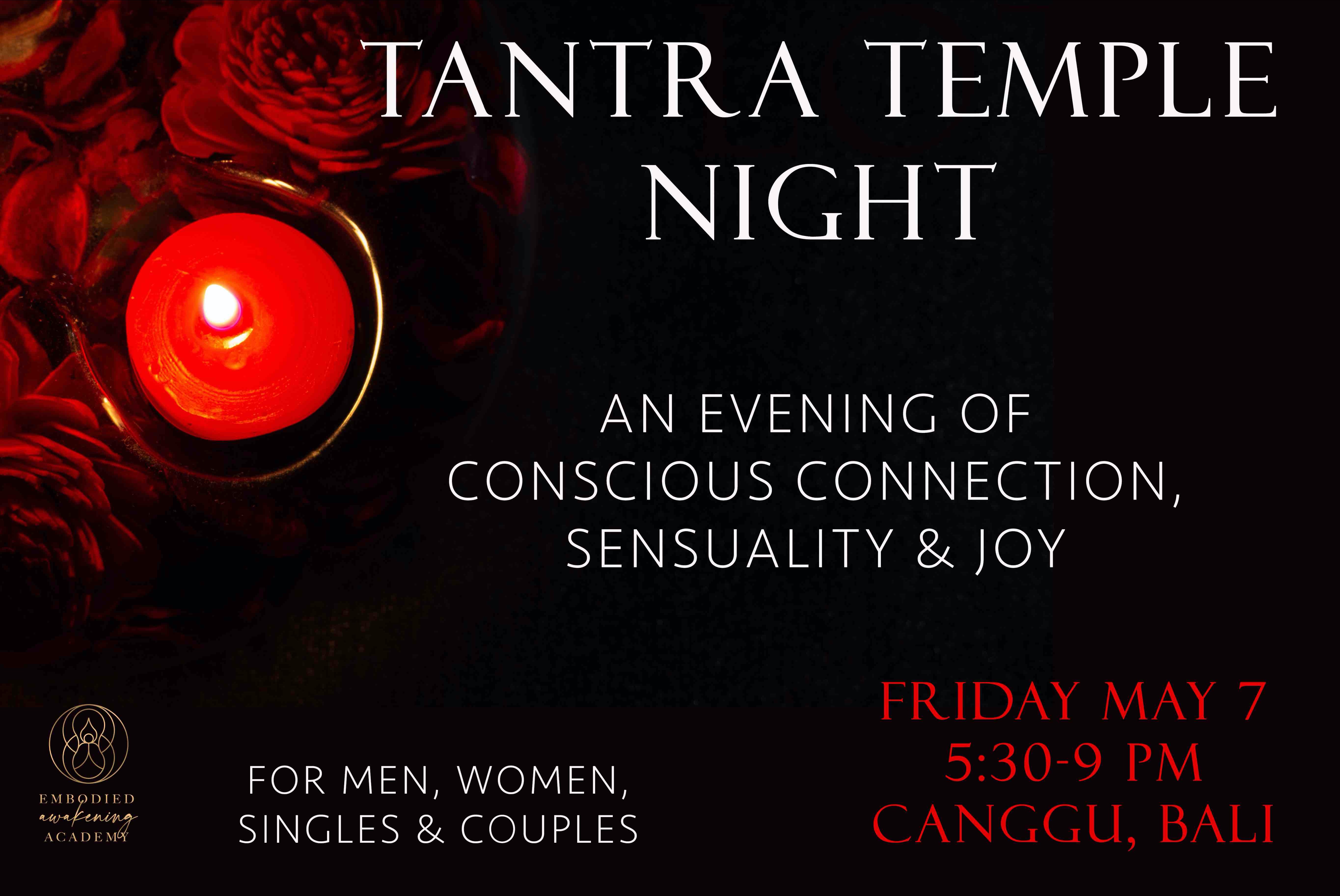 Join Aaron Kleinerman & Chantelle Raven for a heart-opening, authentic, nourishing and connective evening of fun, celebration, touch, sënsuality & more!
* Women, Men, Couples and Singles - All are welcome!!
WHAT IS A TEMPLE NIGHT?
Temple Nights are based on ancient traditions of gathering in sacred space to celebrate and worship love, the heart space, our humanity, aliveness one another and our connection to the divine. It is where we unite, within and without.
Here we bring the Temple into the modern world, where deeper connection to each other & to love can lose priority in our busy lives. These nights are a 'top up' for your healthy dose of human connection, to explore connective practices that will open your heart, explore deeper intimacy with yourself or a partner, enjoy the sensation and aliveness of your body, learn practices for setting healthy boundaries, come home to your heart, laugh, play and share a moment of authenticity with others.
You can do the whole night with your partner if you join as a couple, or if you join on your own you'll have the opportunity to meet and connect with multiple people throughout the night!
WHO ARE TEMPLE NIGHTS FOR?
These Temple Nights are for anyone who deeply desires to awaken deeper into their heart and sensation and to connect authentically to others – where all of us is welcome, where we have a place to celebrate, play, laugh, explore, open our hearts and allow ourselves permission TO JUST BE COMPLETELY, 100%, UNASHAMEDLY OURSELVES.
Check out Testimonials below to hear what others have to say about these amazing nights!
WHAT IS INVOLVED?
You will be guided through solo, group and partnered practices of conscious connection, embodiment, play, authentic communication and present, loving touch. It's a chance to get out of your mind and into your body. (Your level of participation is completely up to you –you could go through the entire evening without even touching another person if that is your authentic truth. Boundaries are honored first and foremost).
You'll be guided to explore beautiful practices of touch with others, which will nourish your heart, ignite your self expression and leave you feeling blissfully alive in the arms of a loving community of like-minded people.
During Temple Night, we'll explore different types of connections – heart-based, playful, energetic, physical connection with one another. Joy and emotion all have permission to be expressed – within a safe container created around setting healthy boundaries and consent at all times – which we will explore at the beginning of each evening.
** This is a deeply self and group respecting event
** This is an alc0hol and dr.g-free event
(All these words must be censored due to FB strict rules)
These events sell out, so jump in early to join us!
_____________________________________
TEMPLE EVENING DETAILS
DATE: Friday 7th May from 5:30-9pm
TIME: 5:30 - 9 pm. Arrival from 5:15 pm.
recommended to eat a light meal beforehand. There will be light snacks available at the break.
LOCATION: Cosmos Oasis, in Canggu
http://cosmosoasis.com
PLEASE BRING:
- water bottle
- cushion
- wear something you feel comfortable and good in - layers recommended as we will warm up and cool down at various points of the evening.
DO NOT ATTEND IF YOU ARE FEELING UNWELL!
TICKETS:
700,000 IDR solo ticket
1.1 Mil IDR couple/pair/bring a friend ticket
Early bird Sale until 30April (600,000 IDR/ticket)
(Tickets sold in AUD)
**Bookings are essential as places are limited and these events SELL OUT every time!
We have a limited capacity due to Covid restrictions. Buy your ticket today!
_______________________________________
QUESTIONS AND CONTACT
Please contact Aaron Kleinerman via email: thesoulnavigator@gmail.com
_______________________________________
WANTING MORE?
Aaron & Raven also offer 1:1 sessions & retreats to take your own journey of healing, self-love, self-awareness and self-discovery deeper. Contact Aaron for more info or to find out about other upcoming events, workshops & courses!
Check out the upcoming Living Tantra Retreat May 22-29 https://www.facebook.com/events/149821886955271
____________________________________________
WHAT OTHERS HAVE TO SAY ABOUT TEMPLE NIGHTS:
"Such an amazingly beautiful juicy vibe created. I am feeling the love and deeply leaning into this magical space of surrender and openness at your Temple Night. Thank you!"
-
"When I got home after last night I felt understood and loved in a place full of people I've never met."
-
"Totally blissed out after Temple Night...met so many beautiful souls for a night of connection, play and conscious loving touch. Thank you!
-
"Last night was amazing! I haven't ever felt that connected or seen by friends and people I know. Thank you for the space you create, I can't wait for the next one."
-
"I just wanted to say thank you so much for creating such a beautiful, safe space for us last night where we could connect with our authentic self and express our humanity. I've had a massive shift and I've had feelings of gratitude & joy coming up at various stages of the day. It's been a long time since I've truly felt those feelings. Thank you"
-
"This was my first Temple night in this style... and I loved it!! Plenty of discussion around boundaries to make sure everyone felt safe and then enough time to have some deep and fun connections. You did such an amazing job!! Everyone book your tickets fast, this is going to sell out again, no doubt!"
-
"It was a stunning and beautiful evening!. Much gratitude to you for the knowledge, safety, playfulness and down-to-earth quality you bring. And deep gratitude to everyone who participated who also made this night what is was.
It's all about love."
-
"I'm feeling really grounded and more in love with my feminine parts! Feeling grateful as well, thanks a lot for holding this safe space so well"
-
"I really loved connecting in a completely different way than I ever have before. It was a beautiful space and an amazing new experience. I've had low libid0 for quite some time now and after the other night I've felt it increase a bit! I feel more sensual, I have tingling sensations which I haven't had in so long and it's so nice! THANK YOU so much!!"
-
"Thank you so much for tonight's experience. It was amazing. You are gifted in what you do."
-
"Wowsers and thank you for tonight, the love and energy was just what I needed to shift my heavy heart and embrace the real me that lies within!"
-
"Thanks for another lovely night! Space was held beautifully and safely as always and loved all the activities!"
-
"It was the best time ever! Highly recommend this. None deserves to live with a closed heart."
"Can't recommend these gorgeous nights of connection enough."
-
"Such a beautiful night. Very keen to come along to the monthly temple!"
-
"Such a beautiful calming heart felt evening, like medicine to the soul"
-
"Wild and free and very authentic I felt !"
-
"Thank you for creating such a special space"
-
"Was beautiful connecting with you and experiencing the magic of this sacred container...much love to you and looking forward to the next temple night!"
-
"What an amazing, courageous, loving and open group of people.
Will definitely be at the next one."
-
"Such a beautiful event that I learned a lot in. Keen for more thank you beauty!"
-
"Such a sensational evening! Am soooo excited you're doing more of these!"
______________________________________
ABOUT YOUR FACILITATORS
Aaron Kleinerman is a Transformational Sex and Relationship Coach, Facilitator & Speaker. He is the lead male teacher for the Embodied Awakening Academy, a Tantric Practioner, and creator of 'The Conscious Mans Guide to the Bedroom.' He has learned from the great masters in the field of sexuality and transformation, including earning a master's degree in spiritual psychology. Aaron went from being a licensed captain navigating ships to a sexual behavior and movement specialist navigating souls. His workshops, retreats, sessions and speeches help humans integrate body movement, psychology, sexuality and spirituality. He speaks and teaches honestly and transparently so that others can unlock the real reason for their human existence. Aaron's mastery as a teacher provides the practical tools everyone needs to implement embodied awakened intelligence into daily life.
Www.AaronKleinerman.com
Www.embodiedawakeningacademy.com
CHANTELLE RAVEN
Chantelle has been facilitating workshops and retreats in the field of spirituality and Tantra for over 20 years. Inspired by Tantra, Psychology, Philosophy and Shamanism, she is an accomplished Teacher and Practitioner whose teaching style is pragmatic, comprehensive, down-to-earth, and always has an element of fun as well as intensity.
Chantelle grew up with meditation and personal development in her home. She was facilitating motivational workshops in her 20's as a successful CEO, and then after having her first child, moved into women's work, writing her first of many books. When Chantelle experienced a massive personal health crisis (cervical cancer) she then placed all her time and commitment into the alternative healing arts where she uncovered her heart's vocation in Tantra. Fast forward a decade and Chantelle has established the Embodied Awakening Academyl and has taught countless courses, workshops and retreats all over the world.
Chantelle's energy, knowledge and passion will inspire you to change the way you look at life, love, sex, spirituality and the emotional body in ways that will remind you who you really are.
For more information on Chantelle and the academyl visit: www.embodiedawakeningacademy.com
_______________________________________
CANCELLATION POLICY
Tickets are non-refundable
Cancellations: Strictly no refunds, you can transfer your ticket to another person and let Aaron know. Or in some cases, with MORE than 48 hours notice, Aaron will be able to offer your ticket to someone on the waitlist to purchase it from you.
Location
Cosmos Oasis
Jl. Pura Taman #22, Canggu BALI
Contact Details