Y-Factor 2021: MADE FOR MORE! - July Camp (CANCELLED)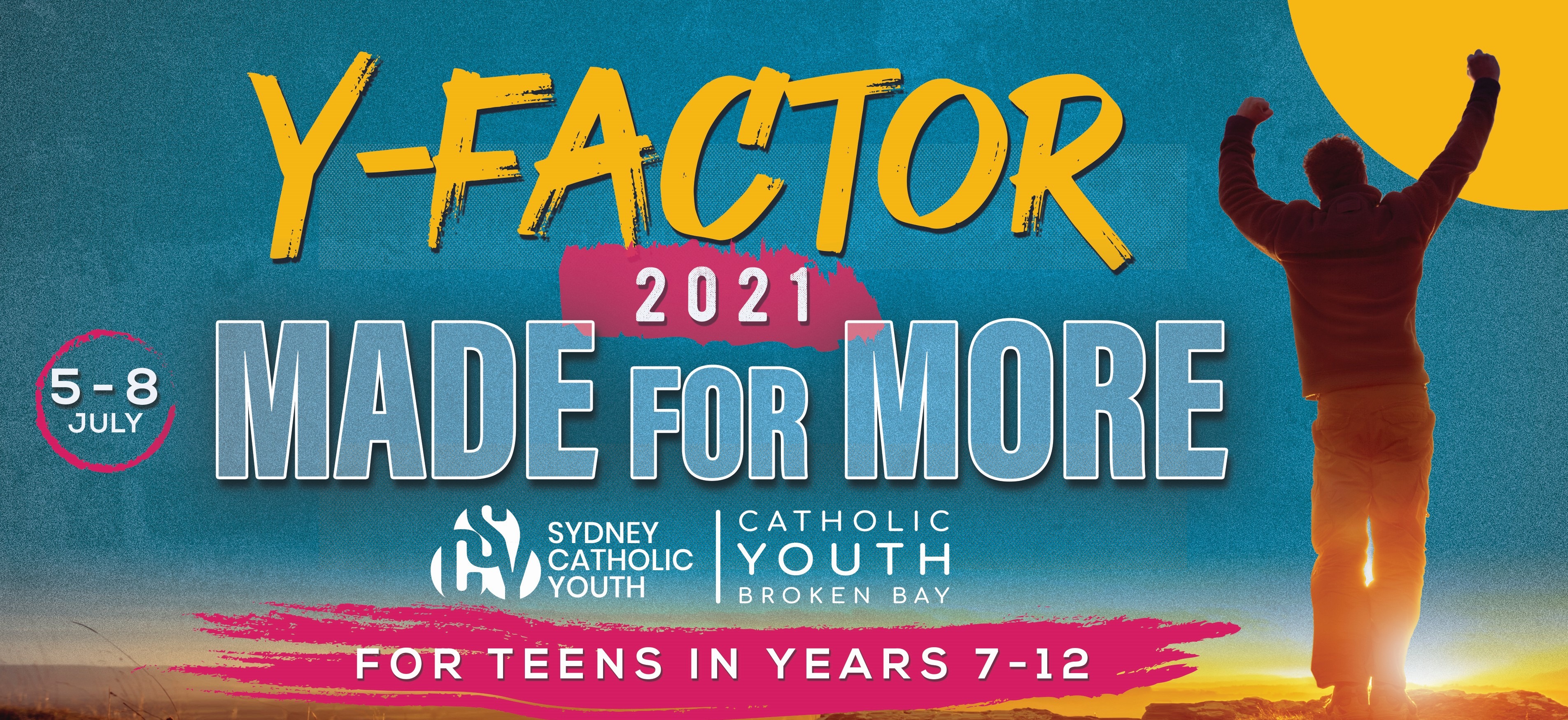 We can't even begin to tell you how excited we are to run our 2nd Y-Factor Camp for 2021! If you haven't been in previous years, you'll just have to pack a bag and join us this time round. The Sydney Catholic Youth team and Youth Leaders from all over the Sydney Archdiocese & Broken Bay Diocese have been working for months to make this year's camp bigger and better!
So, if you are currently in Yrs 7-12, then come have the time of your life these Easter school holidays with tons of friends you haven't met yet! There'll be heaps of time for games, activities, talks, discussion, prayer and a chance to grow in your faith and relationship with God. This camp is so big we can only run it once a year so get on board now or miss out!
Who? Y-Factor is for teens in years 7 to 12 led by Sydney Catholic Youth in collaboration with Youth Ministry Coordinators from across the Sydney Archdiocese and Broken Bay Diocese. All leaders will hold a current Working with Children Check and have many years of experience in youth ministry. We'll be using a wide variety of mediums including music, activities, multimedia, drama and testimony to communicate to young people the awesomeness of their faith, and how they can apply it to their lives daily.
When? 9:30am, Monday July 5 – 1pm, Thurday July 8, 2021
Where? Benedict XVI Retreat Centre, 347 Grose Wold Rd, Grose Vale NSW 2753.

Transport? A chartered bus will depart from two locations TBC. Please arrive at 7:30am so we can get away on time. The bus will return to the same location on Thursday 8 July by 2:30pm.
What to bring? Swimmers (see note below), rosary beads, torch, beanie, comfortable and warm modest clothing and shoes. Bring a nice outfit (something you might wear out to dinner), an old set of clothes and pair of shoes that can get wet and dirty and bring a plastic bag to put your wet and dirty items in. Please leave valuables at home. The Archdiocese of Sydney will not be liable for any loss or damage to personal property during the camp, but we would also like the campers to step away from their usual access to technology while on the camp. PLEASE NOTE: Linen, sleeping bags, pillow and towels will be provided by the Benedict XVI Retreat Centre.
Also: bikinis or speedos are not to be brought and attendees are asked to bring swim shorts and swim shirts if possible (or at least a one piece for the girls). This requirement is a part of practically encouraging young people to live modestly and we appreciate your support.
Program? We are keen for the program to be a surprise to the teens however there is lots of fun planned. Participants will share and discuss aspects of their faith and experience God afresh. Being counter-cultural is at the heart of what we do and the young people who attend will leave with a richer understanding of Christ's love for them. There are 5 main sessions that take a look at the theme, reconciliation, Jesus, the Holy Spirit and commitment.
Child Protection and Safety The Archdiocese of Sydney believes that genuine concern for the safety of all participants on our camp is of the utmost importance. All staff and volunteers have undergone child protection checks and careful screening.
Download the Camp Terms (Must be submitted to complete registration)
Questions? Email info@sydneycatholicyouth.org or call Sydney Catholic Youth on 9307 8152.
Get directions