Smøyg Pattern Darning Workshop
Saturday 31st July and Sunday 1st August, 2021.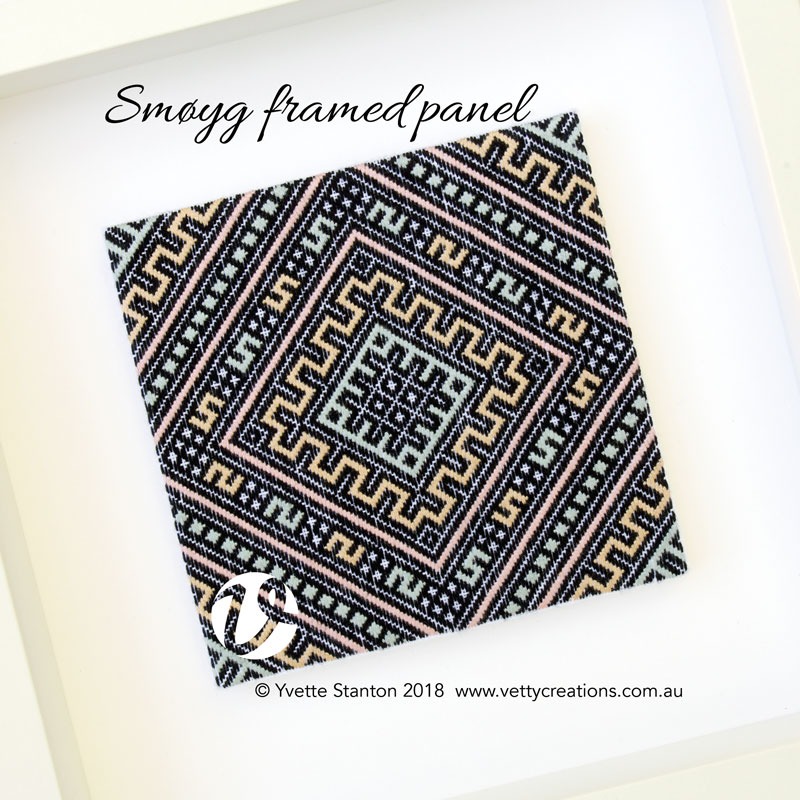 Smøyg is pattern darning from Norway. Pattern darning is worked in running stitch, where the placement of the stitches is guided by counting the threads of the fabric.

The project is a small square panel (approx 13x13cm) which could be framed, mounted into a cushion, onto a box top or onto a bag.

All skill levels are welcome!

2 day class. 9-4pm daily. Short morning tea break and 3/4 hour lunch break.
NB: In these uncertain times, we recommend you have an appropriate travel insurance policy.
About Yvette Stanton
Yvette Stanton is the author of ten instructional embroidery books, with most focusing on historical needlework, as well as two stitch dictionaries. Her book, "Smøyg: Pattern Darning from Norway" is the first book in any language, devoted to the subject. Yvette visited museums in Norway to view hundreds of historical examples of smøyg embroidery when researching her book.
Techniques you will learn in this class
This class is a counted thread class, meaning that the stitches are positioned by counting the threads of the fabric. It requires careful concentration. You will learn two layered pattern darning, worked with a base colour, then highlighted with other colours. As the project is worked with two strands of silk thread, you will learn how to use a laying tool to precisely place the threads.
Workshop requirements
Your project kit (included in the cost of the workshop) will have the 28 count linen fabric, Au ver a Soie Soie d'alger silk thread and needles required for the class. Stitch instructions and project instructions are also provided.
You will need to bring a 20cm/8 inch hoop for this class. We highly recommend a hoop on a stand (you can order these from Yvette for delivery to the class, if you don't have one), a hoop with a clamp for attaching to the table, or a hoop with a frame weight. If you need advice about any of this, please contact Yvette well before the class.
You will also need scissors, and a pen or pencil for making notes may also be helpful. If you have a laying tool, please bring it with you, otherwise you can use the large needle provided in the kit, or purchase a laying tool at the class. We highly recommend bringing magnification and lighting, as we will be working on 28 count linen. It is better to have it with you and not need it, than not have it and desperately need it! ​
Location
Walcha Handmade
6N Derby Street, Walcha NSW 2354
Walcha is a small, creative town, with wonderful attractions including the beautiful Apsley Falls, just 15 minutes drive from Walcha. https://walchansw.com.au/explore/
Accommodation in Walcha: There are a number of accommodation options including B&Bs, hotels, motels, guest house and caravan park. We recommend booking any accommodation as soon as possible, so that you don't miss out. Rural NSW has many visitors at the moment, and accommodation can be hard to book at times. https://walchansw.com.au/where-to-stay/
Getting to Walcha: https://walchansw.com.au/local-transport-services-in-walcha/ At the time of writing, the Oxley Highway between Walcha and Port Macquarie is closed due to landslips from flooding rains, and may remain so for several months. (Access is still available to Apsley and Tia Falls, though.)
Our venue, Walcha Handmade, is a small creative co-operative, with quality gifts and souvenirs available. We will be holding our class in the studio at the back of the shop. The room is heated with a combustion stove in colder weather. Walcha can be very cold at times, so we recommend dressing warmly with layers so that you can be comfortable whether in class or outside.