Blue Ribbon Foundation Charity Ball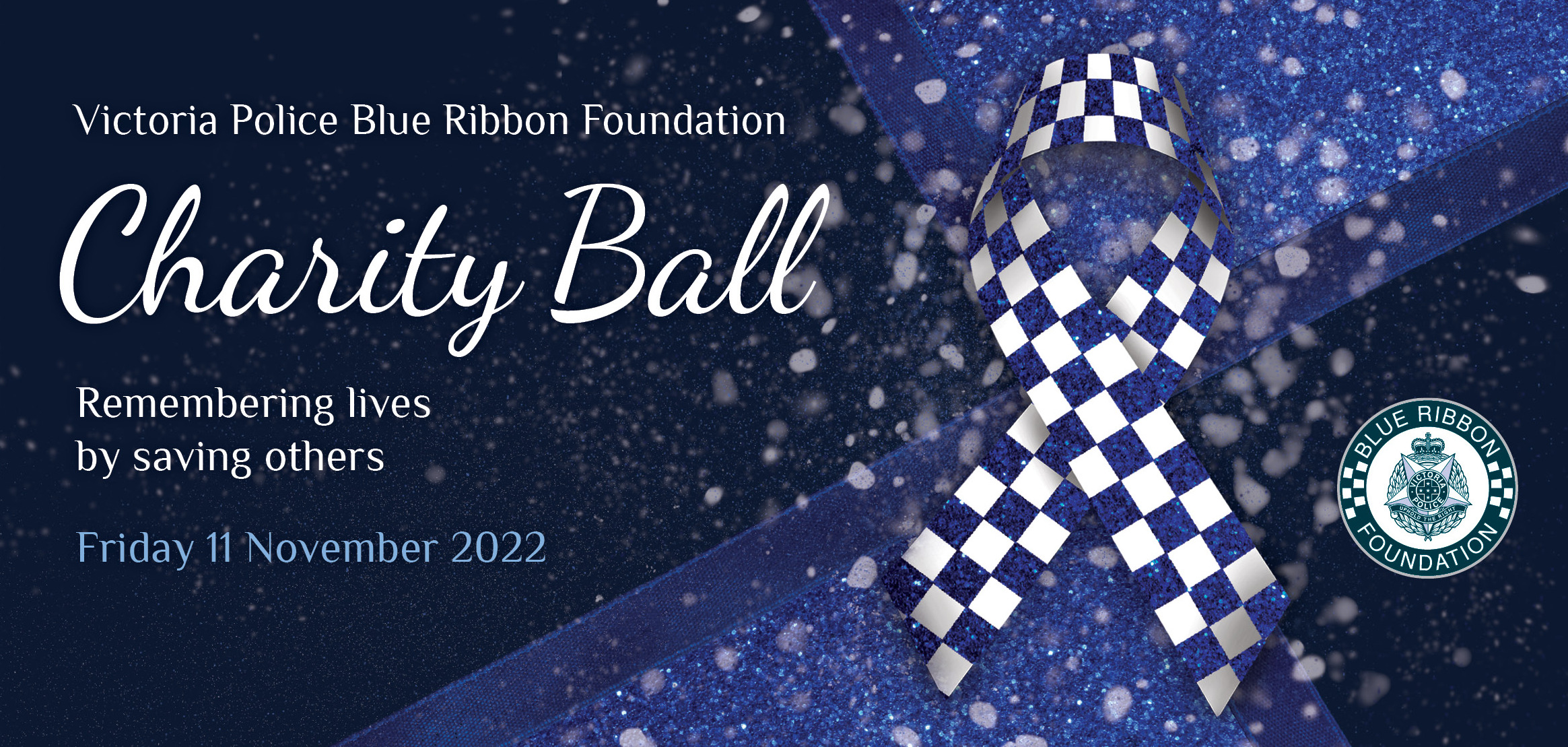 The Victoria Police Blue Ribbon Foundation Charity Ball is our premier event raising funds for community and hospital projects named in honour of Victoria Police employees who have died in the line of duty.
The Foundation has a long tradition of supporting public hospitals throughout Victoria. The funding has delivered new and upgraded medical services, critical infrastructure and equipment. We are proud that together with the Victorian community we have contributed over $11 million to more than 61 projects in public hospitals and health care facilities in Melbourne and regional Victoria.
With your support, we can continue to honour the memory of Victoria Police employees who have died in the line of duty.
Events Details
Venue
Palladium at Crown
8 Whiteman Street
Southbank, VIC

Date and time
Friday 11 November 2022 (new date)
7.00pm - Midnight
3 course dinner, drinks and live entertainment to dance the night away. The evening will also feature a Silent Auction and Live Auction, both of which will showcase incredible items from a range of categories. Items will be available for pre-event viewing and bidding via a unique website.
The Tim Campbell Band who have years of experience gracing Australia's largest stages with high profile performances both nationally and internationally, bringing current hits and classics to life will again have you on the dance floor.
Dress
Black Tie or Mess Dress

Tickets
Tickets: $200 each or $2000 for a table of 10


Tables & FAQ's
Tickets may be purchased individually or you may purchase an entire table of 10. All tickets (whether individual or per table) must be paid for at the time of booking.

Booking a table/s but don't have all the guest names - please just include your organisation name or the person booking the table instead of guest names. Names and dietary can be updated once guest details are finalised.
Booking tickets individually but we are part of a group - If booking one or more tickets as part of a group, ensure you utilise the Organisation / Company box located within the booking process to nominate a group name to assist us with your seating.

Should you have any seating requirements, such as close to the exit doors or away from the stage, please include this in the Seating/Other Requests section when booking. Seating allocation will be completed by the Charity Ball Committee and they will attempt to fulfil your requests. Seating plans will be available in the foyer on the night.

Auctions
The evening will feature a Silent Auction and Live Auction, both of which will showcase incredible items from a range of categories. Items will be available for pre-event viewing and bidding via a unique website.

Donations
You will have an opportunity to make a donation during the booking process, but should you have a larger donation, sponsorship query, or an item to donate for the Auction/s, please contact the Foundation (see below).


Contact
Should you have any questions, please call Jenny at the Victoria Police Blue Ribbon Foundation via
Email: jenny@remember.org.au
Phone : 0408 310 487 or (03) 9555 8000