Sassy Swoons Swan Island - 3rd Amendment Sun 31 Oct '21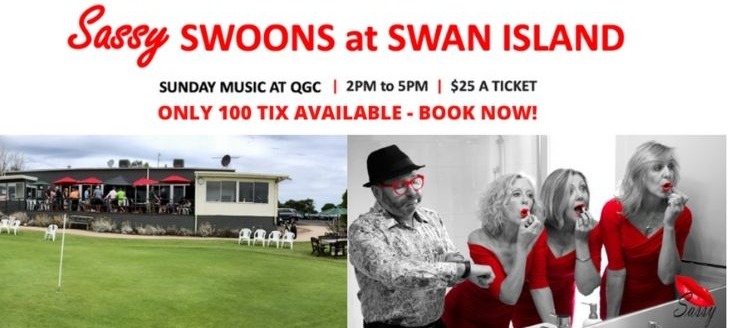 Fantastic live music event in a unique outdoor/indoor setting. Please note that all adult guests must be fully-vacinated and carry evidence.
Originally set for the QB then GF weekend - Sassy, whose previous Cup Weekend shows got rave reviews, plays homage to girl groups through the decades as well as eclectic classic hits from artists such as Aretha Franklin, Pointer Sisters and Amy Winehouse. You won't resist singing and dancing!

Please note that this is an outdoor event with Sassy playing from the clubhouse veranda. Based on expected Covid restrictions, capacity limits are likely to be 30 inside the clubhouse and 50+ outside split between the 'vaunted veranda' (12) and 'the lawn' (set at 38+). Note when booking that the focus is on outdoor performance. The band will be clearly audible inside the clubhouse but will be on the veranda facing the lawn-side seating.
Tix fully refundable if covid restrictions make it unviable or poor weather causes a cancelation. Book now!
Location
Queenscliff Golf Club
Queenscliff Golf Club Swan Island, Queenscliff Victoria 3225