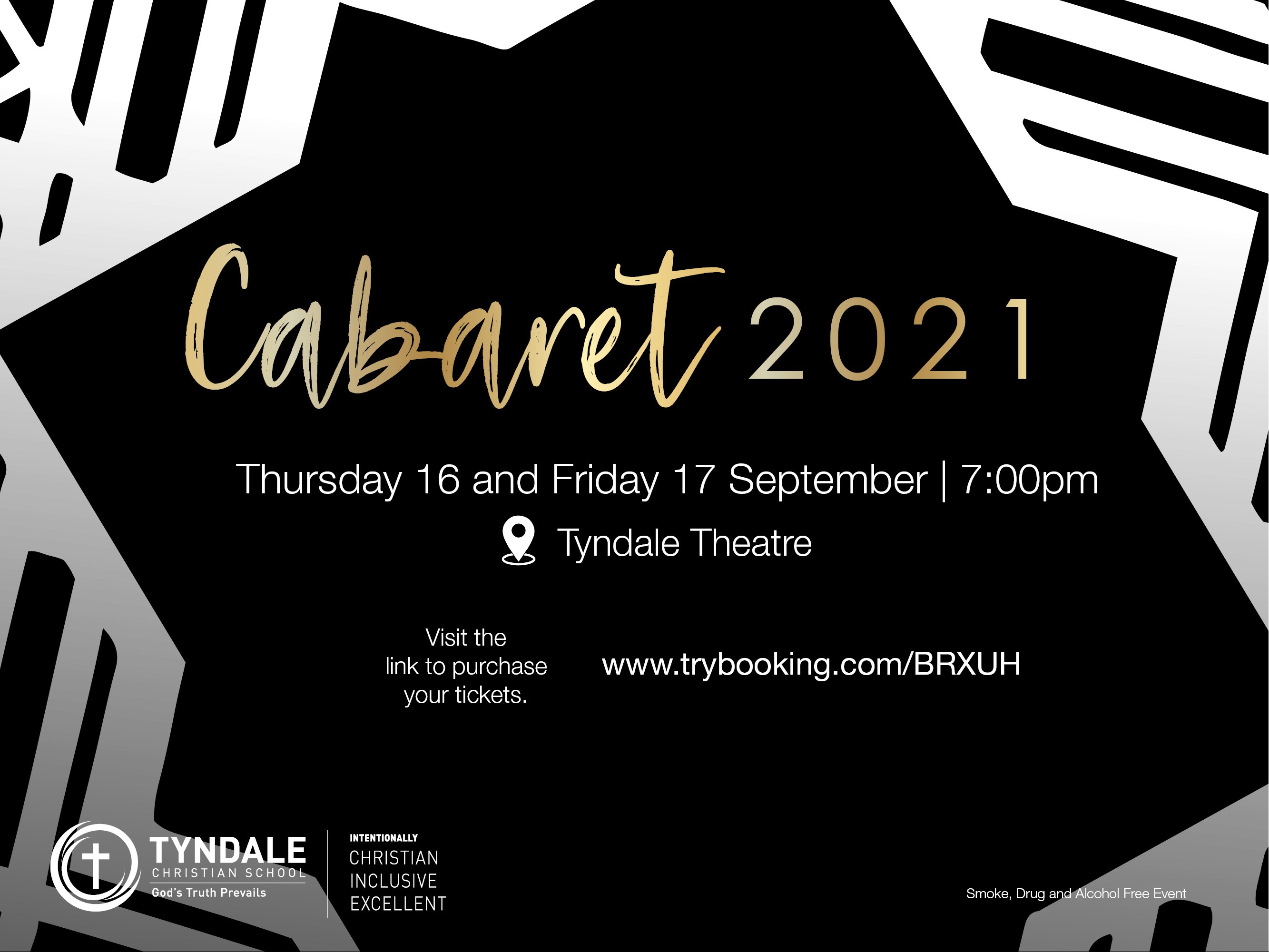 You are invited to the

Tyndale Christian School - Salisbury East
Senior School Cabaret 2021
This exciting event showcases Tyndale Senior School's many talented students with acts ranging from poetry to dance. You will be entertained in a seated, relaxed and engaging setting. This is a fun and welcoming event for all ages.
COVID-19 COMPLIANCE
Please note that anyone attending the production will need to pre-book tickets as we have a limited number of tickets available and we will not be permitting people to enter the Theatre if they arrive with no ticket on the evening of the performance.
Bookings will be closing one hour before the commencement of each performance.
We will require all guests to sanitise their hands on arrival. Our ushers will sign you in as you enter the Auditorium to ensure our event register is accurate should the need for contact tracing occur. For your health and safety we are providing distancing gaps between seats so everyone has room to safely enjoy the production. We ask that you follow the directions of staff to safeguard the health of our cast, crew, and audience.
Please be aware that if COVID-19 regulations change before this event, it may be necessary for us to alter the bookings for this event. If there are any changes to your booking, we will keep you informed. We will continue to comply with the advice and guidance of the South Australian government. Thank you for your cooperation.


DATES
Thursday 16 September 2021 at 7:00pm
Friday 17 September 2021 at 7:00pm
*Please note: Doors will be open from 6:00pm, show starts at 7:00pm on both evenings.


VENUE
Tyndale Christian School
Tyndale Theatre
50 Fern Grove Boulevard
Salisbury East, SA 5109


Contact Details
Renee Tidswell on 08 8282 5100 or click here to email.
This is a smoke, drug, and alcohol-free event.
The School's Privacy Policy sets out how the School will collect and use your personal information. The School is bound by the Australian Privacy Principles contained in the Privacy Act 1988.

The Privacy Policy is available from our website or click here to email.