PSYCHIC WEEKEND WORKSHOP - Port Stephens, NSW (CANCELLED)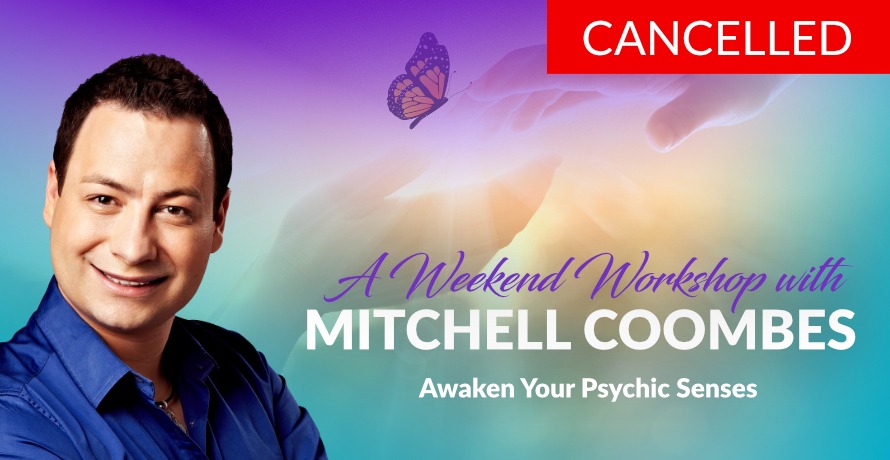 WHEN
LOCATION
The Anchorage Port Stephens Hotel & Spa
26 Corlette Point Rd, Corlette NSW 2315
BOOKINGS
Unfortunately, due to the current NSW lockdown and health restrictions, this event has regrettably been cancelled.
Experience a weekend of psychic connection and spiritual insight with Australia's most trusted medium, Mitchell Coombes!
* Limited to only 30 people! *
All workshop materials and a SPECIAL SURPRISE GIFT from Mitchell will be provided. The workshop fee also includes morning tea, lunch, and afternoon tea on Saturday and Sunday.
WORKSHOP ITINERARY

SPIRIT CIRCLE
Friday 8th October, 7:30pm – 9:30pm
This is a rare opportunity to be up close with Mitchell in a small group setting. Mitchell will connect with audience members and give spontaneous readings as he brings through healing and insightful messages from loved ones and friends in the Spirit World.

AWAKEN YOUR PSYCHIC SENSES
Saturday 9th October, 9:00am – 5:00pm
Based on Mitchell's first-hand experience, this 1-day workshop will offer you the tools and confidence to explore your spiritual gifts. Learn how to "tune into" your intuitive senses and discover:
Your personal psychic signal - are you clairvoyant, clairaudient, or clairsentient?

Chakras and how to clear and balance them

How to "open" and "close" your psychic door

Working with your Angels and Spirit helpers

Pendulum dowsing for answers, lost objects and how to sense energy

A guided meditation for connecting with loved ones in Heaven

How to feel auras and learn what the different colours mean

Psychometry – how to read the energy vibrations of jewellery, objects and places

Psychic protection and clearing methods that are simple and effective

SPECIAL GUEST AND TEA-LEAF READING EXPERIENCE
Sunday 10th October, 9:00am – 4:00pm
Join Robert Reeves – International Best-Selling Author, Spiritual Teacher and Angel Communicator! Enjoy a special morning of meeting your Guardian Angels and be guided through a powerful clearing technique to awaken your spiritual gifts.
Enjoy an exclusive high tea with Mitchell and be guided through the ancient art of tea leaf reading. Learn how to read the tea leaves while enjoying a delicious selection of sweet and savoury treats.
Prepare yourself to be spiritually transformed as you walk the psychic pathway!
LIMITED TO ONLY 30 PLACES!
Workshop Fee $695 ea (+0.50 TryBooking Fee)
PLEASE NOTE: Accommodation is not included in the workshop fee. You are welcome to book accommodation at The Anchorage Port Stephens Hotel & Spa at a special reduced rate:
$299 per night for an Anchorage Room Single Occ Including Breakfast & Car Parking.

Double or Twin is an additional $50 per person.

To upgrade to a Loft or Captain Suite is an additional $150 per room per night.
*Guests will need to mention that they are attending the workshop at the time of booking.
Please call (02) 4036 3562 to book your accommodation as soon as possible! For more visit anchorageportstephens.com.au
If you have lost or misplaced your tickets