Sound Healing, Breathwork & Meditation Immersion - Self Love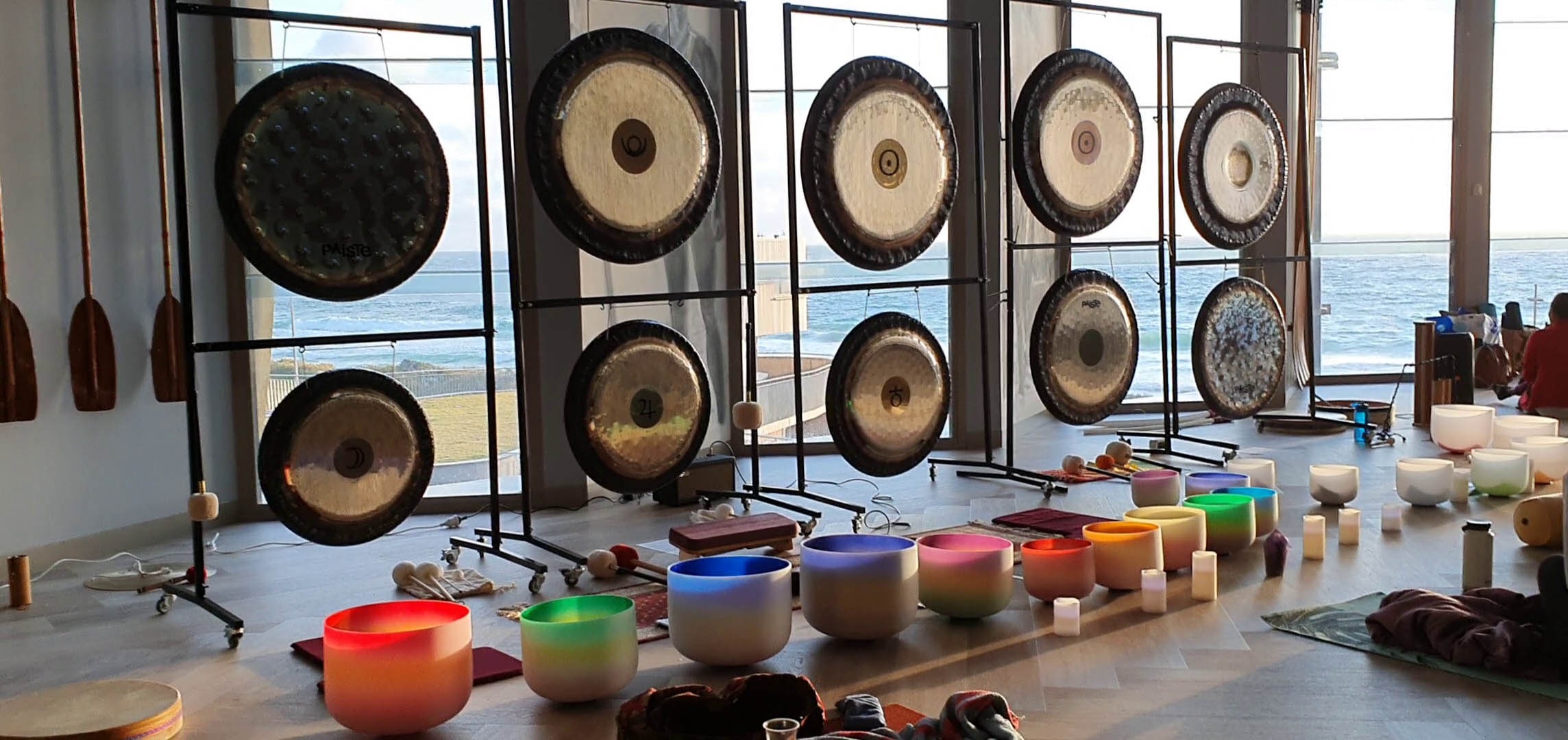 Enjoy a deep journey of Sound Healing, Breathwork and Meditation with the powerful sounds of 10 Symphonic gongs and 19 crystal bowls.

During this extended 2 ½ hour event, Andrew & Kohra will expertly facilitate a meditation and soundscape that will allow you to embrace your inner power in the most beautiful of journeys.
Join Kohra & Andrew for a deep journey of self-love & Heart Chakra balancing.
Your journey begins with a brief self-reflection and heart connection to identify what you need to let go of and the energy you wish to invite and cultivate. This will be followed with shaking to music designed to loosen up and shake out built up tension & stress in your mind and body. When these heavy energies are released, your body is flooded with positive energy and a sense of freedom. We then ground and balance the energies with a guided breath journey, breathing in beats to music to clear your thoughts and center your whole body. An amazing experience to connect deeply with your breath and get you into flow states and heart coherence.
This is followed by a heart chakra balance meditation accompanied with the healing sounds of 19 crystal singing bowls attuned to your chakras. The vibration of the bowls will entrain you from a beta state of awareness to a deep meditative theta state, creating a deep sense of inner calm. You will literally float away on a harmonious sound cloud!
You will then be immersed with the sounds of 10 Symphonic and Planet tuned Gongs. The layers and overtones of the gongs will vibrate every cell of your body, relaxing muscles, releasing emotions, bringing your body back into a deep state of relaxation and clearing your auric field of any unwanted or old energy. Mentally and emotionally the sound of the Gong helps to quieten the mind, physically releasing tension and blocks, stimulating the glandular, nervous and circulation systems as well as breaking up emotional blockages.
The healing sounds of ocean drum, rain stick, solfeggio tuned pipes, chakra & koshi chimes will also be woven into the soundscape to entrain you into a deep relaxation.
When you awake, you will feel refreshed, calm, revitalized & energized, ready to watch the sun set over the ocean while enjoying some light refreshments after your sound healing immersion.
With a focus on self love & reflection, this experience will be an opportunity to connect deeply within & discover the essence of yourself. This is an experience you will remember...
Hosted by Vibrant Health and Treemendus Health
Sunday 23 October 2022 4:00 PM - 6:30 PM (UTC+08)
Location
Scarborough Surf Club
163 The Esplanade, Scarborough WA 6019