Port Douglas Long Lunch Presented by Jansz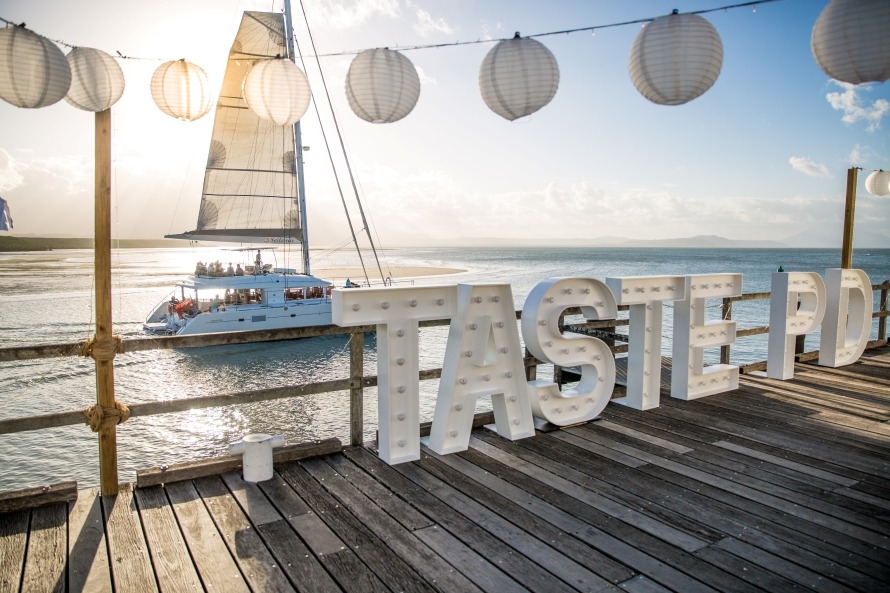 Staged under a canopy of Poinciana trees in Market Park, alongside St Mary's by the Sea with ocean views to Dixons Inlet, celebrate the magnificent outdoor lifestyle of Tropical North Queensland at the coveted Port Douglas Long Lunch Presented by Jansz.
Popular Port Douglas restaurants, Salsa, Sassi, Zinc & Harrisons will collaborate with guest celebrity chefs, Laura Sharrad, Philip Johnson, Dominique Rizzo and Jake Nicolson (respectively) to present a delectable three course menu*. Enjoy an Aperol Spritz and canapés by Port Douglas Catering on arrival, followed by a three-hour beverage package of Hemingway's Brewery "Taste Port Douglas Pale Ale", Jansz Tasmania Premium Cuvée and Yalumba wines from the heart of the Barossa Valley.
Live music by ARIA Award winning artist, Kiki Courtidis completes the perfect afternoon.
$199 per person
*Entrée presented by participating restaurants and served alternating, main presented by guest chefs and served banquet style with accompanying sides, dessert served as a collaborative tasting plate by participating restaurants.
NB: Tables are communal accommodating up to approximately 60 guests each. If you are booking individually as part of a group, please ensure the entire group select the same 'section' / 'table' and advise organiser of specifics of seating request via the contact organiser option.
The Port Douglas Long Lunch Presented by Jansz Menu
ENTREE (Served alternately)
Salsa Bar & Grill
Coral trout numus, sweet potato cracker, 'Eat Shoots & Leaves' Port Douglas Microgreens

Zinc
North Queensland painted crayfish, burrata, golden beets, Thai basil and black olive crumble
Harrisons
Pressed smoked pork hock & foie gras, brown butter crumb, burnt apple
Sassi Cucina e Bar
Charred octopus, potato puree, burnt capsicum and n'duja cream
MAIN (All served feasting style)
Laura Sharrad
Roasted Spencer Gulf Kingfish, sea succulents, finger lime and wakame oil
Dominique Rizzo
Lemon and pecorino gnocchi, fire roasted heirloom tomatoes, zucchini, Mungalli ricotta, confit garlic, pine nuts , gremolata and fresh herbs
Jake Nicolson
Grilled Ora King Salmon, macadamia romesco, preserved lemon, pickled red onion and sea vegetables
Philip Johnson
'Maiale al Latte' – Pork shoulder cooked in milk, garlic, sage, lemon
Sides
By Port Douglas Private Chef
DESSERT (All dishes served as an individual tasting plate)
Salsa Bar & Grill
Daintree Estates chocolate marquise, tableland raspberries
Zinc
Mille Feuille, smoked chocolate mousse, bunya nuts, strawberries
Harrisons
Bloomfield vanilla crème brulee, macadamia biscotti
Sassi Cucina e Bar
Babà al Rum, Chantilly cream, berries
BEVERAGE SELECTION
Aperol Spritz on arrival followed by a 3 hour beverage package
Beer
Hemingway's Brewery "Taste Port Douglas" Pale Ale, Port Douglas, FNQ
Wine
Jansz Premium Cuvée, Pipers Brook, Tasmania
Yalumba 'Wild Ferments' Sauvignon Blanc, Barossa, South Australia
Yalumba 'Wild Ferments' Rose, Barossa, South Australia
Yalumba 'Wild Ferments' Shiraz, Barossa, South Australia
Location
Market Park
Wharf Street, Port Douglas QLD 4877
Contact Details