Supporting Autistic Students: Lessons and advice from an autistic self-advocate - Australian attendees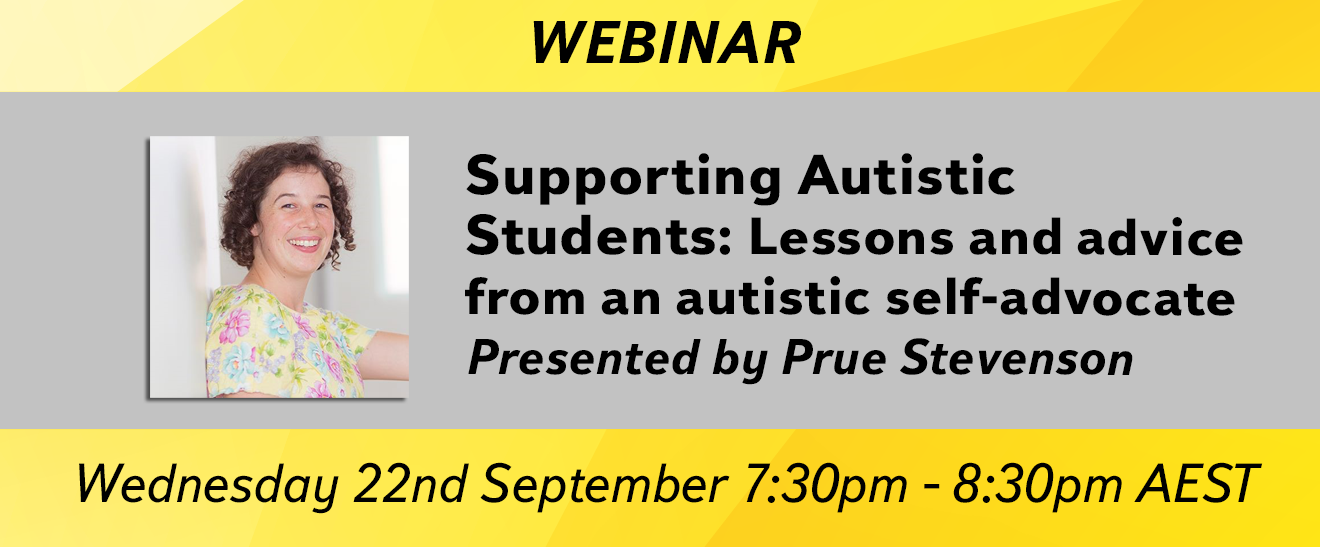 Registering from outside Australia? Click here!
Following Prue's incredible presentation at the 2021 Australian Inclusive Schooling Conference, we have been overwhelmed with requests from attendees seeking opportunities for friends and colleagues to learn from Prue. We are thrilled to bring Prue's conference presentation to an even wider audience through this webinar.
Prue is a 31-year-old autistic person. In high school, Prue discovered art and drama. This helped her link classroom learning to real life application and to a career as an artist. Prue uses repetitive and tactile processes to allow for experiences of sensory play and creates spaces and opportunities for downtime. Working with oil, ceramics, textiles, sculpture, installation and performance, Prue advocates for the identity, empowerment and sensory awareness of the autistic community. Prue aims to celebrate and progress autistic culture for autistics, while creating experiences that are more broadly accessible.
Through Prue's journey she has become a proud autistic person. Understanding how language can impact a student's identity is important, and how schools can support autistic culture and identity. Prue will discuss what the impact of masking can have on an autistic student and how stimming can assist students to self-regulate. Meltdowns are a part of Prue's life and she will give advice on how to support students who have meltdowns. Prue belevieves teaching autistic people through their topic of interest can support their long-term engagement in school and build self-esteem.
Past attendees have said:
"I would love for all teachers to have access to first hand information like this"
"I find Prue's session so valuable on so many levels. I am keen to learn and hear more from Prue! You articulate so finely how it looks and feels for a person with autism. Thank you for this presentation."
"This has made so many behaviours I've seen make sense"
"Prue is really making me look twice at what I thought about my students"
"So eloquent and so clearly articulated. This is so helpful for us as teachers to hear!"
Join us LIVE at 7:30pm AEST Wednesday 22nd September 2021
An on-demand replay will be avilable for 2 weeks following the live session.
*This is an online event. Access details will be emailed to the registered attendee email prior to the live session.
TERMS AND CONDITIONS
Registrations are valid for an individual attendee and cannot be shared.

A web link and unique access code will be provided to the attendee email entered upon registration 24 hours prior to the live event.

Where registrations are made less than 24 hours prior to the event, a web link and unique access code will be provided by email one hour before the live event.

Illume Learning takes no responsibility for emails not received due to errors or typos. Attendees should contact admin@illumelearning.com.au in th event a web link is not received 24 hours prior to commencement.

Webinar replays will be available for 2 weeks following the live event. No extensions will be available. Refunds will not be offered in the event of non-attendance.

Cancellations must be made in writing to admin@illumelearning.com.au

Cancellations received more than 48 hours prior to the event commencement will be entitled to a refund of the online event fee minus a $15 administration fee

Cancellations received less than 48 hours prior to the event commencement will not be eligible for a refund.