AUSTA 2022 National Conference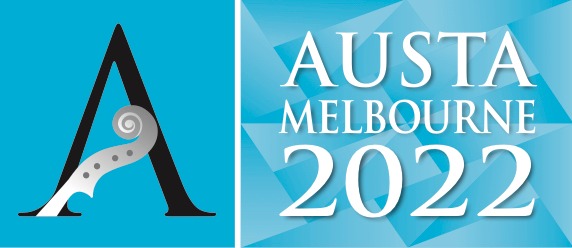 The Australian Strings Association National Conference will be held in Melbourne from Friday 1st to Monday 4th July 2022.
Friday 1st July:
Optional Pre-Conference Workshop with Jeremy Woolstenhulme

Welcome Reception at 5pm
Saturday 2nd July:
Conference Day 1: 9am – 5.30pm

AMEB Violin Series 10 Launch at 5.30pm

Optional Conference Dinner at 7pm
Sunday 3rd July:
Conference Day 2: 9am – 5.30pm
Monday 4th July:
Conference Day 3: 9am – 5.30pm
Tuesday 5th & Wednesday 6th July:
Optional Post-Conference Strings Workshop with Yvonne Frye
HOTEL ACCOMMODATION
Our partner hotel is Quest Hawthorn located at 616 Glenferrie Road Hawthorn. The hotel is convenient to the Conference venue and local eateries. They are offering a 15% DISCOUNT on accomodation to AUSTA delegates. The discount code will be emailed to you after purchasing your Conference ticket. Book early as places are limited!
INVOICE / PURCHASE ORDER
If you require an invoice for the conference, please contact us via email. We will work with you to issue an invoice and once payment has been recieved, a discount code will be given to you so that you can complete the Trybooking process.
VICTORIAN RESIDENTS ONLY
Victorians can apply for up to 25% of their conference ticket to the value of $125 for attending a conference or event open to the general public held in Victoria. To make your claim, please go to: https://entertainment.business.vic.gov.au/
TERMS AND CONDITIONS
Program:
The conference program is subject to change without notice. The Australian Strings Association will not be responsible for any damage or grievances caused by changes to the conference program.
Cancellation/Refunds:
All cancellations must be notified by email to accounts@austa.asn.au Cancellations received before the 23rd May 2022 will entitle you to a full refund. Cancellations received between 24th May and 14th June 2022 will receive a maximum refund of 70%. There will be no refund for cancellations received from 15th June 2022.
Membership:
Please select the conference fee appropriate to your AUSTA membership level. If the fee selected does not match your membership level when you register your attendance in person at the conference, then you will be invoiced for the balance.
Substitution:
If after booking you are unable to attend, you are welcome to nominate a different person to come in your place. An additional fee will be charged where the substitute person is not entitled to the original rate (e.g. a non-member taking the place of a member).
Schools:
AUSTA School membership links up to five staff to the membership. At the time of booking, these staff members must be linked to the school membership on the AUSTA database. This ensures staff can receive the discounted rate. Schools can update their affiliated teacher members by contacting the National Administration Office by emailing admin@austa.asn.au
COVID:
All people attending the conference must agree to follow current and most recent advice and directives provided by Commonwealth and State Government health authorities with regard to COVID-19 restrictions during the Conference Period.
This includes vaccination requirements as per Commonwealth and State Government Guidelines.
All people attending the conference must agree to comply with AUSTA's policies and procedures relating to minimising the risk of COVID-19 transmission when attending the conference. This includes following:
I. the COVID-19 Guidelines (or guidelines relating to any other health-related event) issued by AUSTA and the directions of any representative of AUSTA in connection with workplace health and safety matters; and
II. directions of any representative of the venue when the person is present at the venue.
III. The persons agree that AUSTA is not responsible for any liability, cost, expense, loss or damage that the person suffers or incurs as a result of any failure by the person to comply with the COVID-19 Guidelines or as a result of contracting COVID-19 during the conference.
Any serious, persistent or ongoing failure by the person or organisation to comply with the COVID-19 Guidelines or AUSTA's or the venue's safety directions will entitle AUSTA to terminate any agreement, ticket or any other arrangement.
All stakeholders connected to the AUSTA 2022 Conference acknowledge that if the conference is unable to proceed on the agreed date due to impacts of COVID-19 (for any reason, including but not limited to travel restrictions, social distancing restrictions, or action or inaction by a government agency), it is agreed by all parties that alternative arrangements and options for the conference will be communicated with you in a timely manner. This communication will include information about rescheduling, alternative formats, refunds, other relevant information as required.
Please check the AUSTA Website for the latest conference information.
Conference updates will also appear on the AUSTA National Facebook Page.
Proudly supported by Prinicipal Sponsor
Early-bird tickets are available now until the end of Friday 27th May 2022.
Location
James Forbes Academy - Scotch College Melbourne
1 Morrison Street, HAWTHORN VIC 3122