Your Choices Your Values - Planning Ahead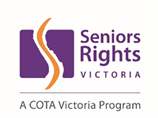 Planning Ahead Talk with Seniors Rights Victoria
Planning ahead as you age can be challenging. There are many lifestyle choices to consider. Your preferences are important. Sometimes you might need a support person to assist you in communicating decisions. A Care Directive can help you consider some of these choices and put them in writing. In this session we'll look at some of the key lifestyle choices, how a support person can assist you and some key sections of a Care Directive.
Location
Online event access details will be provided by the event organiser

Contact Details