BUMS Ferny Grove Jam - October 2021 (SOLD OUT)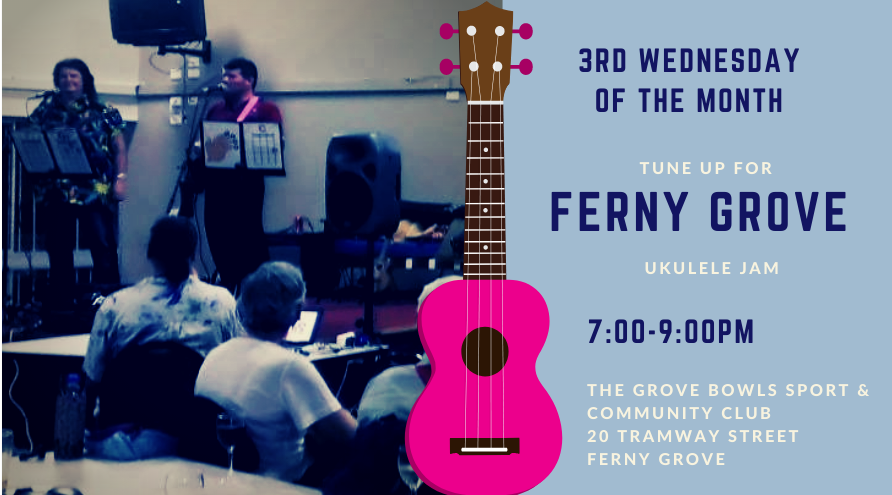 Join Linda Gough and Paul Morris for a relaxing low key jam with easy chords, that's lots of fun. Great if you are Just starting out and a great opportunity for more experienced players to practice their finger style technique. Call the sports club on (07) 3851 1889 to check if restaurant is open for dinner.
A COVID Safe jam.
TICKETS $5
Financial BUMS use promo-code received Mon 27 September via email.
Please note: There is a booking limit of 2 per jam regardless of ticket type. As places are limited and in demand, to keep it fair for all, each event is limited to two tickets per booking.
KEEPIN' IT COVID SAFE
UPDATED REQUIREMENT: THIS IS A MASKED JAM!
Please wear your mask when entering, exiting, chatting or moving around at the jam unless you have a lawful reason not to.
Masks can be removed when seated 1.5m apart, and while eating or drinking. You must be seated to eat and drink.
Set leaders will remove their mask while performing.
Contact details are now required for each attendee to assist us to meet government requirements for contact tracing.
You will be required to supply for each attendee
First Name

Last Name

Email address

Residential address (if email unavailable)

Phone number
Please review the latest directives for a COVID-safe Jam on our website: www.brisbaneukulele.com/covid-safe-jams/
Location
Ferny Grove Bowls Sport & Community Club
20 Tramway Street, Ferny Grove Queensland 4055
Contact Details