Port Environment Centre AGM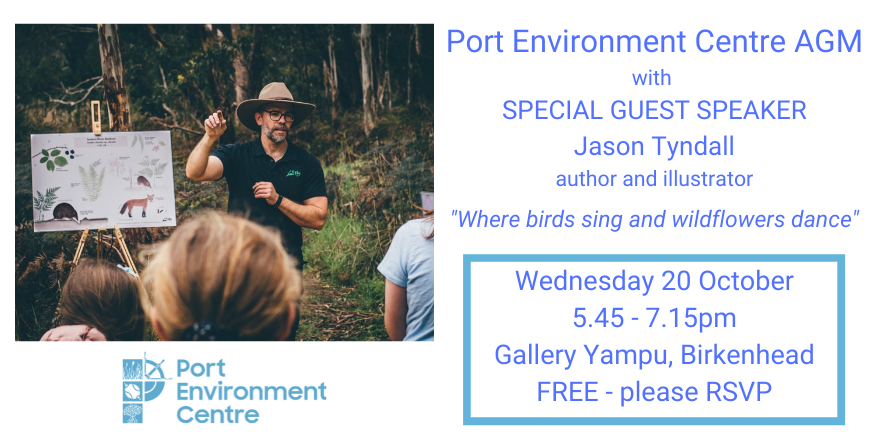 Please join us for the first AGM of the Port Environment Centre.

The evening will start with a very special guest speaker. Jason Tyndall, author and illustrator, Where birds sing and wildflowers dance.

This will be followed by the brief formalities of the AGM.

Everyone is welcome to stay on afterwards for some light refreshments.
Wednesday 20 October 2021 5:45 PM - 7:15 PM (UTC+10:30)
Gallery Yampu,
1 Jenkins Street, Birkenhead
Everyone is welcome.
Where Birds Sing and Wildflowers Dance. A companion for exploring South Australia's National Parks.
A collection of poetry, photographs, ideas to connect with nature and over 680 species of plants, animals, and other life forms, beautifully written and illustrated by Jason.
'This guide is more than a book. It's a renewed narrative of connecting to nature and ourselves. Drawing upon art and science, it crafts a beautiful and compelling story of South Australia's wildlife, plants, and ecosystems. It explores notions of self – such as love, belief, doubt – while entwining ecological concepts of habitats, symbiotic relationships, fire, environmental clearance, species behaviour, extinction, and recovery.' (from Nature Play SA)
Jason is an artist and dad of two girls. In 2021, he authored Nature Play SA's very first book – Where Birds Sing and Wildflowers Dance. His love for nature was inspired by his many years of volunteer work with the Friends of Scott Creek Conservation Park that led him into a career in environmental management. Jason has always enjoyed working with people, which saw him move into environmental education. Joining the nature play movement was a natural progression especially given Nature Play SA's focus on building deeper connections to nature and Aboriginal culture. His role varies from presenting to children and adults on nature to working alongside rangers, Aboriginal elders and educators to build strong partnerships through creative and innovative projects all aimed at doing one thing – inspiring change. In 2021 Jason was awarded a Certificate of Commendation for Education and Engagement as part of South Australia's inaugral Pelzer Prize.
Jason will have some copies of the book available to purchase on the night.
Please note that due to COVID restrictions the following will apply:
- numbers are limited and everyone MUST book to attend
- participants are required to maintain social distancing of 1.5m
- masks are required for the duration of the event
- everyone must check in on arrival (via QR code or manual sign in sheet)
- please stay away if you are unwell
Port Environment Centre is seeded by Green Adelaide.
Please note that attendee information may be used for follow up evaluation, in order to assess the longer term impacts of our events. Follow up contact may be made (in the form of a survey) but participation in any evaluation is optional.
portenvironmentcentre.org.au
Contact Details