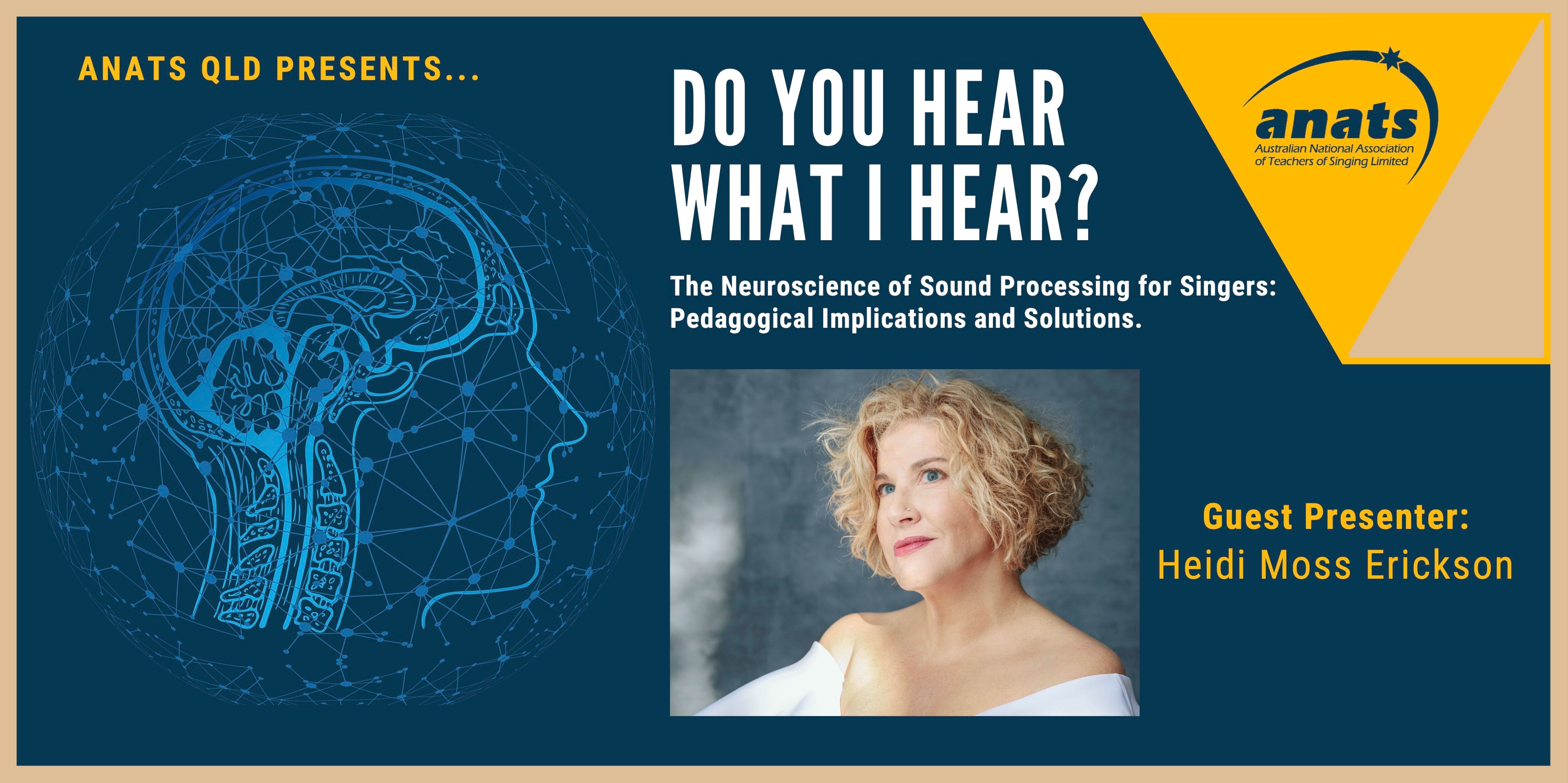 Join US soprano, vocal pedagogue and scientist Heidi Moss Erickson (Faculty member, San Francisco Conservatory of Music) to learn about the neuroscience of sound processing.

Through her discussion and exposition of hearing, filtered listening, visual biofeedback, and other kinaesthetic associations, Heidi will present practical pedagogical tools to refine the idea of 'listening' to a voice.
Note: A recording of this webinar will be made available to all registrants and viewable for one month following the event.
QLD - 11.00am




NSW/VIC/ACT/TAS - 12.00pm


SA - 11:30am
WA - 9.00am
NT - 10:30am
Location
Online event access details will be provided by the event organiser

Contact Details
EVENT SUMMARY:
The teacher-student paradigm has remained unchanged for centuries: singers are trained in the studio based primarily on the auditory information received by the instructor. The vocal output can yield a wealth of information on technical efficiency, musicality, and health. Although visual cues regarding body posture, jaw position, tongue action, etc. can be informative, the successful read-out is primarily based on the sound produced. It is also known that auditory feedback is a fairly unreliable source of information for the singer themselves. Teachers often ask singers '"not to listen" and instead focus their attention onto kinesthetic signals to facilitate learning of motor tasks. Although auditory information is received by the singer, such attention can take them out of the moment and shift focus from the task at hand. This has been a handicap for singers, since truly 'hearing' oneself is not a reliable feedback mechanism, which is especially limiting when left alone to practice. Neuroscience of sound processing combined with acoustic knowledge about the voice has opened the door to a wealth of new possibilities to enhance the current landscape of a traditional voice lesson. Through an understanding of hearing, filtered listening, visual biofeedback, and other kinesthetic associations, the teacher and student now have a much bigger toolbox to extract strategies and conclusions. This talk will discuss the science behind these ideas as well as offer practical pedagogical tools to refine the idea of 'listening' to a voice.
ABOUT THE PRESENTER
Heidi Moss Erickson
Heidi Moss Erickson, is a San Francisco Bay Area performer, educator, and scientist. Noted for her "rich and radiant soprano" (Edward Oriz, Sacramento Bee), she has performed both in the United States and abroad. A champion of new music, she frequently collaborates with renowned living composers including Daron Hagen, David Conte, Tarik O'Regan, Henry Mollicone, Jake Heggie, and her husband, Kurt Erickson.
In addition to her musical life, Heidi graduated with a double biology and music degree from Oberlin and a masters in biochemistry at the University of Pennsylvania. She studied telomeres at Rockefeller University and has several publications, including a landmark paper in the journal Cell. This was a revolutionary discovery showing that the ends of DNA are looped and it was featured in the New York Times.
Heidi's interest in voice science came from her work in the lab of the late Richard Miller at Oberlin. In 2007, a rare cranial nerve injury side-lined her singing career, and she was warned she may not ever perform again. Using her own scientific research and strategies, particularly in how speech and singing is processed in the brain, she rehabilitated to return to the art she loves. She has applied these concepts and designed a novel pedagogy to train singers of all levels.
In addition to a private studio, Heidi teaches vocal physiology at the San Francisco Conservatory of Music. She has been an invited speaker at the NATS National Conference, The Pacific Voice Conference, Cleveland Institute of Music, University of Oregon, Vocal ProcessUK, Vocology In Practice, and NerdNiteSF. Her courses on Singing in the Brain have been featured at the VoiceWorkshop UK, SingSpace, and through her private studio. This past year she was also featured as a keynote speaker for the British Voice Association Conference alongside Johan Sundberg, Her writings have appeared in blogs, such as The Naked Vocalist and in her journal club entitled "Minding the Gap: connecting research from basic science and neuroscience to vocal pedagogy". She is the wife of composer/pianist Kurt Erickson, winner of the NATS Art Song Prize, and they proudly parent 4 children together.