EGA Microdose Webcast 9: Psychedelics, addiction, & coke tek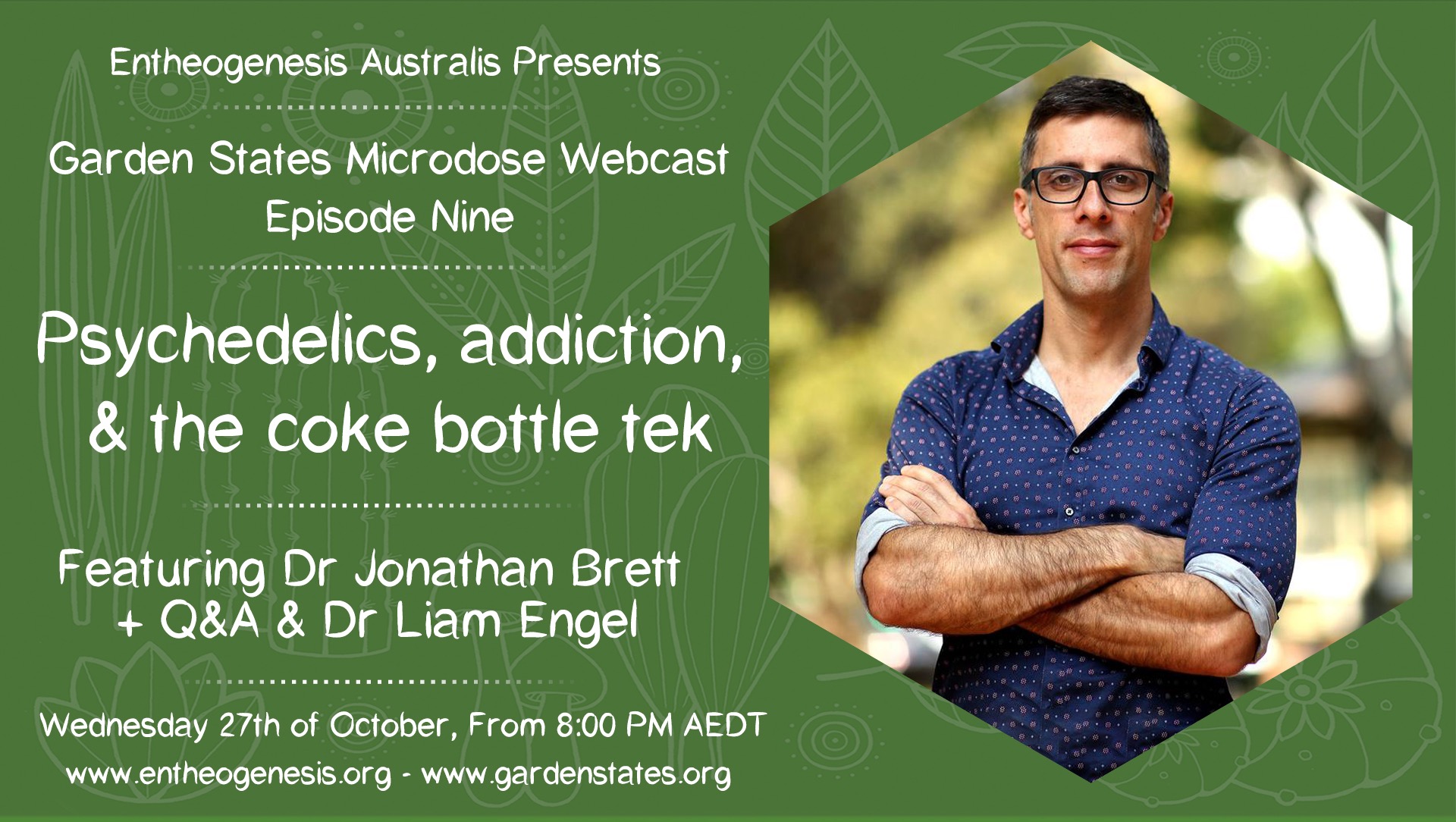 Our ninth EGA Microdose Webcast will feature Dr Jonathan Brett. Dr Brett is lead researcher in an upcoming trial investigating the use psilocybin-assisted psychotherapy to treat methamphetamine addiction, at St Vincent's Hospital in Darlinghurst.
Episode Nine - Psychedelics, addiction, & the coke bottle tek
Webcast nine will also feature ethnobotanist Dr Liam Engel, who will provide some detail around EGA's recent guide to building coke bottle terrariums. Make sure to rummage through your recycling and bring two identical double-flanged bottles, something pointy and a pair of scissors for some direct instruction during the webcast.
Hosted by Nick Wallis & EGA.
Registration for the Microdose Webcasts are free, but donations are encouraged to support EGA's important work (booking fees apply).
Segment One: Methamphetamine to psychedelics, and back again.
Dr Jonathan Brett will give a live update on the upcoming St Vincent's study of psilocybin psychotherapy for methamphetamine dependence and review important research studies relevant to this work. Jonathan will also discuss the current state of Australian psychedelic research and will conclude by taking questions on his study.
Bio: Dr Jonathan Brett
Dr Jonathan Brett is a staff specialist in clinical pharmacology, toxicology and addiction medicine at St. Vincent's Hospital, and a clinical toxicologist at NSW Poisons Information Centre. He is a conjoint A/Professor at St. Vincent's Clinical School, UNSW, and a NHRMC research fellow at the Centre for Big Data Research in Health at UNSW. His research interests lie in developing new treatments and models of care in addiction medicine.
Segment Two: Coke bottle tek: A terrarium technique.
EGA's new guide to the coke bottle terrarium technique documents a simple, innovative and recyclable way of growing plants from seed.
Coke bottle tek is a modification of the famous 'take-away tek', which uses plastic bottles for raising cacti and succulents from seed. Coke bottle tek is a set-and-forget technique, allowing plants to become more established with less human intervention, better preparing them for outdoor, in-ground environments and reducing the need for up-potting. Coke bottle tek also represents a more recyclable and environmentally friendly alternative to take-away tek.
Bio: Dr Liam Engel
Dr Liam Engel is an adjunct research fellow at Edith Cowan University's School of Medical and Health Sciences, and a research officer at RMIT's Social and Global Studies Centre. Dr Engel is a drug science communicator with interests spanning digital society, psychedelics, harm reduction and ecology. Liam is regular EGA contributor and propagates a variety of ethnobotanical plants, having a particular fondness for cacti.
----------------------------
About Garden States Microdose Webcasts
The EGA Garden States Microdose Webcasts are designed to cover various topics from the field of ethnobotany and psychedelic culture, sustainability, and related areas of interest to the community. The forums are part of the program leading up to the highly anticipated Garden States 2021 Botanical Conference. Registration for the Microdose Webcasts are free, but donations are encouraged to support EGA's important work.
About EGA
Entheogenesis Australis is a charitable, educational organisation established in 2004. We provide critical thinking and knowledge sharing opportunities on ethnobotanical plants, fungi, nature, and sustainability. Through our conferences and workshops, we aim to celebrate the culture, art, politics and community around medicine plants in the hope of better wellbeing for humankind and the planet.
To find out more about what we do, head over to our organisational website. If you like what you see, take a look at our upcoming Garden States 2021 Botanical Conference program.
Warm Regards,
The Entheogenesis Australis Team
Planting seeds for the earth, body and mind
www.entheogenesis.org
www.gardenstates.org
Note: Small booking fees may apply.
Location
Online event access details will be provided by the event organiser