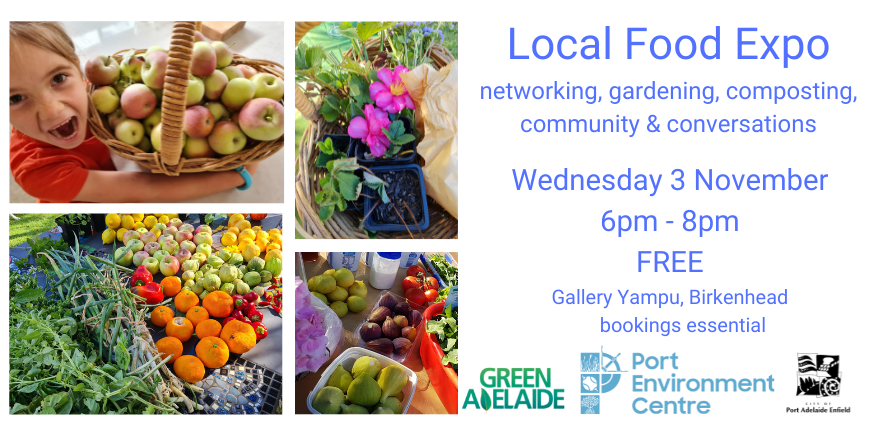 Do you grow your own food or are you interested in getting started?

Do you want to learn more about what people are doing and how you can get involved in the local food network?


Join us for a night of networking and discussions around what is happening in the area around food security and resilience – composting, community gardens, growing your own food, and more.
Wednesday 3 November 2021 6:00 PM - 8:00 PM (UTC+10:30)
Gallery Yampu,
1 Jenkins Street, Birkenhead
Let's come together and celebrate local food, local community, the people behind it, and the different ways we can all get involved.
Hear from Port Adelaide Enfield Council, the Semaphore Composting Network, Port Adelaide Food Gardening, the Food Embassy, SA Urban Food Network and more.
PLUS the opportunity to make your own FREE mini wicking bed with well known SA gardening identity Karen Montgomery.BYO mug for some locally made soup.If you have excess produce, seeds, seedlings or other garden goodies, we will have a swap and share table set up at the event so please feel free to bring it along.****Please note Gallery Yampu is in a Red Zone for fruit fly so don't bring restricted produce (most fruit plus chillies, capsicum, tomatoes, eggplant, olives). Check fruitfly.sa.gov.au/outbreak-restrictions/fruit-and-vegetables-at-risk for details.
Everyone is welcome.
Please note that due to COVID restrictions the following will apply:
- numbers are limited and everyone MUST book to attend
- participants are required to maintain social distancing of 1.5m
- masks are required for the duration of the event
- everyone must check in on arrival (via QR code)
- please stay away if you are unwell
Port Environment Centre is seeded by Green Adelaide.
This event is part of a partnership project between the Port Environment Centre and the City of Port Adelaide Enfield.
Please note that attendee information may be used for follow up evaluation, in order to assess the longer term impacts of our events. Follow up contact may be made (in the form of a survey) but participation in any evaluation is optional.
portenvironmentcentre.org.au
Contact Details