EXHIBITION OPENING AT LISMORE REGIONAL GALLERY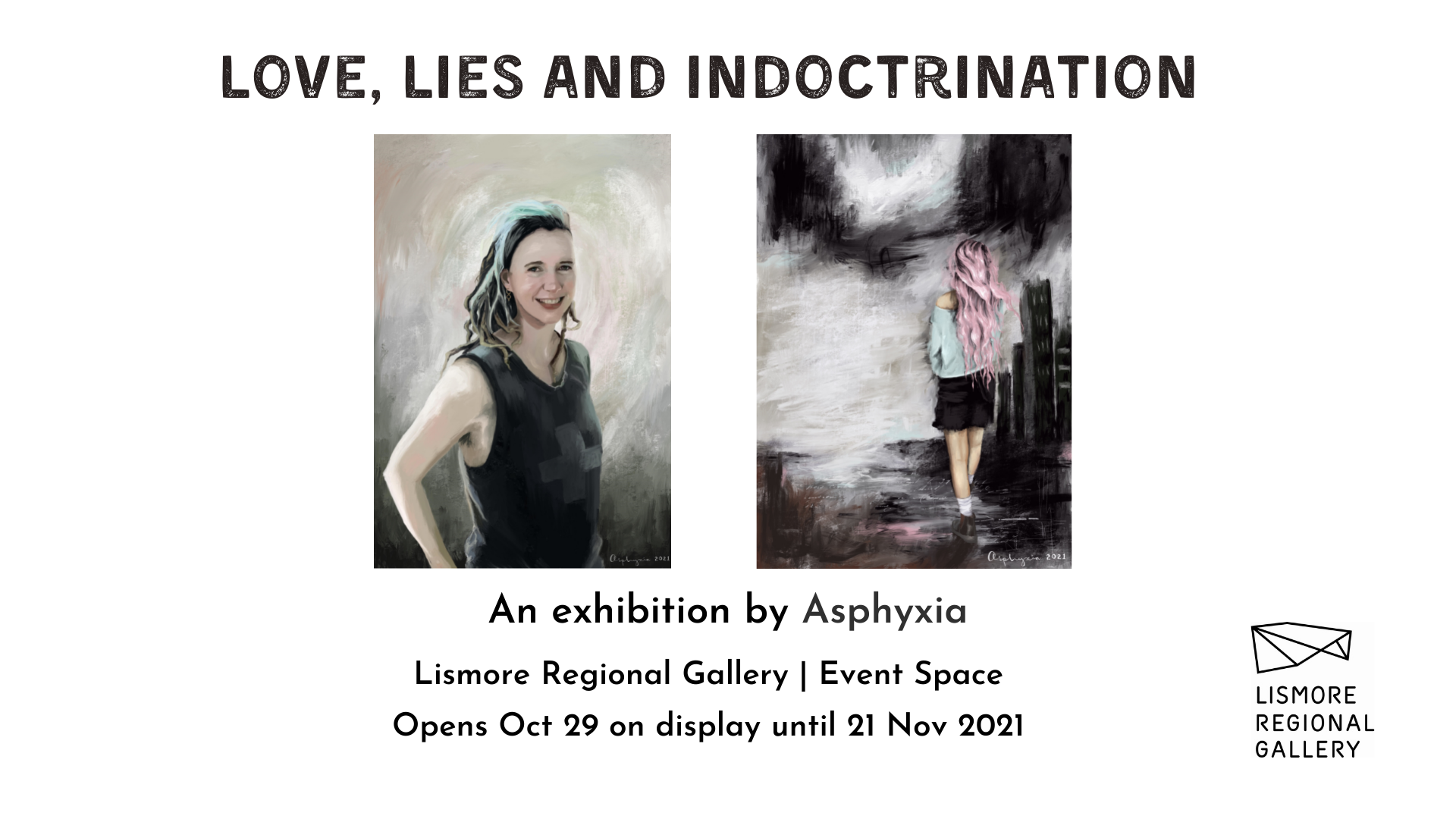 Asphyxia :: Love, Lies and Indoctrination

Lismore Regional Gallery | Event Space
Where: Lismore Regional Gallery, 11 Rural St Lismore, NSW, 2480

When: Friday 29 October 2021 from 5.30pm -7.30pm

On exhibition until Sunday 21 November 2021

*Auslan interpreted event
*Wheelchair accessible venue
Lismore Regional Gallery entry conditions have been updated in line with the NSW Public Health Order.
From 11 Oct until 1 Dec 2021:
Full vaccination is mandatory (16 years+)
Face masks must be worn inside (12 years and over)
QR check-in is required on arrival
Maintain safe social distance with other visitors.
Please be understanding of our volunteers and staff as we ensure the safety of our visitors within the following restrictions.
About the Exhibition::
An exploration of the strange customs of our society and the challenge of belonging, when we can't or won't follow those customs, perhaps due to feminist ideals, chronic illness, disability, queer identity, or just disagreeing with them.
It's easy for us to assume that many social conventions are just the natural way of things, and yet when you look closely, many are quite bizarre. Are they healthy for us? Should we find another way to live? These are the questions Asphyxia's artworks hope to provoke and explore through the unique lens of being Deaf, queer, chronically ill and needing to use a wheelchair.
Location
Lismore Regional Gallery
11 Rural St, Lismore NSW 2480
Contact Details