Earth Canvas - Fowlers Gap 6 Days Art Workshop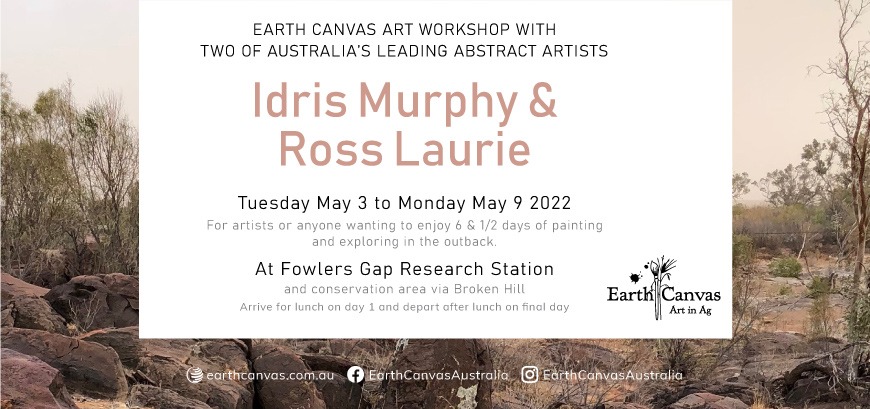 Immerse yourself in art with abstract artists Idris Murphy and Ross Laurie for 6 1/2 days. Explore the Landscape of Fowlers Gap, a research station and conservation area run by UNSW Science, 112km north-west of Broken Hill in the arid zone of the ranges. Its remote and impressive landscape, eco-trails, wildlife and viewing platforms attract local and international artists/visitors. An Earth Canvas initiative for artists or anyone interested in exploring creativity with adventure. Fully inclusive
When

Location
Fowlers Gap
1751 Silvercity Highway, Fowlers Gap NSW 2880
About
Arrive for lunch on day 1 and depart after lunch on final day
Fowlers Gap is a research station and conservation area run by Science as University of NSW. It is a 112 kilometres north west of Broken Hill through the ranges and is situated in the arid zone.
The remote Station, with its impressive landscape, eco-trails and wildlife-viewing platforms, attracts artists as well as local and international visitors.
Accommodation and Food Included in package. The Shearers Quarters and cottages are ideal for art workshops. Eating facilities and bathroom are communal. Bedrooms have two singles beds with electric blankets. The facility has ducted evaporative cooling for summer.
Travelling Self-drive, train or domestic air travel from Sydney to Broken Hill. Option to share hire a 4 x 4 wheel drive vehicle from Broken Hill to Fowlers Creek or self-hire a vehicle. All wheel drive will be fine to get around the property but 4 x 4 more appropriate.
Health Requirements subject to current COVID 19 rules we request all participants have proof of double vaccination status to attend this workshop and have relevant permission to travel at the time. The workshop will be rescheduled due to COVID pandemic if necessary.
Options for Non Artists tour to aboriginal rock sites, drive around sheep station, visit research projects, walks, reading photography, evening discussion and sun set celebrations, learn about land management in far western NSW.
Additional option to participate in 3 half days or 1.5 and half days of art workshop with art tutors.
Costs and options
Food includes breakfast, lunch and dinner. BYO alcoholic drinks for the duration of stay.
$2700 - Full Artist accommodation for 6 nights, tuition, food.
$1200 - Non Artist accommodation for 6 nights, twin share, food.
$240 - Single accommodation supplement to full artist or non-artist, share bathroom.
$400 - Option for non-artists to do 1½ days or 3 x ½ days workshop sessions.
$350 approx - Option for 4 x 4 wheel drive car hire 5 share from Broken Hill. Please express interest and we will organise.
Payment options
Secure your position by paying in Full, or
A $500 deposit and final payment in February 28 2022.
Contact
Gillian Sanbrook for more information 0428 696724 or Angela Alcock 0418 254479, or email info@earthcanvas.com.au
Contact Details