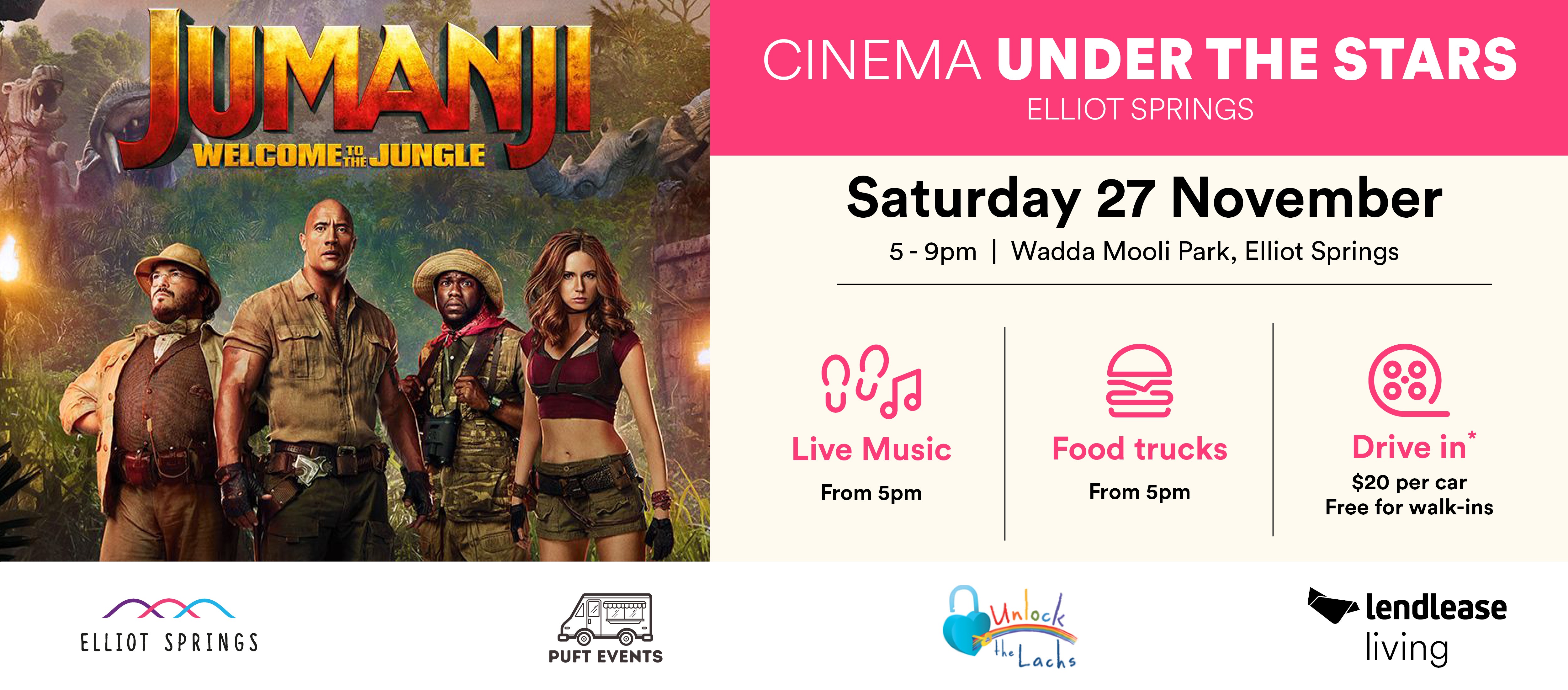 Elliot Springs is excited to invite you to our very own drive-in movie experience! Enjoy family time under the stars at Wadda Mooli Park. Gather all your favourite people, step into nature and bliss out in front of a family movie favourite with popcorn, Choc Tops, food trucks and more. It doesn't get much better than that!

All proceeds from drive-in ticket sales will go towards the Townsville based not for-profit organisation, Unlock the Lachs.
Movie Jumanji: Welcome to the Jungle
Day Saturday 27 November
Time 4:30 PM - 9:00 PM (UTC+10)
Cost $20 per car, free for walk-ins
Location
Wadda Mooli Park, Elliot Springs
Wadda Mooli Park, Elliot Springs QLD 4816
Contact Details
Elliot Springs Cinema Under the Stars Event - Terms and Conditions
1. The Promoter is Lendlease Communities (Townsville) Pty Ltd an entity within the Lendlease Group. Contact number is (07) 3027 3000.
2. The Elliot Springs Cinema Under the Stars (Event) will be held on Saturday 27 November 2021 at 5:00pm next to Wadda Mooli Park, Elliot Springs Boulevard, Julago QLD 4816 (Event). Tickets for the Event are available for registration at https://www.trybooking.com/832379 from Wednesday 10 November 2021 until the earlier of the following: (a) the date that all tickets for the Event are allotted; (b) the date of the Event; or (c) the date that Lendlease deems to be the final date for ticket allotment (Event Tickets). Event Tickets allow entry for anyone of any age to attend the Event specified on the Event Ticket.
3. All attendees over the age of 12 months must have their own Event Ticket to be admitted to the Event. Attendees must register for an Event Ticket in the manner specified at the website where Event Tickets are available, including by providing all necessary information required.
4. The Event Ticket is not redeemable for cash.
5. The Promoter reserves the right to refuse an Event Ticket to any person, or to refuse entry to any person holding an Event Ticket at its discretion.
6. The Promoter may cancel the Event or refuse to allocate the Event Ticket(s) at its discretion at any time. If this happens, we will send you an email to let you know.
7. Parents are required to supervise their children at all times during the Event.
8. There will be photography during the Event. If you do not want to be photographed please make yourself known to the photographer. Any photo or film footage taken may be included in the Lendlease Group's photo library and may also be used for a wide variety of marketing activities, including, but not limited sales brochures, social media, and internal communications for Lendlease Group.
9. All attendees at the Event must comply with all rules and restrictions relating to COVID-19 which are relevant at the date the Event takes place.
10. Nothing in these terms and conditions is intended to exclude, restrict or modify rights which an attendee may have under any law (including the Australian Consumer Law) which may not be excluded, restricted or modified by agreement ('Your Consumer Rights'). Subject to Your Consumer Rights, the Promoter is not liable for any loss or damage however caused (including by negligence), suffered or incurred in connection with the Event. Any condition or warranty which would be implied by law into these terms and conditions is excluded.
11. The Promoter will not be liable for any loss or damage whatsoever which is suffered (including but not limited to indirect or consequential loss) or for any personal injury, loss or damage suffered or sustained (even caused by negligence) in connection with accepting or using the Event Ticket, except for any liability which cannot be excluded by law. The Promoter is not responsible for lost or stolen, or misuse of any, Event Tickets. All attendees release the Promoter from, and indemnify the Promoter against, all liability, cost, loss or expense arising out of participation in the Event including (but not limited to) personal injury and damage to property and whether direct or consequential, foreseeable, due to some negligent act or omission or otherwise. In this clause 11, references to the Promoter are also references to its related entities.
12. Personal information you provide to Lendlease Communities (Townsville) Pty Ltd by registering for the Event (or otherwise providing your details) may be used for purposes related to the operation of our business including administering the relevant Event, providing and improving our products and services and, unless you opt out on by contacting us, communicating with you on an ongoing basis for market research and/or with information about any products or services we think you may be interested in at Elliot Springs. This may be by any means of communication including telephone and electronic messages (e.g. email). If the information requested is not provided, you will not be able to attend the Event. We take steps to ensure that we only collect personal information which is relevant to our dealings with the particular individuals and which is reasonably necessary for the Event or our other business activities.
13. We may disclose your personal information to other Lendlease Group entities, or a third party service provider, or other entities that assist us in running our business. We may disclose your personal information to entities located overseas. Further information on how we may disclose your personal information can be found in our Privacy Policy.
14. Our Privacy Policy can be found on our website https://www.lendlease.com/privacy/
15. Our Privacy Policy contains information about how you may obtain access to and seek correction of personal information that we hold about you, how to make a complaint about an alleged breach of the Australian Privacy Principles, and how your complaint will be dealt with. Alternatively, for further information please contact our Privacy Officer on (02) 9236 6111.