ROTARY CLUB OF WESTERN ENDEAVOUR QUIZ NIGHT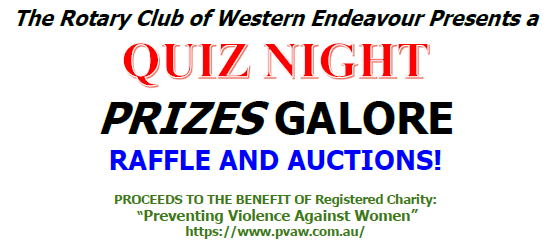 QUIZ NIGHT AT THE YOKINE BOWLING CLUB TO RAISE MONEY FOR THE " PREVENTION OF VIOLENCE AGAINST WOMEN" CHARITY ORGANISATION.
PROMISES TO BE A FUN & ENTERTAINING EVENT WITH PRIZES, QUALITY LIVE AUCTION ITEMS, GAMES & LOADS MORE!
PLEASE COME ALONG AND SUPPORT THIS WORTHY CAUSE!
Saturday 12 February 2022 6:30 PM - 10:30 PM (UTC+08)
Location
YOKINE BOWLING CLUB
10 WORDSWORTH AVENUE, YOKINE WA 6060
Contact Details