Nature Journaling at Garden Island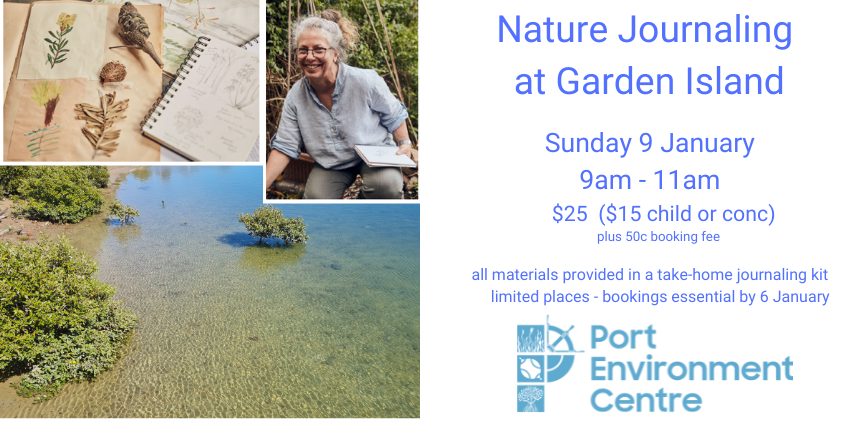 Join us at Garden Island to have a go at nature journaling.

Learn to sketch, make notes and record your surrounds in a gentle, fun and supported way.

No experience is needed - this relaxing workshop will introduce you to seeing nature in different ways.
ADDITIONAL INFORMATION
This nature journaling workshop is with Jenny Deans, an experienced facilitator and guide.
You will receive everything you need for the workshop in a small take home pack (including a notebook, pencils and guide for you to use again later).
This event is open to everyone and will suit all levels of drawing and creative writing skills.
While the event is aimed at adults, families are also welcome to attend. Children will need to have a concession ticket, must be accompanied by a guardian and be appropriately supervised at all times. The workshop is generally suited to children over 8 years but may suit some younger children.
Spotlight on Coastal Places locations: Garden Island is a beautiful, riverside space to explore, observe and reflect: birds, dolphins, mangroves, river & boardwalk.
Please dress for the weather and remember to bring a hat, sunscreen, water bottle and snacks. By the river, with shade from some big trees, we should be protected from the worst of the summer heat.
We will postpone the event (to Sunday 6 February) if the weather forecast is over 36 DecC, or if covid restrictions prevent us from holding the January session, and will notify you of this via email and sms.
* We recognise that this has been a tough year and you are welcome to purchase a concession ticket if needed *
Please book by Thursday 6 January.
Please contact the Port Environment Centre if you have any mobility or access concerns.
Numbers are limited, so please let us know if you can no longer make it.
Please note that due to COVID restrictions the following will apply:
- numbers are limited and everyone MUST book to attend
- please check in on arrival
- participant groups are required to maintain social distancing of 1.5m
- masks are recommended if you are unable to phyically distance
- please stay away if you are unwell
- there will be no shared food or drink - please BYO drink bottle and supplies
The Port Environment Centre is supported by Green Adelaide.
Please note that attendee information may be used for follow up evaluation, in order to assess the longer term impacts of our events. Follow up contact may be made (in the form of a survey) but participation in any evaluation is optional.
Location
Garden Island Boat Ramp
Garden Island Road, Garden Island SA 5960
Contact Details