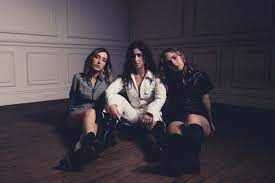 TICKETS $30
SHOW STARTS 8:00PM (DOORS OPEN 7:15PM)
Allocated table seating applies. Bookings under the same name will be seated together. To be seated with a separate booking, please ensure that all bookings are under the same name.
BYO Drinks and Nibbles.
Please note: This event is subject to current COVID-19 restrictions. In the case that this event has to be cancelled or postponed, refunds will be provided. We ask you please 'Stay Home if you are experiencing any of the following symptoms: - Fever, - Runny Nose, - Sore Throat, - Cough, - Chills, - Shortness of Breath, - Loss of Smell or Taste'. Thankyou.
It is now a condition of entry to the venue that you present proof of COVID-19 vaccination. We respect people's rights to choice in this matter, and recommend that you do not book tickets to this event if you are not going to be fully vaccinated. Please do not arrive at the venue if you are not fully vaccinated.
BIOGRAPHY
They've got the hooks, the harmonies and the explosive live energy, but if there's one thing Little Quirks are missing, it's a good fake ID.With the youngest of the three band members drummer Mia being just 16 years of age, Little Quirks have become adept at sweet talking door security to get into their own gigs.
Despite their age, this Central Coast family band has clocked up seven years of musical experience together since they began to hone their craft busking at local farmers markets. In recent years you would find Abbey, Mia and Jaymicharming crowds at music festivals and venues up and down the East Coast, sharing stages with artists such as The Teskey Brothers, The Preatures, Xavier Rudd, Ruby Fields, Tim Rogers and Alex the Astronaut.
A Little Quirkslive performanceis something to behold. There is a rare, unaffected honesty to theirapproach as they layer catchy-as-all-hell folk and pop melodies atop a relentless pounding beat. Audiences have no choice but to smile as the band dances to their own driving rhythms with a youthful exuberance that is simply undeniable. It was one such set at BIGSOUND 2019 that caught the attention of ABC Records and the band signed to the label very soon thereafter.
At home the band is equally playful, creatingall of their music, cover art and videos themselves. The two sisters in the band, Abbey (vocals/guitar) and Mia Toole (drums), have a backyard recording studio at their family home (they built the studio with their Dad, Adam). While their cousin JaymiToole (vocals/mandolin) creates all the band's visual artwork out of her bedroom studio just down the road.
The three members are prolific in their output - a trait inherited by their parents who played in bands together in the 80's – having released three EPs and two standalone singles over the past three years. Their 2018 single 'Crumbled' has been a runaway favouriteon Spotify with over 3 million streams. The band has also amassed a loyal following for their powerful and distinctive DIY videos on YouTube.
"These Quirks have the nous and charm of the greats. Deft songwriting and performers of depth and levity. Watch 'em rise" – Tim Rogers
Undeterred by 2020 show cancellations, including their debut UK tour, Australian three-piece Little Quirks returned to their home studio to record their fourth EP. This time they enlisted the help of Nashville mix wizard Ryan Hewitt (The Lumineers, Vance Joy) to put the finishing touches on their boldest work to date.
The first single from the new set is 'Florence's Town', an epic number which features the three band members – teenage sisters Abbey & Mia and their cousin Jaymi - in full vocal flight, singing their way to an imaginary place and taking anyone who dares along for the ride.
LOCATION
Sandy Point Community Centre
Church Parade, Sandy Point, Victoria 3959

CONTACT

Sandy Point Music- email: sandypointmusic@gmail.com, facebook: sandypointmusic