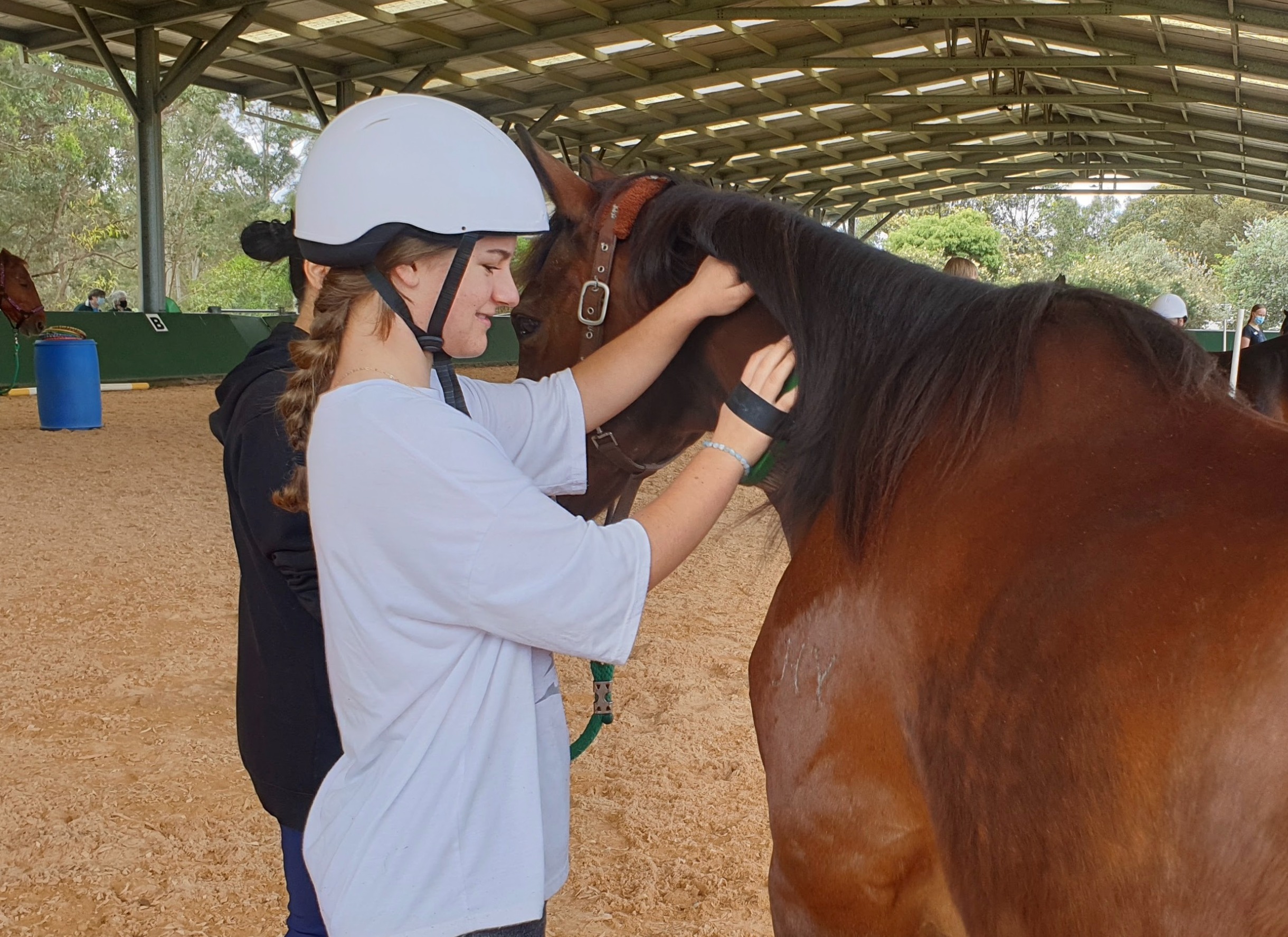 RDA Ryde is offering a fun non-riding activity for young people aged between 12-15 who could benefit from engaging one on one with our big-hearted horses and in the process tune into their body and breathing. Each participant works with an RDA volunteer and their horse, allowing for personal attention. Participants are guided through horse grooming and how to safely lead a horse through activities. The participant does not need to have any horse experience.
Pony Play will be offered twice a month on Saturday afternoons in Term 1, 2022. If you cannot make the dates listed, email us to be put on our waitlist.
Location
RDA (NSW) Ryde Centre
118-120 Culloden Road, Marsfield NSW 2122
Contact Details
Sessions
SESSIONS
DESCRIPTION
STATUS
TERMS & CONDITIONS
In booking this event (Pony Play), all potential participants, and their responsible adult, being a parent, guardian or legal advocate agree and consent to the terms and conditions below.
Covid safety: Covid restrictions may apply according to RDA Ryde polivies and public health orders. We encourage all visitors to the Centre to be double vaccinated.
Expectations for parents: Parents/carers are welcome to stay at the Centre. To ensure the privacy of other participants we ask that no photographs be taken throughout the event except at the end of the activity (approx 3pm) when the Coaches will make an opportunity to take a photograph of your child with your horse.
An RDA appointed volunteer may be in attendance at some sessions to capture imagery and/or footage for RDA's website, social media & promotional materials. During the booking process you will be given the option to consent to having photographs taken.
What to wear: For safety, the participant must wear enclosed shoes, long pants, and we may ask to remove any dangly jewellery or scarves that might frighten our horses.
Cancellation policy: We rely on the generosity of volunteers and donations to run RDA Ryde and its programs. As our class sizes are small we can offer a 75% refund if a cancellation is made 14 days prior to the event. No refund can be offered if cancellation is made within 14 days of the event. In the case of cancellation by the Centre, the session will be rescheduled or a 75% refund offered.
This program does not make any therapeutic claims as it is not run by individuals qualified in mental health, but by experienced RDA coaches and volunteers who understand the benefits of interacting with horses, particularly if the play is mindful, focussed, and deliberate. Volunteers never offer advice but will practice active listening.
RDA(NSW) Ryde Centre has a duty of care to all participants and as part of that duty, each participant must complete all required fields and pay the nominated fee. RDA(NSW) is committed to protecting the privacy of its clientele and volunteers and adheres to the National Privacy Act (amended) 2012. It only collects information necessary to carry out its work. Any information collected will be filed securely, and accessible only to RDA(NSW) Coaches and authorised personnel at the Centre. It will not be used for any other purpose and is accessible to the participant and parent/guardian at their request. By completing this booking form, the participant will comply with RDA(NSW) Safety and Operating procedures. As parent/guardian of the participant, you agree for the participant to be allowed emergency medical treatment, if necessary, whilst taking part in any RDA(NSW) activity. You understand that no liability can be accepted by either RDA (NSW) or the Centre concerned in the event of an injury or accident occurring. Equestrian activities can be inherently dangerous. You understand that horses can act in a sudden and unpredictable way especially if frightened or hurt. Accidents can happen in equestrian activities which may result in injury or death to participants. You have voluntarily read and understand this warning and acknowledge and assume the risks in equestrian activities. (Agreement to this does not affect a person's rights under common law.) You understand that RDA(NSW) Ryde Centre retains the right to refuse any person entry to the Centre if the safety and welfare of people and horses might be at risk.