FREE Evening Yoga Workshop with Lauren Pettigrew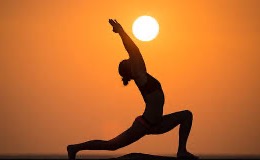 The class is suitable for all ages and levels of experience with plenty of modifications offered to either scale down or up the practice.
Wednesday 9 February 2022 6:00 PM - 7:00 PM (UTC+11)
Combining my love of dance and music, my style can best be described as a melting pot of Yoga and movement set against a backdrop of emotive music. I am passionate about making Yoga an uplifting and joyful experience, where people from all walks of life come together as a community to share in a light-hearted practice. I am a lover of a hot and sweaty vinyasa and also a gentle and nurturing flow. A recent Tantric Yoga graduate and relative newbie to the scene I approach the mat with a beginner's mind and a relaxed approach. I play crystal sound bowls and offer sound bath from time to time as part of a nourishing savasana.
BYO - Mat, a drink bottle if you need water during practice and your smile.
Comfortable clothing that allows you to stretch and move is a must.
Location
Queenscliffe & District Neighbourhood House
3 Tobin Drive, Queenscliff Victoria 3225
Contact Details