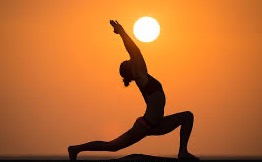 Combining my love of dance and music, my style can best be described as a melting pot of Yoga and movement.You have experienced Lauren's uplifting and joyful yoga. Continue your journey with Lauren over 4 or 8 weeks.The class is suitable for all ages and levels of experience with plenty of modifications offered to either scale down or up the practice.
BYO - Mat, a drink bottle if you need water during practice and your smile.
Comfortable clothing that allows you to stretch and move is a must.
Wednesday 16 February 2022 6:00 PM - Wednesday 9 March 2022 7:00 PM (UTC+11)
Location
Queenscliffe & District Neighbourhood House
3 Tobin Drive, Queenscliff Victoria 3225
Contact Details