WA Transport Works Safety Forum 2022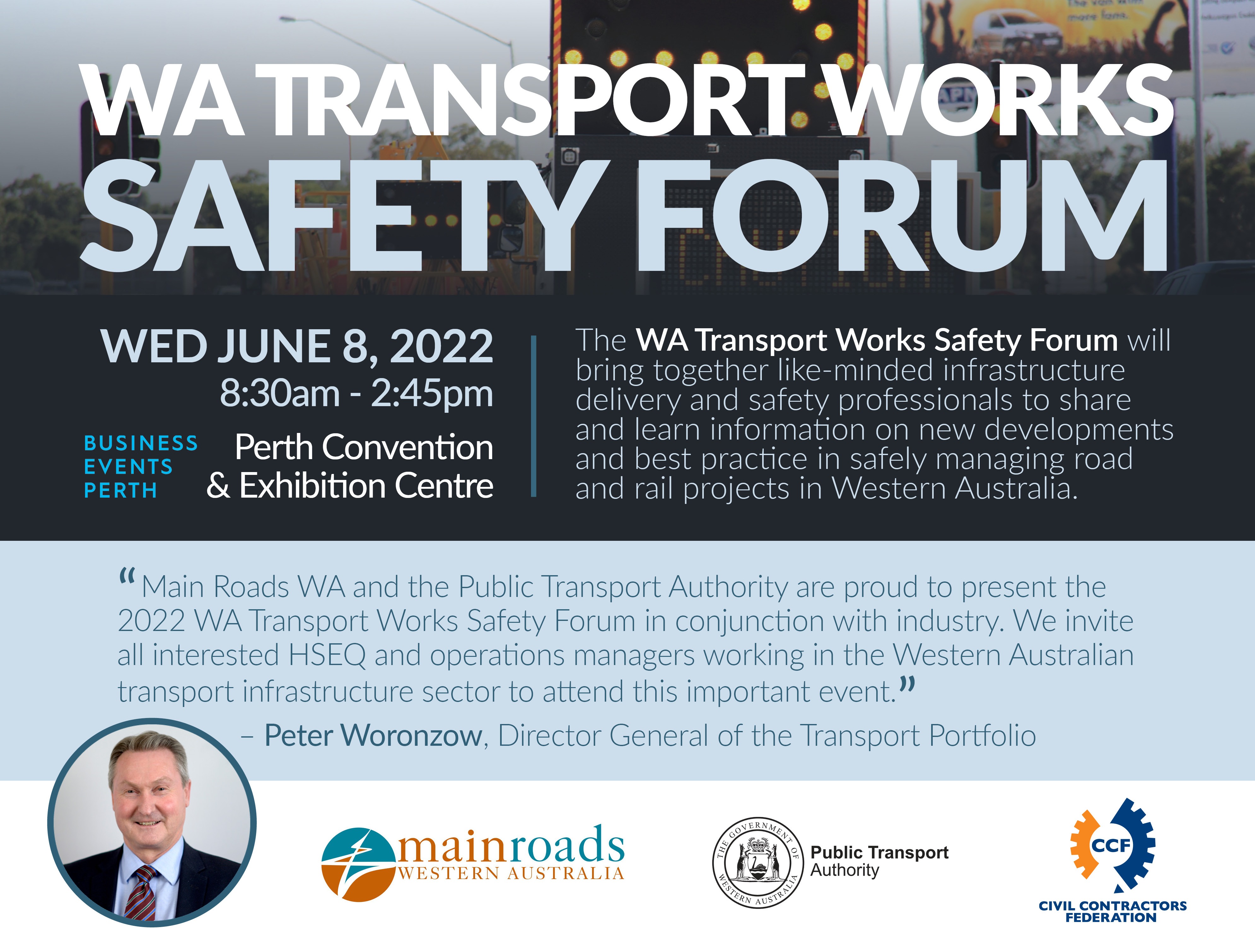 The WA Transport Works Safety Forum will bring together like-minded infrastructure delivery and safety professionals to share and learn information on new developments and best practice in safely managing road and rail projects in Western Australia.
Wednesday 8 June 2022 8:30 AM - 2:45 PM (UTC+08)
WA Transport Works Safety Forum Order of Proceedings
FIRST SESSION
Peter Woronzow, Director General of the Transport Portfolio – Welcome address
Presenter: Max Line, Director, LGC Traffic Management
Presenter: Stephen O'Dwyer, Board Member, Traffic Management Association of Australia – Modern Traffic Control
A snapshot of the Traffic Management industry today and what it is likely to look like in the next few years. Stephen will be presenting an outline of a recently completed TMAA White Paper on the state of the industry.
Presenter: Gareth Peers, Road Safety Policy Coordinator – Main Roads WA
An overview of the recent updates to the Traffic Management for Works on Roads Code of Practice and upcoming initiatives in temporary traffic management.
Panel Discussion/Q&A: Challenges and opportunities in traffic management
Presenters Max Line and Stephen O'Dwyer will be joined by Brendon Wiseman and Kyran Thorpe from Main Roads to discuss current issues in traffic management and address audience questions.
MORNING TEA
SECOND SESSION
Presenter: Lara Ellson, Associate Strategic Growth, Aurecon – How connection drives safety outcomes
Presenter: Dylan Ogilvie, General Manager Operations, Melchor – Are they really okay? Supporting mental health at work.
Good mental health at work and good management go hand in hand. When we create workplace cultures where people can be themselves, it is easier for people to speak about mental health concerns without fear and reach out for help when they need it.
LUNCH
THIRD SESSION
Presenter: Brett Belstead, Director Network Management, Main Roads WA
Presenter: Glenn Donaldson, Operations Manager Civil & Rail, Downer Group
Panel Discussion/Q&A: Delivering transport infrastructure safely
Panelists Glenn Donaldson (Downer), Craig Hyde (Servicestream), Anton Piccinin (Rob Carr) and Brett Belstead (Main Roads) will discuss how industry is meeting the challenges of safely delivering an accelerated works program in a constrained market, in a new regulatory framework.
(Program subject to change)
Location
Perth Convention and Exhibition Centre
21 Mounts Bay Road, Perth WA 6000
Contact Details