Plant ID workshop - Largs North - 23 March 2022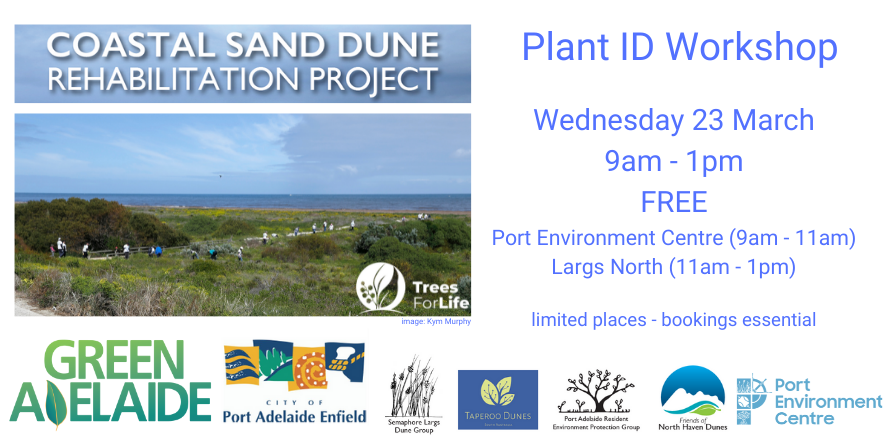 Join one of the local plant ID workshops and gain the skills and knowledge to identify indigenous plants and exotic weeds common to our local environment.

These workshops, run by Trees for Life, will be tailored for local volunteers who care for our sand dunes and Biodiversity Park.

The workshop sessions will be 'hands-on', with a mixture of field and classroom activities.

Priority will be given to active volunteers from the local groups.
ADDITIONAL INFORMATION
9am - 11am classroom session (at Port Environment Centre) then 11am - 1pm field session (at Largs North)
The workshop will cover:
Introduction to general botany and floral anatomy of coastal areas

Characteristics of the major plant families

How to use botanical and other plant identification books

How to use an herbarium to develop knowledge

Practical plant identification of common species
Coastal groups will increase their knowledge of indigenous plants and weeds, including being able to use field guides and keys to identify plants. Workshop participants will be provided with resources which they can utilise when they are working on ground.
Detailed instructions will be emailed to registered participants the week before the workshop covering PPE, safety and other requirements for the day.
This is the last in a series of 6 plant ID workshops run during 2021 / 2022 as part of the Coastal Sand Dune Rehabilitation Project. Priority will be given to active volunteers in local groups. You can see more details of the project at www.portenvironmentcentre.org.au/coastal-dune-project.
Places are very limited. It is important that you let us know if you can no longer attend, so we can make your place available for others.
Please note that due to COVID restrictions the following will apply:
- numbers are limited and everyone MUST book to attend
- masks are required to be worn while indoors
- masks are recommended for outdoors when you are unable to physically distance
- participants are required to maintain physical distancing of 1.5m
- everyone must check in on arrival (via QR code)
- please stay away if you are unwell
- there will be no shared food or drink - please BYO drink bottle, snacks and morning tea.
We will continue to monitor the situation, and will look to shift this workshop outdoors, or to a larger space if we feel this is necessary. Please look out for updates closer to the event.

About the Coastal Sand Dune Rehabilitation Project
The Coastal Sand Dune Rehabilitation Project is a new project in 2021 that will contribute to the maintenance, restoration and enhancement of the coastal dune system and Biodiversity Park on LeFevre Peninsula. The aim of the project is to increase biodiversity through re-vegetation, weed and pest control, and to create a coastal and coast to river biodiversity link over time.
This project is funded by Green Adelaide and the City of Port Adelaide Enfield and has received funding from the Green Adelaide Grassroots Grants program. The Grassroots Grants program aims to support wide ranging efforts by individuals and groups to maintain and improve their local environment.
This project is an initiative of Semaphore Largs Dunes Group, Taperoo Dunes Group, Friends of North Haven Sand Dunes, Port Adelaide resident's Environment Protection Group (PAREPG) and the City of Port Adelaide Enfield.
Port Environment Centre is pleased to be supporting this great, local, volunteer driven project.
Port Environment Centre is seeded by Green Adelaide.
Please note that attendee information may be used for follow up evaluation, in order to assess the longer term impacts of our events. Follow up contact may be made (in the form of a survey) but participation in any evaluation is optional.
Location
Port Environment Centre
27 North Parade, Port Adelaide South Australia 5015
Contact Details