MISSION BEACH RAINFOREST YOGA & MINDFULNESS RETREAT
EXHALE THE PAST, INHALE THE FUTURE
May 29 - June 4, 2022
"We acknowledge the Traditional Custodians of Djiru Country, their Elders past present and future.
We observe the ancient Cultural footprint in the lands, seas and rivers all around us."
Join Senior Iyengar Yoga teacher Tim Oddie and Mindfulness Educator Anna Loughrey on this yoga and mindfulness retreat suitable for beginners to advanced students. For 6 nights / 7 days enjoy warm days and fresh evenings at this nurturing and informal resort offering stunning views over the Coral Sea, just as Victoria enters winter. In between uplifting yoga and life affirming mindfulness sessions you will have plenty of free time for self-care, be it walking in the rainforest, swimming in the pool or at the almost private beach nearby, reading in the long room or generally just slowing down to catch up with yourself. Taking place in Djiru Country this retreat offers an absolute haven for lovers of nature, food and good company.
'I always wanted to do a yoga/meditation retreat but as a newbie to both of these I was always worried I wouldn't fit in or be able to do the activities. But this retreat and with Tim and Anna who made every experience so comfortable, welcoming and enjoyable made me appreciate not only how important self care is but how I really enjoyed yoga and meditation. Thank you to both of you for this amazing experience and look forward to attending another one'. (Retreat Participant Dec 2021)
THE YOGA & MINDFULNESS
Tim and Anna share a love of people, culture and nature and have a long history of leading retreats. From the beaches of Bali to the foothills of the Himalayas, they have helped people gain a greater sense of their own potential and innate strength and to experience the profound joy that comes with a deeper connection to the world.
About Tim
Tim is a Senior Iyengar Yoga Teacher with 30 years + teaching experience. With highly developed skills he conveys the essence of yoga with depth, clarity and humor. Whether you are new to yoga, have physical restrictions or have been practicing for many years, Tim will support and challenge you, as you gain greater insight into the nature of your being. Physically, mentally and emotionally you will leave his sessions feeling stronger, steadier and more resilient.
About Anna
Anna brings 30+ years experience in 'informal' counseling and in fostering people's creative participation in 'community life'. Combining gentleness and directness, Anna invites you to practice letting go what needs to be let go of and letting grow what needs to grow. With this intention, Anna offers a selection of meditation and mindfulness techniques to help quieten your mind, support greater connection to your intuition and instill greater confidence in you to follow your heart.
Sanctuary Retreat is an accredited Eco-lodge set in the heart of lush tropical rainforest in Mission Beach, North Queensland. Set over 50 acres of tropical rain forrest, Sanctuary sits high on a ridge, looking over Brookes beach, one of the most northern bays of Mission Beach, giving stunning views and catching cool breezes from the Coral Sea. There is a beautiful 10 minute forest walking trail which connects Sanctuary to the car park, secluded Brookes beach and the outside world. To attend this retreat you will need to be reasonably fit.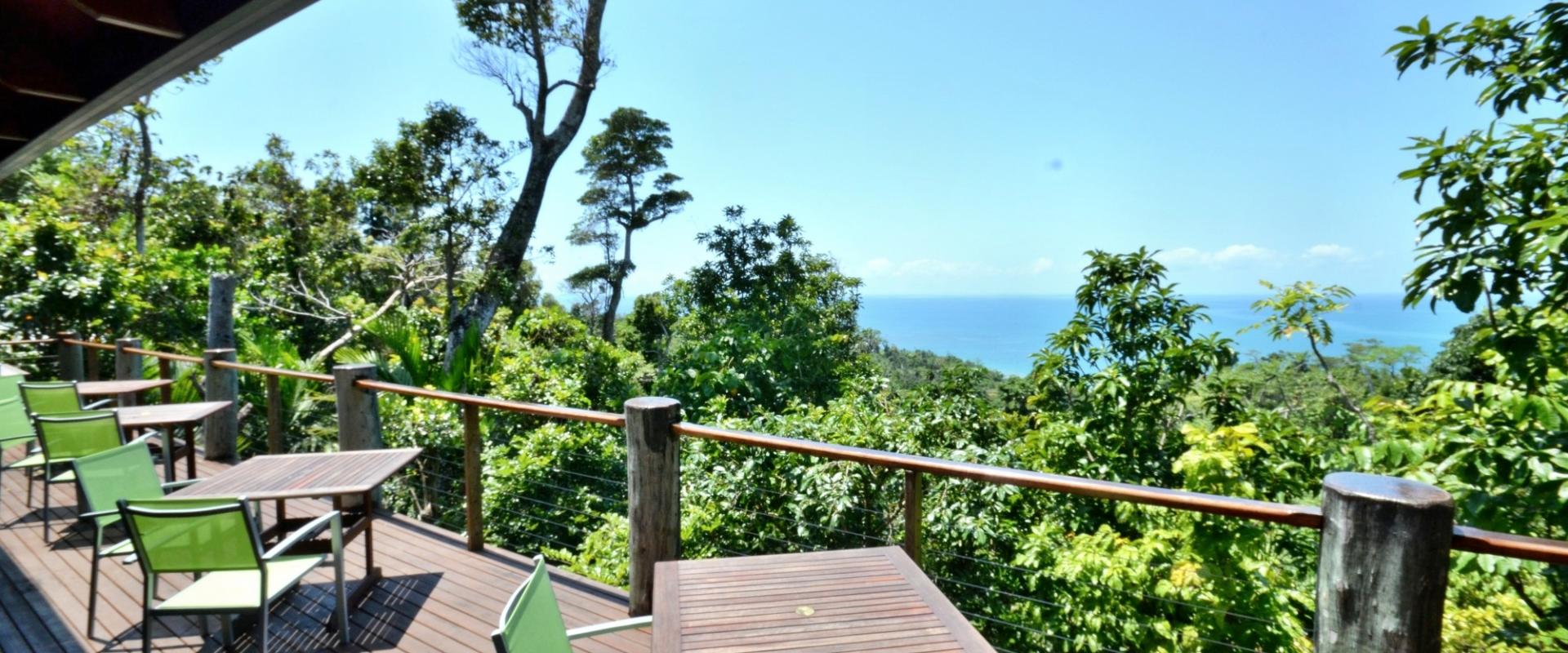 Depending on your budget and preference there are two accommodation options, both based on solo or double occupancy (no twin share).
The Rainforest Huts, designed to be like a bubble in the rainforest and can be opened on three sides by sliding timber and glass panels giving a beautiful close rainforest experience. Each hut has a small verandah and simple furnishings. The outside ensuites are appointed with a shower, toilet and hand wash basin so that you can shower in the forest, naturally.
The Canopy Cabins, designed to allow you a close rainforest experience, while keeping the simple comforts of home. A studio-style lounge and queen bedroom area with polished wooden floors, an en-suite bathroom with a spectacular view from your shower. You will also find a table and chairs on your private verandah. Tea and coffee making facilities and mini bar, linen, blankets and towels are all provided.
If you press 'BOOK NOW' you will be able to see details for each room type.
THE FOOD
The menu will be deliciously nutitious, entirely vegetarian and utilise locally grown fresh foods. Your taste buds will be tingling with delight from breakfast, lunch through afternoon tea to dinner time. Herbal teas, excellent coffee and fruit will be available all day. Meals will be served in the Sanctuary Longhouse Restaurant & Bar, capturing the essence of the tropics with polished hardwood floors, high ceilings with fans lazily shifting the balmy air and a balcony situated perfectly to watch the sunrise or the moon appear out of the sea at sunset.
FLIGHT CONNECTION / TRANSFER / GETTING AROUND
Included in your ticket is a return shuttle transfer between Cairns airport or your hotel in Cairns CBD and the retreat centre in Mission Beach. To utilse this shuttle service to the retreat centre you will need to book a flight that arrives before 1.30pm on 29/5/22. To utilise this shuttle returning to Cairns airport or your hotel in Cairns CBD you will need to book a flight that departs after 2pm on 4/5/22. If travelling outside of these times you will be responsible to arrange your own transport.
The terrain around Sanctuary retreat is quite hilly and steep, not accessible by regular vehicles. A 4WD transfer is included in your booking to carry you and your luggage on arrival and departure from the carpark to the retreat centre (this is otherwise a 10 minute walk with a light pack). As a courtesy for orienting you to the place, this Sanctuary vehicle offers return transfer to Mission Beach on the day after check-in and another trip during the week. If you would like to explore the local environs beyond the retreat centre at other times during your stay, this can be arranged for a small cost.
RETREAT COST
The retreat price is all-inclusive but depends on your 'room selection' starting at $2100 (early bird offer for a 'Budget Solo' room). To view all prices please click the 'BOOK NOW' button at the top of the screen. The full amount is required at time of booking to secure your place. Until 1 March, listed prices when you go to 'BOOK NOW' include early bird offer.
Hotel transfers (from and returning to Cairns airport / CBD)

Six nights accommodation

All meals and afternoon teas (Sunday evening until Saturday breakfast)

Twice daily yoga classes

Daily mindfulness classes

Free WiFi
* Massages and other treatments are available on site at participant's own expense.
*** NOTE - 'Early Bird' offer of $100 discount closes March 1, 2022 ***
TERMS & CONDITIONS (Including our cancellation and 'COVID Safe' policies)
To view our 'Terms & Conditions', select the room type you are intetrested in purchasing and at the checkout these will be clearly outlined. Please read these carefully before making any purchase. Before a purchase can be finalised you will need to agree to all terms and conditions.
If you have any questions about this retreat please do not hesitate to contact Tim on 0419 313 677.
Hope to see you in sunny Queensland : )
Namaste,
Tim & Anna
BODY MIND NATURE
​