Success for All Learners: Multi-Tiered Systems of Support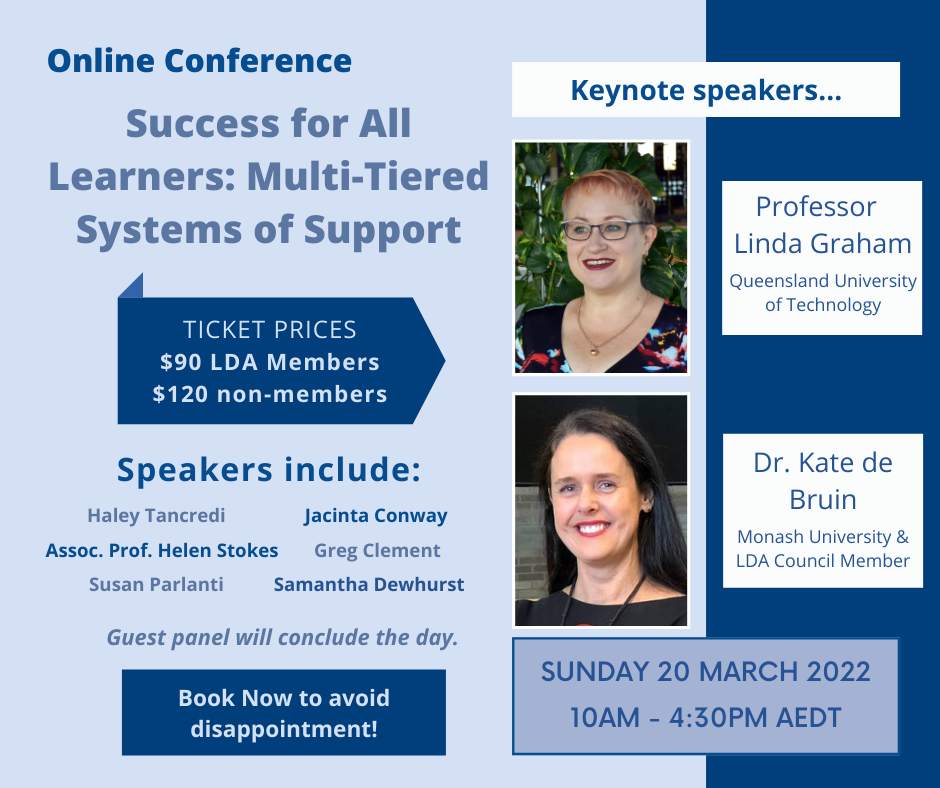 Join us at LDA's MTSS conference to hear about practical implementation techniques for multi-tiered systems of supprt to enable success for all learners.

Over 6.5 hours, eight highly qualified and experienced professionals will present on topics such as implementing change in schools, case studies on practices and interventions implemented, assessment, response to intervention, trauma informed practice, Accessible Assessment ARC Linkage, the Berry Street Education Model and more.
$90 for LDA and SPELD members | $120 for non-LDA members
***Please note that to prevent missing out on information, we request that when registering, you provide an email address that does not end in .gov.au or .edu.au as our emails to these addresses are often caught as spam and not delivered.
Thank you for your assistance.***
A recording of the event will be made and will be available for 30 days after the event. Certificates for 6 hours of professional development will be available.
Speakers and Topics
Keynote - Introduction to MTSS - Dr Kate de Bruin
This will be presented by Dr Kate de Bruin from Monash University who will be speaking about Multi-Tiered Systems of Support including what they are, what they offer, and their potential for use in Australian schools.
Greg Clement (Primary Breakout)
Greg Clement is the Principal at Clayton South Primary School. He will present on how, in 2 short years, he has managed and implemented some big improvements across the school, in particular, in the area of reading practice. By phasing in the Big 6, oral language, phonemic awareness, phonics, fluency, vocabulary and comprehension, the school has made great gains in reading for ALL students. This has become a social equity issue for Greg and his team at Clayton South.
Samantha Dewhurst and Sue Parlanti (Secondary Breakout)
Samantha and Sue will be presenting on the practices and interventions that they have put in place in the secondary school setting to support student literacy. They will also outline the screening and progress monitoring assessments that they have used, and how these align with a Multi-Tiered System of Supports.
Jacinta Conway
Jacinta will be speaking about assessment in the context of Response to Intervention, with a focus on universal screening and progress monitoring.
Associate Professor Helen Stokes
Helen will be speaking about the research she is doing in schools on the Berry Street Education Model. She will provide information on trauma informed practice in relation to students' academic success and wellbeing.
Haley Tancredi
Haley will be speaking about student recruitment and identification processes in the Accessible Assessment ARC Linkage and early findings from the student language and attention assessments. She will then explain how she is working with these kids' teachers and how she will measure the impact of teachers pedagogical refinements.
Keynote - Professor Linda Graham
Linda will be talking about her research with 50 students with learning and behavioural difficulties. Through this process, the students identified what they feel makes an excellent teacher. Linda will then describe her Accessible Assessment ARC Linkage, which focuses first on accessibility of assessment tasks, and then the accessibility of teaching through an intervention.
Location
This is an online conference. A link to the event will be sent to registrants 48 hours before the start time.
Contact Details