Mixed Media Triptych

FULL DAY WORKSHOP: WITH ARTIST ASHLEY HAY
Sunday 12 June 2022 9:00 AM - 4:30 PM (UTC+08)
Do you love playing with paint & mixed media?
If so you will love this workshop!
During the workshop you will learn Painting Techniques with Powertex, Bister & Easy3DFlex. A great class for Beginners & Beyond!!! Be amazed by what you create!!!
In this workshop you will:
Learn what Powertex is and how to you can use it to create a stunning artwork
Blend Powertex colours into a tonal scale from light to dark
Create texture using stencils and Easy Structure
Learn how to mix Easy3Dflex and use it in a variety of ways
Learn how to create a crackle effect with Powertex Ivory and Bister patina colours
Understand the art of layers and the difference it makes to your finished artwork
Embellish your artwork with colour to give it a professional finish
Experience the joy of creating with others
Cost: $165 (Triptych on wood) Includes tuition and all materials
About Ashley:
Artist & Importer ​Ashley Hay conducts the majority of art classes at Powertex Australia. As a Master Trainer in Powertex, Ashley has a wealth of knowledge to impart to workshop participants and loves inspiring others to create. In her workshops you are guaranteed success whether you are a beginner or professional artist... you will be amazed at what you create. Experience the difference... and walk away with an incredible artwork that you've made yourself! Join Ashley... and start creating today! Book now...
Location
Powertex Australia
230 Safety Bay Rd, Safety Bay WA 6169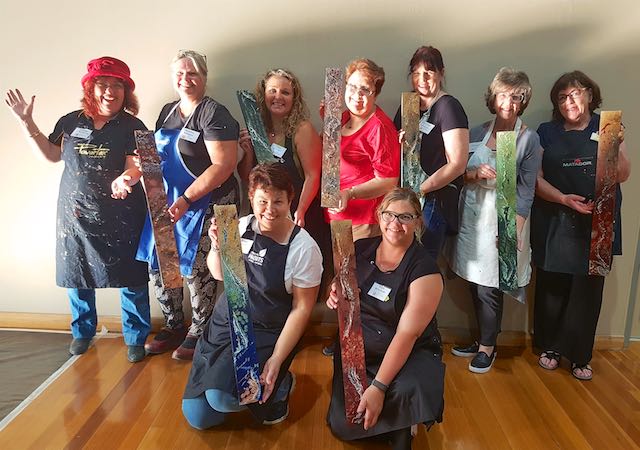 COVID-19 COMPLIANCE
For everyone's safety, as per government guidelines, the studio has a COVID-19 Safety Plan in place.
Participants will have their own workstation and are asked to wear a mask and maintain social distancing throughout the day.
We look forward seeing you in the studio for some creative FUN!
SaveSave