Toolbox Top-Up: Fly On The Wall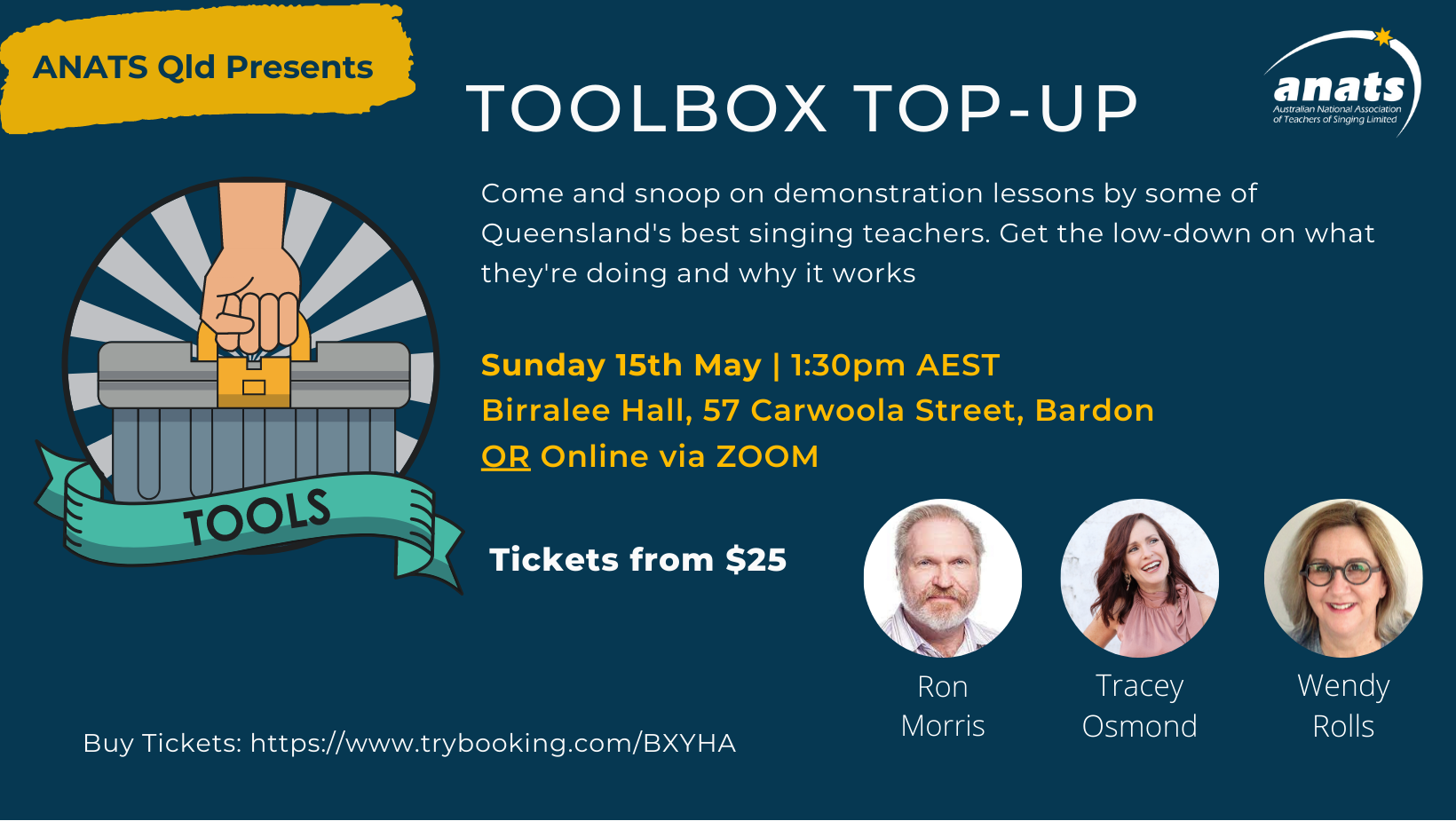 Calling all singing teachers: learn some brand new teaching tools at our 2022 Toolbox Top-Up Event!
Come and snoop on demonstration lessons by some of Brisbane's best singing teachers. Get the low-down on what they're doing and why it works!
As singing teachers, we very rarely get to watch others teach. Toolbox Top-Up: Fly On The Wall is your chance to observe a series of singing lessons by three different professionals - Dr Ron Morris (breathing and support), Wendy Rolls (young voice) and Tracey Osmond (contemporary pedagogy and style). These master teachers will discuss why they've chosen specific exercises - the purpose, pedagogy and physiology behind them. It's a masterclass but with so much more detail! The focus is on you, the teacher.
Each teacher will showcase a student with different issues to be worked on (no already polished masterclass performances here!) so you can see how to approach different vocal problems including: alignment, breath flow and support, registration, resonance, tension, articulation, stylistic concerns...we want you to come along and, quite frankly, steal all the ideas, exercises and tricks that you see!
New to teaching? We'd love to meet you! Come along to a free morning tea beforehand, for a chance to mingle with other 'early career' teachers and members of the ANATS Qld committee.
Can't attend on the day? This event will be recorded and made available for one month after the event, so you can still register and watch at a time that suits you.
Toolbox Topup: Fly on the Wall is ANATS Qld's first event of the year. We look forward to seeing you there!
Birralee Hall, Bardon, 57 Carwoola Street, Bardon QLD
Tea, coffee and light refreshments provided.
NB: The safety of our presenters and attendees is of the utmost importance to us. As such, we will always follow Queensland Government health directives in relation to Covid-19.
MEET OUR PRESENTERS
DR RON MORRIS
Dr Ron Morris, Speech Therapist, Audiologist and Counter-Tenor, initially graduated from the University of Queensland in 1985 with an Honours degree in Speech Therapy. Ron also holds a Performer's Certificate from Trinity College London and in 2001 he completed a Masters of Music Studies (Vocal Performance) at the Queensland Conservatorium Griffith University. As part of that degree Ron undertook additional vocal studies in London with Mrs Janice Chapman OAM as well as studying Accent Method Breathing with Ms Dinah Harris and Mrs Ingrid Rugheimer. Ron holds a PhD in music for a study examining the use of Accent Method Breathing with singers. Ron's new book on Accent Method based on his PHD 'If In Doubt Breath Out' was released in 2016.
Ron is in demand both nationally and internationally as a speaker at conferences, workshops and summer schools having presented on numerous occasions for Classical Voice Training, British Voice Association, to the Pan European Voice Conference (PEVOC), the Australian National Association of Teachers of Singing (ANATS) and to the Association of Teachers of Singing (AOTOS) in the UK. Ron has been a guest tutor at the Aberystwyth Music Fest and Summer School as well as working with choristers from St Paul's Cathedral London, Canterbury Cathedral and King's College Cambridge. Ron also works annually within the Vocal Department at the Guildhall School of Music and Drama where his work is focussed on breathing, articulation and vocal pedagogy. He has recently obtained a Lectureship in Vocal Pedagogy and Health at the Queensland Conservatorium of Music Griffith University.
Ron continues to sing regularly both as a member of St John's Cathedral Choir (Brisbane) and the Opera Queensland Chorus. and as a soloist in oratorio, opera and sacred music. Recent engagements include the Durufle Requiem, Handel's Messiah, Orff's Carmina Burana and Handel's Dixit Dominus.
WENDY ROLLS
Wendy Rolls enjoys working with singers of all ages as a teacher, conductor and performer. She currently divides her time teaching singing between Brisbane Girls Grammar School, All Hallows' School and her private studio, as well as conducting an auditioned chamber choir for middle school girls. With extensive choral and classroom music experience, Wendy's interest in adolescent girls' singing was sparked while completing a Master of Music Studies in vocal pedagogy from the Queensland Conservatorium Griffith University. Her Masters' thesis was titled: The adolescent female singer: What pedagogy is best for her voice? This has since turned into a PhD topic looking at the interplay between female voice change and singing lessons.
She also holds a Bachelor of Veterinary Science (UQ), Bachelor of Education (QUT), and an Australian Kodály Certificate. She has presented workshops, seminars and at conferences on vocal pedagogy, vocal health for teachers and musicianship for singers for ANATS, ANCA and Kodály Australia.
TRACEY OSMOND
Tracey Osmond is a very familiar face in the Townsville community, as the director of The Voice Singing School and lead singer of popular corporate band Abbey Road.
Tracey has coupled her 35 year singing career with her pedagogical studies both in Australia and overseas, to create a school offering an amazing environment for producing confident, well equipped singers who are able to realise their potential both on and off the stage.
Tracey is moving into her 24th year of teaching and now has 8 teachers who work alongside her, and she provides weekly training to ensure the school's 200 students receive healthy and efficient CCM technique.
Tracey is a graduate of Griffith's Conservatorium of Music and holds a Masters in Music Studies (vocal pedagogy). Tracey has a passion for people and a love for teaching and she considers it an incredible privilege to help someone find their true voice.
***LIVE STREAMING AVAILABLE FOR REGIONAL ATTENDEES***
If you live outside the Greater Brisbane area (QLD postcodes above 4200 and interstate participants), you are eligible to attend our event online via a live stream. If you live within this area, but require a live stream ticket as you are unable to attend in person, please just let us know!
HOW WILL THIS WORK?
First and foremost, you have to book a livestream ticket! Just select a 'Live Stream' ticket.
You will be emailed a link to a Zoom meeting that you will be able to access on the day of the event.
Location
Birralee Hall, Bardon
57 Carwoola Street, Bardon QLD 4065
Contact Details