The Big Bike Film Night 'Feature Series' -A SUNDAY IN HELL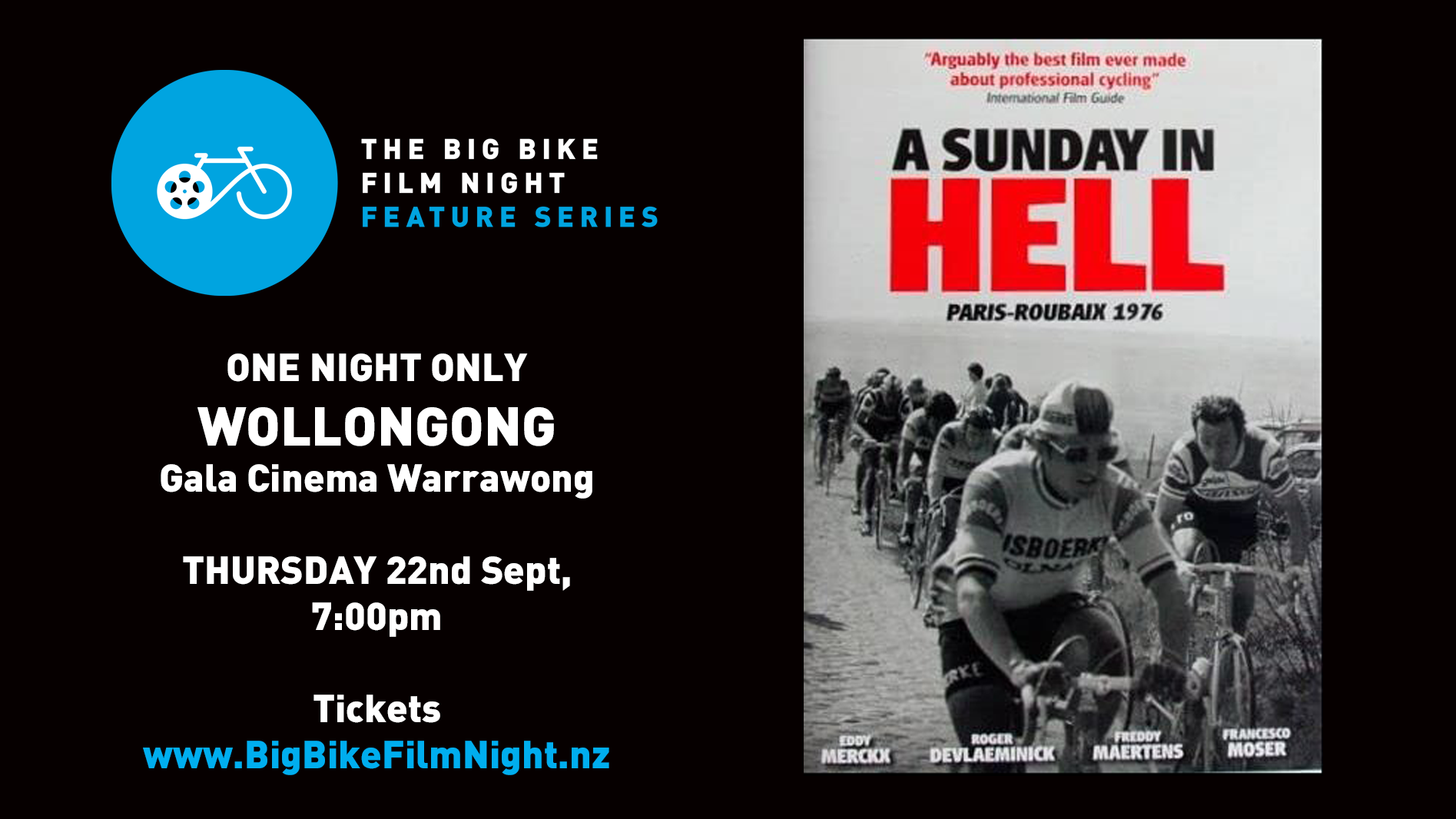 This event is part of the 2022 UCI World Championships Wollongong 'Spin Fest' cultural programme.

Our 'Feature Series' showcases feature-length documentaries, for the cyclists that crave even more bike action, more bike drama, and more bike entertainment.

IN DIGITAL CINEMATIC FORMAT

'A Sunday in Hell' is a 1976 Danish documentary film directed by Jørgen Leth that is a chronology of the 1976 Paris–Roubaix bicycle race.
Tickets go live on Friding Friday 1st July. If you would like us to inform you when tickets are active, join our email newsletter service and mention Sunday in Hell
"Arguably the best film ever made about professional cycling." – Peter Cowie, International Film Guide.
Paris–Roubaix is the most famous and usually the most dramatic of the spring classics 'monument' races. Much of the latter portion is over narrow, cobbled tracks that choke with dust on dry days and become slick and muddy in rain. For the riders, it's a challenge to keep going without puncturing or crashing.
The hellish Sunday took place on April 11, 1976, when the champions of cycle racing battled for victory in the classic and gruelling annual bicycle race – Paris-Roubaix.
'You can see every bead of sweat on the cyclists and every smashed-up ankle. It really makes you never want to get on a bike again. But it is an amazing film.' - Nick Fraser, BBC commissioning editor
So listen to the voice inside you; it's telling you to go. Grab your mates, grab your tickets AND come along for the ride.
Danish with English Sub-titles. In Digital format
TICKETS
Available on-line as well as door sales ON THE NIGHT at the venue (CASH ONLY- SUBJECT TO AVAILABILITY).
ALSO, there is our screening of 'The Best of' The Big Bike Film Night 2015 - 2019 being screened on Wednesday 21st September, visit www.bigbikefilmnight.nz for more details
Thursday 22 September 2022 7:00 PM - 9:00 PM (UTC+10)
Location
Gala Cinema Warrawong
204 Cowper Street, Warrawong NSW 2502