Newcastle Brickfest A LEGO Fan Event 2022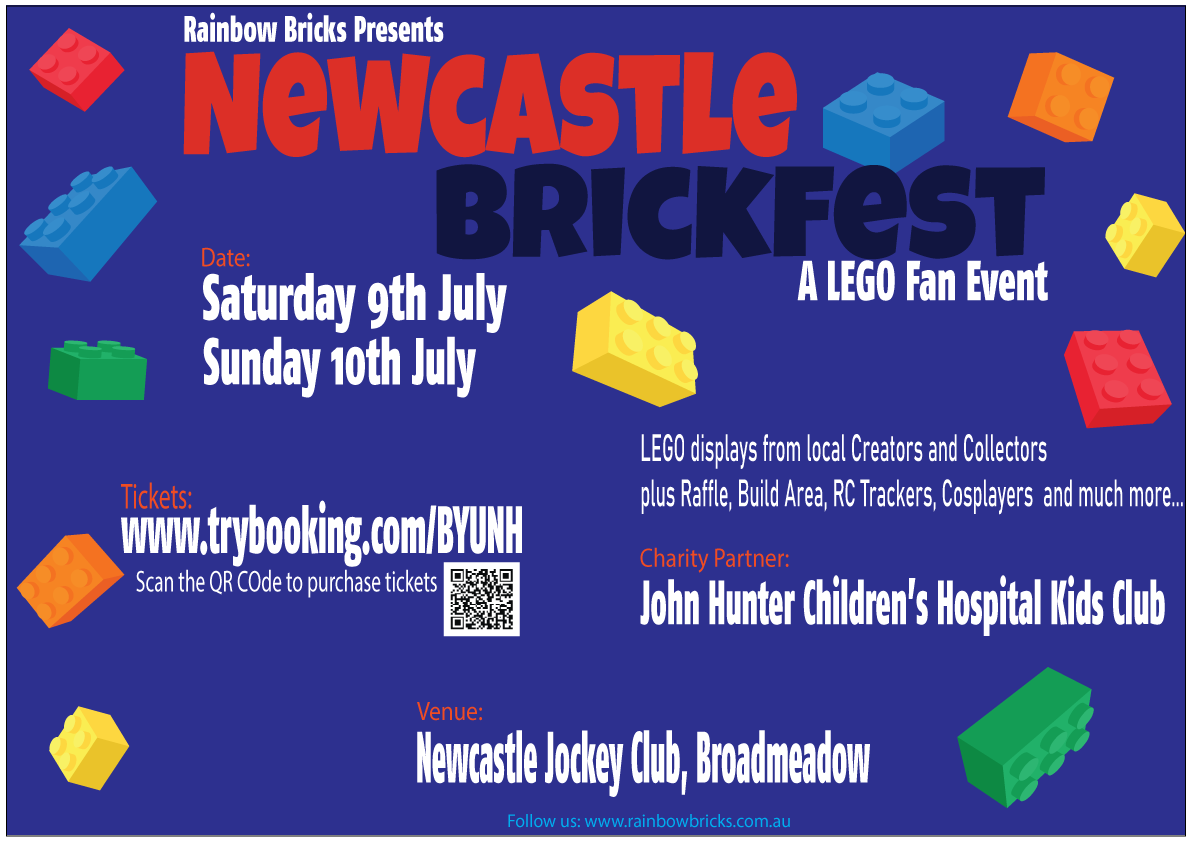 Rainbow Bricks Presents
NEWCASTLE BRICKFEST 2022
A LEGO Fan Event

Rainbow Bricks is proud to be returning in 2022!

Newcastle Brickfest is not only Newcastle's premier LEGO Fan event but one of Australia's Premier LEGO Fan Events. It's a community event created by local volunteer LEGO fans for LEGO fans of all ages, showcasing LEGO Master Builders creations from across NSW.
Our LEGO Master builder's original creations and displays of LEGO themes will impress and inspire kids of all ages. Interact with the exhibitors, and ask them questions about their exhibits and LEGO in general. We will have the always popular City Layout back again with working trains. As well as all the displays, there will be lots of activities for everyone to enjoy.
We are also being joined by our Cosplaying friends from the Hunter Heroes and Star Wars Characters!
Newcastle Brickfest is a family friend, not for profit event which supports Newcastle charities. Over the previous five years, Newcastle Brickfest has donated over $50,000 to the schools and charities in the Newcastle area. Our Charity Partner this year is the John Hunter Children's Hospital Kids Club.
Enjoy the LEGO activities:
Activities:
Build Area - An area for the kids to build after being inspired by the exhibitor's creations.
Speed Builds - This popular competition returns and will run each hour.
Remote Control Trackers - Control the RC Tracker set in our driving area.
Find A Minifigure - Hidden on many of the displays will be a Minifigure. Tell us how many for a chance to win a prize!
Colouring In - Colouring in competition for the under 12s.
LEGO Raffle - LEGO prizes to be won.
Cosplay Area - Have your photo taken with one of the characters or one of the backdrops.
The Newcastle Racecourse will have their canteen open on the weekend.
We will once again be having staggered start times and limits per session to make the experience of Newcastle Brickfest better. Once you have entered the event, you can stay as long as you like!
DATE: Saturday 9th July and Sunday 10th July
TIME: Saturday 2pm - 5pm and Sunday 9.30am - 5pm
COST: $8 per person [Children under 3 are free] or $30 a family [2A/2C or 1A/3C]. There will be limited tickets at the door [$10 each]
Please share this with your family and friends, and we look forward to seeing you there.
Saturday 9 July 2022 - Sunday 10 July 2022 (UTC+10)
Location
Newcastle Jockey Club
Darling Street, Broadmeadow New South Wales 2292