Tall Ship Experience
Rotary International World Convention 2023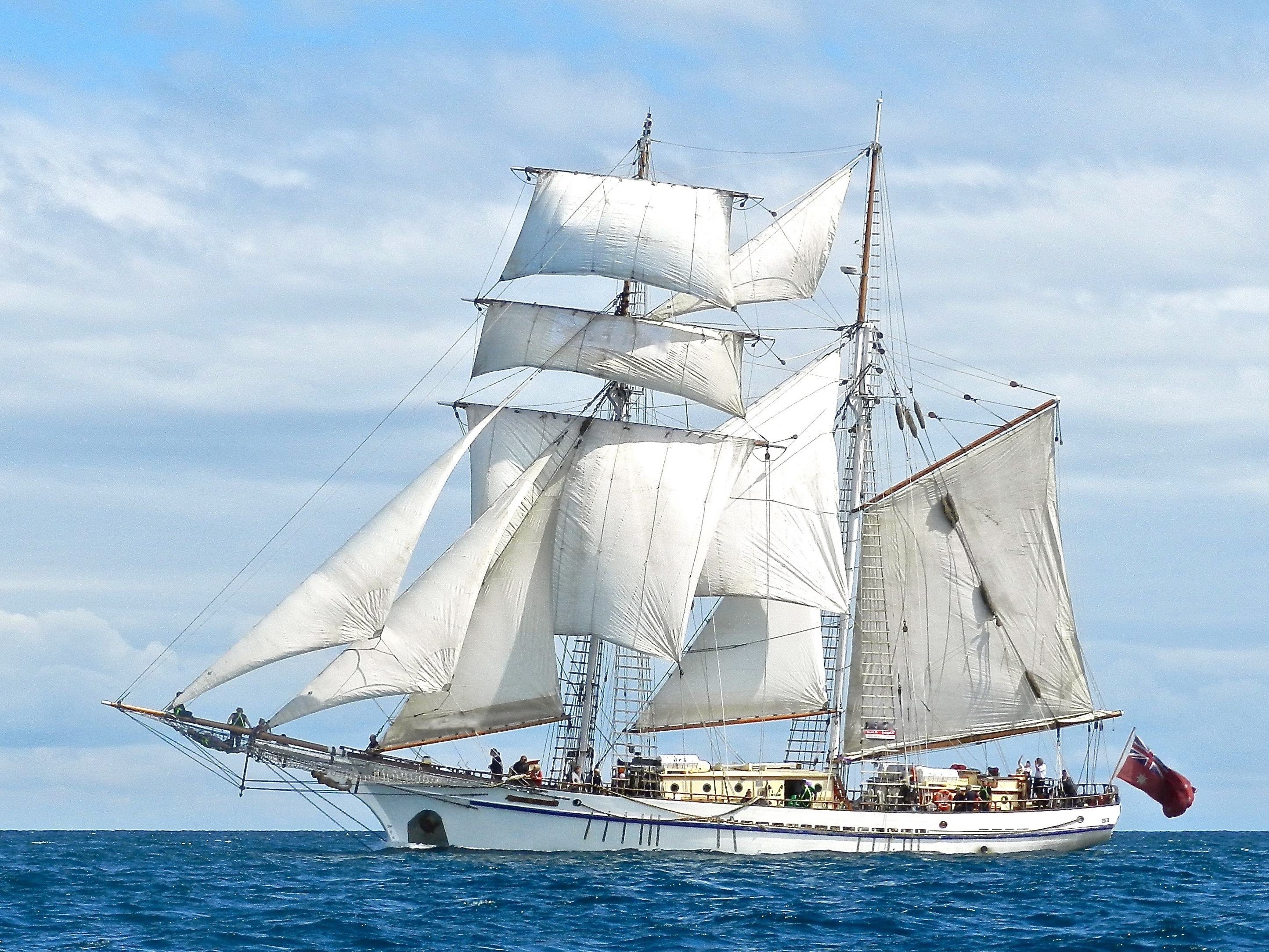 The Sail Training Vessel (STV) 'One & All'
Welcome Fellow Rotarians!
Please join us for some majestic cruising on an authentic Tall Ship. During the 2023 Rotary International World Convention in Melbourne, Rotarians and their friends are being offered short cruises on the 'One & All', a traditionally built sail-training vessel with a waterline length of approximately 100 feet, similar in size to the 'Endeavour', the ship in which Captain Cook sailed around the world and discovered Australia.
Cruise Details:
Ten cruises will depart from a Docklands wharf near the Melbourne Convention
Centre - cruising down the Yarra River estuary to Port Phillip Bay and back - providing guests with very different views of prominent Melbourne landmarks. These are protected waters, which ensures comfortable cruising. Passengers will have an opportunity to talk with the crew and a commentary (in English) identifying points of interest will be provided during each cruise.
Cruise Dates and Times:
Saturday, May 27th 2023

Lunch - 1:00 pm

Sunset - 5:00 pm

Sunday, May 28th 2023

No Cruises - Convention Opening Day

Monday, May 29th 2023

Lunch - 1:00 pm

Sunset - 5:00 pm

Tuesday, May 30th 2023

Lunch - 1:00 pm

Sunset - 5:00 pm

Wednesday, May 31st 2023

Morning - 9:30 am

Sunset - 6:00 pm

Thursday, June 1st 2023

Lunch- 1:00 pm

Sunset - 5:00 pm
Morning Cruise (2.5 hours) AU$ 230 (approx. US$ 165) pp plus booking fee
Lunch Cruises (2.5 hours) AU$ 250 (approx. US$ 180) pp plus booking fee
Sunset Cruises (3 hours) AU$ 280 (approx. US$ 200) pp plus booking fee
A Family Day Sail on the 'One & All'
Catering:
Delicious traditional Australian cuisine will be served on all cruises, along with complimentary tea, coffee, soft drinks and water.
Please indicate any dietary needs when booking, and we will endeavour to accommodate them.
A traditional morning tea will be offered during the morning cruise, and a light lunch will be served on the lunch-time cruises.
The sunset cruises will enable Rotarians and their friends to enjoy a light evening meal served from the Galley, and then appreciate the magical Melbourne city lights, as the ship returns to the wharf.
Local beers and premium Australian wines will be available for purchase on all cruises.
Friends Enjoying a Sunset Sail
The 'One & All' will be based in the Docklands, close to the Melbourne Convention Centre. Passengers will be notified by email of the ship's exact location and boarding times, well before their cruise.
The 'One & All' is a working, sail-training vessel. Deck surfaces may become wet,
so enclosed comfortable, flat soled footwear is recommended -
no high
heels
please! A warm, waterproof jacket and a hat are strongly recommended.
Coming on Board:
As the 'One & All' is a traditionally built, historic sailing vessel, boarding is via a gangway and a wooden ladder with handrail. The 'One & All' has no lifts, ramps or disabled access. Door sills (400mm high) need to be stepped over to enter the saloon, and access to the toilets is via another wooden ladder - see photo below.
Ladder Access to the Top Deck
Additional Information:
This event is best suited for adults and teenagers. Minimum event age is 12 years. Children under 18 years must be accompanied by an Adult.

Smoking on or near the ship is strictly prohibited - this includes e-cigarettes,

Licensing laws preclude passengers from bringing alcohol onto the ship. However, credit card facilities are available to purchase beverages on board.

It is currently uncertain what the COVID-19 requirements will be at the Melbourne Rotary Convention in May 2023. We expect that the Government requirements for entry into Australia/Victoria will be the requirements needed for delegates attending the Convention and associated events. It is anticipated that there will be a requirement for Convention attendees to be up to date with their COVID-19 vaccinations.
View of the Fore Deck on the 'One & All'
Cancellation Policy
Requests for ticket refunds must be made via email to the Event Organiser (see below). Generally, tickets are non-refundable after 12th April 2023, unless we are able to resell such tickets..

If a cruise needs to be cancelled, ticketholders booked for that cruise will be offered a place on an alternative cruise (if available), or tickets will be fully refunded.
Bookings:
Online Bookings are now open for this unique experience. Each cruise is limited to 45 passengers, so book early to avoid disappointment.
Click on the BOOK NOW tab to start your booking. Please select your preferred cruise date and time carefully, then purchase your tickets.
If that Cruise is fullly booked, please add your name to the waiting list, or select another date/time. We may be able to provide additional cruises (providing the same experience) on a similar Tall Ship, the 'Enterprize'. When making a group booking, please note that local health and safety regulations require the provision of the name and contact details of every passenger taking part in a cruise.
Please take the time to carefully read through this information prior to purchasing your tickets. By purchasing tickets you indicate your acceptance of the arrangements outlined above and of our Cancellation Policy.
We look forward to having you on board,
Rotary District 9510
Tall Ship Experience Committee